The first time I walked in to Common Knowledge and Learning Curves at Artspace in Sydney (29 June – 12 August 2018), I was immediately struck by the scale of what the artist had created – both in terms of the sheer size of certain objects as well as the diversity of spaces she'd managed to create within the exhibition space itself.
This experience I had was not unlike my first encounter with the work of Keg de Souza. At The National 2017, I remember also being taken by the way her work Changing Courses (2017) carved out a peculiar space within a familiar space – even one as freighted with history and institutional power as the Art Gallery of New South Wales. In that work, de Souza constructed a large cube with vacuum bags each containing dried food items (even though that may not have occurred to most of us on initial entry). Connected to that installation were also a series of conversations and tours, including with Tasmanian, Bunurong and Yuin intellectual Bruce Pascoe – author of Dark Emu (2014) – that centred on Indigenous food cultures in Australia that had been supplanted by European agricultural methods in the process of colonisation.
And those who were around during the 20th Biennale of Sydney in 2016 may remember We Built This City – a colourful, giant tent made up of salvaged tents in Redfern, which de Souza constructed as a space for hosting the Redfern School of Displacement – a series of gatherings where a central discussion theme was the ongoing colonial project of displacement and dispossession of First Nations peoples of this land.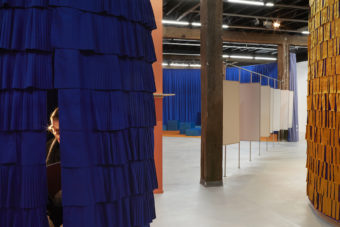 For those who dwell in art circles in Australia, de Souza's exploration of the politics of space through inflatable and temporary architecture, food, film, mapping and dialogical projects is well-known. But as a teacher educator, my position in relation to that circle is a little like Ivanka Trump at the G20.
In this piece, I wish to draw out a visible thread that runs across her works and that speaks to a preoccupation of mine – radical education. Specifically, I want to pay attention to de Souza's skilful capacity to work with objects and "everyday" material to create temporary spaces for dialogue and learning of the kind that challenges the dominant order of things. For unlike some expressions of "radical" critique that focus on how sullied and compromised actually existing institutions are versus the purity of a vision of how things should be, what interests me about de Souza's work is her ability to work both within and against established histories, institutions, and spaces.
Or to put it more starkly in relation to the subject matter of her latest exhibition: like all good teachers she is not content to just complain about how terrible schools are from beyond the fence, like those weirdos who yell obscenities from cars as they speed by. Rather, she begins from where we are and where we have come from – the archive of our Australian schooling memories and emotions – then invites us to consider how things could be different from what they have been. I put some of these thoughts to her as Common Knowledge and Learning Curves toured to Griffith University in Brisbane (9 May – 13 July 2019).
Remy: I and many others I spoke to experienced a simultaneous feeling of canny and uncanny in Common Knowledge and Learning Curves. We encountered, or rather were confronted with, objects and scenes that seemed all-too-familiar to us who endured schooling in Australia: the walls of the exhibition space had been coloured in bright colours with words scrawled on them reminiscent of primary schools; there is a ring of overhead projectors emitting their low frequency whirring and glaring light while surrounding a space demarcated by white blinds; there is an array of award ribbons, a line of whiteboards, squares of classroom carpet, blackboards and chalk, bookshelves and books, and so on.
What made you decide to draw on such materials for your exhibition? And how did you decide on the ones that you did use?
Keg: I decided to use a material palette from my own Australian classroom growing up. The royal blue netball skirts and checked fabric is the uniform I wore through primary school. This is the reason there are objects like the overhead projectors, not data projectors. Whilst the uniform fabric is familiar to many people, and something that is still used these days some elements, like the overhead projectors or the chalkboards, many primary school kids today have no idea what they are as they are used to Smart Boards at the front of the classroom.
Objects were also selected on a semi-pragmatic level, whilst venetian blinds featured in my childhood classroom and have strong associations for me with those spaces, they weren't necessarily a direct tool for learning. In the exhibition the blinds act in a similar way to in the classroom: they were closed when people would get distracted and were used to block out other views. In the exhibition they are able to be closed to reconfigure the space. As the exterior walls are painted in varying colours the blinds can be drawn or opened to allow the space inside to fill with different colours, or remove particular colours. The use of the colours was drawing from Johann von Goethe's colour theory, which was based on a more emotional spectrum of colours, as opposed to Newton's more scientific theory. Rudolf Steiner used Goethe's theory in his classroom designs and his approach to learning.
The colour theory extending into the scaled up building blocks I mentioned previously, designed by Frederich Fröbel. These educational tools were also used to teach children about proportions, fractions and space. In his biography, Modernist architect Frank Lloyd Wright describes having these blocks as a child and cites them as being influential in his design thinking.
Remy: I want to touch on the point you made about using material from your own experiences of the Australian classroom. These are materials that still linger in many classrooms today. Well, maybe not so much overhead projectors anymore, but certainly the whiteboards, the uniform, and those award ribbons! And it's also what those materials represent: authority, right and wrong, and who is valued or not valued in schools.
Of course, you take what is familiar to us and, through immense amounts of creative labour, have rendered it back to us very differently. In lieu of slogans or mottos like "Aim for the Highest" or "Education for the Future" that we might commonly encounter in schools, the bright walls of the exhibition space are inscribed with provocative questions that challenge our common sense assumptions about education (e.g. "How does space transform the way we teach and learn?"). The overhead projectors are populated with blocks that invite participants to play with different combinations of shapes and colours against the white blinds. Award ribbons pinned to the walls celebrate "ANTI-OPPRESSION", "INTERCULTURALISM", "COUNTER-NARRATIVES" etc. in bold gold. So while we may have a strong memory of these objects, you turn them into something quite different.
What effect on your audience did you intend or expect from this?
Keg: The classroom materials were used as a means of unravelling symbols, and systems of knowledge and power. In many ways the objects represent a particular type of institution, but reconfigured they attempt to become non-institutional forms.
The questions on the walls about methods of investigation are some of the questions I find myself asking. I wanted to have these questions as a gesture to the active inquiry of radical pedagogy. The various spaces in the gallery are designed to get people to think about challenging the more traditional forms of teaching, and who benefits from these ways. For example, the ribbons you mentioned that are so ubiquitous with school awards, offer themes that I think we should be prioritising in our everyday learning. So, if we think about knowledge exchange through a lens of anti-oppression: how would this change what is taught in the classroom, how it is taught and whose voices matter in this dialogue? I wanted to propose that these themes and issues be foregrounded in our learning, rather than who is in 'First Place.'
Overall the exhibition acts, in a playful way, to interrogate ways we teach and learn. It seeks to value curiosity and imaginative response to these spaces.