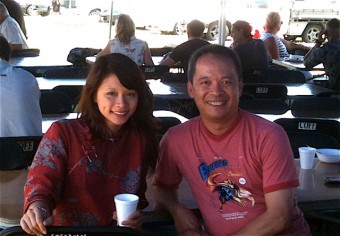 Filipino Australian actor, Alfred Nicdao, made his screen debut in 1979 as a Sumatran fisherman in The Sullivans. Though IMDb lists Alfred's credits only since 1992 (in Embassy), his career spans a much longer period. His extensive screen biography includes seminal Australian television drama such as The Sullivans, Embassy, Neighbours, MDA, Blue Heelers, Stingers, City  Homicide and, more recently in 2011, as the overall bad guy, Horta Cheng, in Sea Patrol (with HaiHa Le playing his daughter). Over the years, he has played various Asian ethnicities, and is usually cast in roles where the character is Chinese or Vietnamese.
I had the good fortune to meet Alfred at the recent inaugural Asian Australian Film Forum in Melbourne, and our brief conversation was enjoyable and enlightening.
1.     When we first met, you mentioned your roles in The Sullivans, and the multi-roles you had during the war episodes because of the scarcity of Asian actors around to play, for example, Japanese soldiers. Could you tell us a bit more about the casting experiences you've had in your career, and whether you think the industry situation for Asian Australian actors has changed?
When I first started in 1979, I didn't even know that you have to have an agent to get an acting job. I just sent a letter to say I wanted to be an actor and the casting department at Crawford productions asked me to come in and meet with them. They were about to start on a production of a TV series based on an airport titled Skyways. It also turned out their series The Sullivans was about to start their Changi prison episodes, and they were going to need a few Asian extras. As luck would have it, I was first in line. They were desperate to get a range of Asian extras. Their only source was Asian students from universities around Melbourne and these students were far too young-looking for some of the parts; plus, they were mostly male. So, they asked if I can help out by asking some of my friends and relatives to participate. I managed to encourage some of my Filipino friends (and even some of their parents!) to come and join the adventure. It was a good few weeks of getting acting work for our small Asian community. Most of the university students played Japanese soldiers, while my family members and friends played various townspeople.
As far as casting experiences are concerned, I don't think I've gone through anything different from what other Caucasian actors have experienced. Relationships develop between actors and casting people and, eventually, the casting agents will call my agent (Joyce Yuen at Phoenix) and specifically ask for me to audition for a part they believe might suit me. Some years were great, some were not. It all depends on what productions are happening.
As far as the situation for Asian Australian actors are concerned (compared to say, 20 years ago) there is far more talent out there now. From actors to directors, writers to producers, and so on. The landscape has changed in a way, because there is more Asian talent competing for the same work, but I don't think the amount of work available has increased at all since the 1980s. But the good news is that new media has emerged. The likes of YouTube and digital technology has allowed our young filmmakers to create a short or even feature film at a much cheaper cost and have it exposed to audiences more quickly. This is something ten or so years ago that would have never been possible to achieve. The problem is finding a way to make money out of it. I guess we can save that for another discussion!
2. What's your opinion on colour-blind casting? Do you think it has a place in Australia, and would it be a success?
Colour blind casting can be good as long as the talent is right. One instance that comes to mind is the Filipino performer Lea Salonga. She was first discovered in Manila during a long search for the lead role for Miss Saigon in the 1990s. Winning that role gave her the experience to further develop her skills and enjoy worldwide popularity. After that, a few more Filipino actors were given the same opportunity through Cameron McIntosh Productions and, before you know it, these Asian performers were part of the ensemble casts of the French musical, Les Miserables, which was staged around the world.
First, the talent has to emerge and the producers/investors/TV networks must recognise these talents and give them a go. Asian Australian performing arts talents are emerging and I think a small part of our industry is recognising this already.  Esben Storm did a mini-series Kick and used  many Asian talents. Geoffrey Wright, director/producer of Romper Stomper and Macbeth, also recognised the talent emerging within the Asian community. While I believe casting agents are very supportive of "colour blind" casting, the stories being told on our local TV/feature films do not reflect the current landscape of our Australian society. I think we can learn from what the Americans and English are doing on their TV/feature films where they seem to not worry about the colour of the character, but focus instead on the strength of the actor's characterisation.
I do believe there is a place for colour blind casting in Australia, just look at what's been happening in the US and UK with the diversity of the multicultural talents emerging from both TV and feature films (in fact, one of our local Asian Australian actors, Dichen Lachman, was in Neighbours before she landed the lead role of Sierra in the US Cable series Dollhouse). I just hope that the industry powers recognise our multicultural talents before actors start heading off overseas to make it big over there, just like Dichen did. If they look at our emerging multicultural talents, Australian film and TV industry has every opportunity to make colour blind casting a success.
3. Which has been your favourite role to date, and why? Conversely, what was the most challenging role you've had, and – if you had your time again – would you take it on?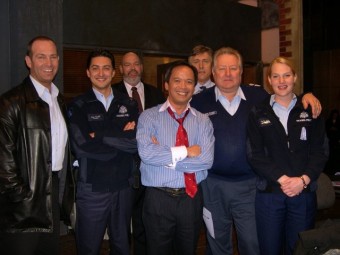 All the roles I've had have been a gift and pleasure to have the opportunity to do and I really don't have a favourite. There have been some challenging ones, though, and one that stands out is when I auditioned and won the role of Louis Chang in Blue Heelers back in 2005. It was the first time I had been offered the role of a villain and the character appeared over three episodes. The writer wrote this story based on his experiences working as a dealer at Crown Casino. Unfortunately, the producers felt that there was no Asian actor strong enough to carry the role and that it would be "safer" if they write the character as a "Greek".  The writer fought to keep the Asian character and the producers agreed, on the condition that they find the right actor to play it. I was made aware of this during the shoot when the writer (who also played an extra as a gaming dealer) told me the story over lunch. Well, I'm not so sure if that was colour blind casting or just typecasting J but it was definitely a good challenge to carry a role in the surrounds of such talented and experienced actors in the series. Would I take it on again? Of course! In fact, I was given that opportunity again in Sea Patrol in 2011.
4. With the benefit of your extensive experience in the Australian screen industry, is there anyone you would specially mention for supporting and encouraging Asian Australian talent?
Funnily enough, right from the beginning, everyone's been very supportive. It's all about the relationships we develop with various people from the industry. Casting agents will often ask for me to audition for a role they believe will suit me. Actors, directors and cast will often greet me with great warmth when we get the chance to work together on another job. The industry as a whole is very encouraging and supportive. Jan Russ (former casting director of Neighbours) has become close friends with my agent Joyce Yuen, and even Chris Lilley spent a fair amount of time with Joyce when he was researching and developing the character of Ricky Wong in We Can Be Heroes. The industry is actually quite a close community once you get to know the people within it.
5. You've mentioned before that your daughter, Charlotte, is also an actor. What's the most important advice you would give to the next generation of Asian Australians who want to make their way in the screen industry?
Work hard and don't give up. Don't wait for opportunities. Create them, and share your talent with anyone who cares.
Roles are hard to come by, so don't be picky on the roles you get offered, regardless of the medium: stage, TV, student (short) films, feature films, street theatre, whatever. Every job you do is like an audition for your next role. It's also a way to improve and develop your skill. You are an artist, your work is your art