Ritual / Resistance, an exhibition presented by Peril this October as part of Edition 34: Skin in the Game, showcased the works of Asian-Australian and Indigenous artists based in Sydney, Melbourne and internationally.
The exhibition approached questions of ritual and transformation, exploring the way in which individuals perform and express cultural inheritance, whilst acknowledging that the experience of diasporas is one of renewal, of liminality, always in flux.
Placing culture as a site of resistance, the artists illuminated musings on memory, transience, and the embodied geographies that are carried across time and space. Moving towards a complex understanding of migratory experiences, this exhibition sought to offer a rumination on what it means to be a settler-migrant, living and creating on the sovereign lands of the Gadigal people.
Featuring artists Kalanjay Dhir, Danièle Hromek, Nikki Lam, Ba An Le, Remy Low, Kimberley Peel, Tanushri Saha, Naomi Segal, Linda Sok, Athena Thebus and Shevaun Wright.
Ba An Le
Gilt Cloth, and Bamboo Garden (2018)
My work is in the field of art jewellery influenced by my background in Christianity, and broader interests in religious practises and their manifestations to material. Recently, I have been understanding my travels as a dialogue of my encounters with the world, and relationships with people. This places in context my experience of travel, and jewellery. By making myself vulnerable to the giving and receiving of cultures, I can better understand jewellery as a universal phenomena, and increasingly have a cosmological character to my art.
Ba An Le is completing a Bachelor of Visual Arts (Honours) at Sydney College of the Arts. Ba An's art practice primarily focuses on contemporary art jewellery influenced by digital and sculptural background. Using a wide range of materials which are assembled together, Ba An's work reveals how the object is constructed with attention on materiality as a vehicle for meaning. Living in Sydney, Ba An explores the immediate context for themes of identity, religion, and spirituality.
Nikki Lam
Still… what is left (2018)
Still… what is left explores the abstraction of rituals and their residue as a result of migration. Neither here nor there, gestures merged from the past and re-imagined as the artist re-performs gestures from the past. Cycles of repetitive gestures conjure the emotions of performing a ritual, particularly for those who no longer practice them.
Nikki Lam's practice explores the complexity of belonging through the exploration of self, memory and space. Working primarily with video, performance, text and installation, she is interested in exploring the translations of hybrid identities, often through studies of rituals, language and representations. Nikki has a Bachelor of Visual Arts in Photomedia (2009, Monash University) and Executive Master of Arts (2014, University of Melbourne).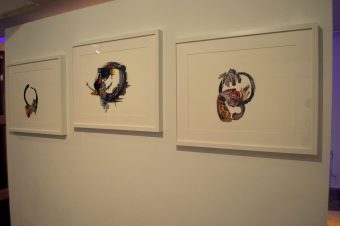 Remy Low
Listen (again) Sariputra (2018)
"…all phenomena bear the mark of Emptiness."
The Heart Sutra (Prajñāpāramitāhṛdaya, 心經) emerged from exchanges between Indian and Chinese monks in the 3rd-7th centuries. By the 8th century, it had become a central text for veneration in the Pala Dynasty of Bengal. This tradition has been carried into the present, where the provocations of the Heart Sutra are regularly recited in Chinese, Tibetan, Mongolian, Korean, Japanese, and Vietnamese Buddhist communities.
Against popular Orientalist and Romantic framings of Buddhism as a means to bliss out or return to a state of nature, we combine calligraphic meditation and collage to contemplate "Emptiness" – that is, beyond the illusion of separateness, our entanglement with all that is: How are the selves we sustain tied to social and planetary suffering? To whom do we owe a karmic debt? And where do we go from here?
Remy Low has an abiding interest in how the contemplative arts might help us refigure our relationships to ourselves and others. He is a teacher in the Sydney School of Education and Social Work, University of Sydney, and a student in Buddhist studies at the Nan Tien Institute, Wollongong.
Naomi Segal
"A good habit takes ten years" (2018)
Naomi Segal works with her family's photos and stories to create implicit records of her experience as a Shanghainese-Australian. Her aggregation of prints and marks transmits her sensation of a cultural identity that is constantly emerging, disappearing and punctured with absence. For Naomi – a person in the diaspora with mixed heritage – cultural understanding is not clear or explicit; she takes comfort in the idea that her Chineseness is present, but often beyond awareness. Subliminally, her work considers the love of her family – especially the forms that love can take after traversing cultural and linguistic barriers.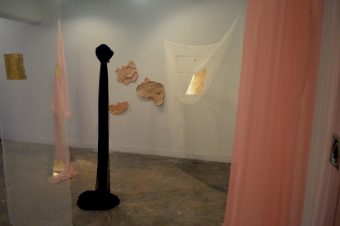 Linda Sok
Remembering our ancestors (2018)
Linda Sok's practice draws upon the Khmer diaspora from which she is descendant. Her practice is located within the post-migratory and post-Cambodian discourse, which exists in the contemporary Australian context. The Khmer Rouge Regime remains the crucial point at which her parents became refugees. Thus, her practice often attempts to comprehend the traumatic period that led up to their migration through the lens of a Cambodian-Australian.
Linda has exhibited in a variety of institutions such as Casula Powerhouse Arts Centre, the BEAMS Arts Festival, and Eden Unearthed. She received the highly commended award at the Kudos Emerging Artist & Design Award and was a finalist in the Jenny Birt Awards. Her Bachelor of Science, with dual majors in Psychology and History & Philosophy of Science informs her work. She is currently studying Fine Arts (Honours) at the University of New South Wales, Art & Design with a major in Sculpture, Performance and Installation.
Athena Thebus
Everything Beautiful in this World is Mine (2018)
Athena Thebus' practice spans sculpture, photography, video, and writing. Her practice harnesses the productive force of Desire. The works have an undercurrent of celestial Catholicism as influenced by her Filipina mother. She is a Scorpio with a Sagittarius rising and a Capricorn moon.
Danièle Hromek
Weaving Intentions (2018)
Weaving Intentions, created as part of Hromek's PhD research, is an object woven with intention and pensive speculation, where the weaver becomes connected to history and future, kin and Country. Woven into the object are words, conversations, ideas and thoughts, captured through the energetic exchange of making into the form. Stories, histories and life are encased in the shape, as is cultural reclamation of a weaving cultural practice. Intentions informs and even forms the shape of the object, embodying and imbibing these idioms and carrying them perpetually
Danièle is a spatial designer, speculative designer and public artist, fusing design elements with installations, sculptural form and research. Her work often considers the urban Aboriginal condition, the Indigenous experience of Country and contemporary Indigenous identities. Danièle's research contributes an understanding of the Indigenous experience and comprehension of space, and investigates how Aboriginal people occupy, use, narrate, sense, Dream and contest their spaces.
Kimberley Peel
Gold Fantasy (2018)
Gold Fantasy investigates my tendency to look towards the past for the future. When I was a child growing up in the 90s, I watched 'Video Hits' every morning – a countdown of popular music videos on free-to-
air TV. Not yet old enough to understand the 'fantasy' element to these clips, they held a powerful influence over my sense of fashion, body image and general desire to one day become a pop star. Growing up in Canberra, I felt a huge disconnect between the realities of government-city living and a fantastical universe that included Britney Spears hanging upside down holding a python while miming 'I'm a Slave 4 U'.
Gold Fantasy explores millennial retro-nostalgia through the symbolism of gold and CDs. By placing real CDs, fake wearable CDs and an animated CD together within the gallery I am exploring the dynamic between how viewing across different mediums affects our understanding of an object. The video clip explores historical references of gold and it's re-interpretations into popular culture. Inspired by 80s – 00's video clips, Gold Fantasy explores hybrid digital and analog aesthetic.
Kimberley Peel is a first generation Australian-Chinese-Malaysian multi-media artist. Peel's practice investigates the influence of advancing digital technologies on identity and society. By combining analogue and digital technologies, Peel's video installations evoke a sense of nostalgia. Kimberley Peel graduated from Sydney College of the Arts with a Bachelor of Visual Arts (Dean's List, Honours Class 1) in 2015. Peel has held solo shows as part of Sydney Design Festival (Gaffa Gallery) and as part of Bridget Kennedy Project Space's 2018 program, as well as group exhibitions across Sydney and Canberra.
Kalanjay Dhir
Hydroyoga (3-body) (2017)
In The Three Body Problem, a novel by Chinese sci-fi author Cixin Liu, there is a scene where a group of beings possess the ability to dehydrate their bodies, roll them up and store them for safer times to come. 'Yoga' translates in English as, "to join" meaning, in one sense, a union or merging of the self with something greater. It is an ancient practice and one of many paths to Eternal Bliss.
The yoga mat is a contemporary Kmart object that has become synonymous with the ancient practice come fitness trend. Hydroyoga (3-body) is not a criticism of its Western popularity but a working through it. It navigates the post-colonial identity of the modern Hindu and positions it as starkly awkward. The artist has printed a flat self-portrait onto the mat as a kind of insurance measure against chaotic times to come. There is a hope that in the future he will be able to rehydrate his body and "join"with a (extra-)sensory realm once again.
Kalanjay Dhir is an artist and musician born and based in Parramatta. He is interested in the narratives embedded in technological progress, popular culture and Hinduism. At the centre of his practice is a humour that is used to navigate global anxieties around overdevelopment, faithlessness and the postcolonial identity.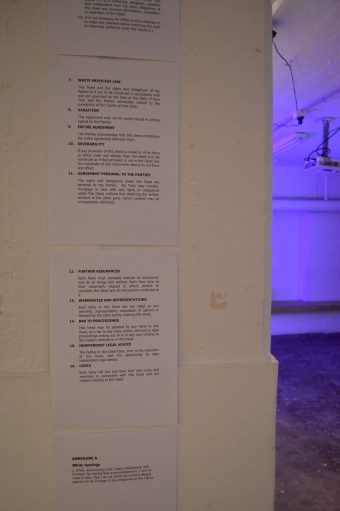 Shevaun Wright
White Privilege Deed of Settlement (2018)
Shevaun is a lawyer and artist who is primarily engaged in an interdisciplinary practice that utilises the contractual medium and the notion of the 'social contract,' as well as re-contextualised dialogues as a tool for engaging in institutional legal and artistic critique. Informed by her Aboriginal heritage, she aims to extrapolate feminist and post-colonial critiques of the law and art as a means to access and reveal similarities in their discursive practices. She has masters degrees in law and art, and is currently undertaking an MFA at UCLA in Professor Mary Kelly's Interdisciplinary Studio.