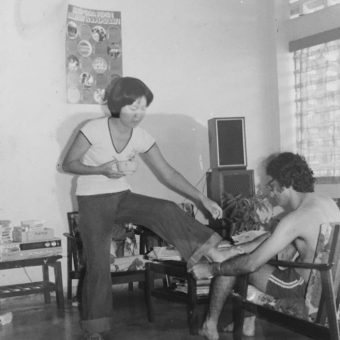 Lately, I've been sending work to a friend of mine. A new friend, a poet whose feedback I trust. After a while she said to me, 'How come you keep using words 'little', 'quiet', 'small'?' I said I didn't know why, that I had started and it stuck.
There's a bookstore I go to each time I'm in Melbourne. I go two or three times each trip and there's no real reason except for the fact it's so big that I can stay a while and hide, and it's next door to a gelataria. Last week I was at this bookstore, and I saw a small bright orange book with a puma on the cover. It was Little Labours by Rivka Galchen, and I took a picture and I sent it to my friend. I texted, 'Look how small this book is, and how beautiful!' She replied, 'How much longer do you think this obsession will go on?'
Little Labours. Small book.
I liked these words and I couldn't say why, and I asked if the problem in my work was repetitiveness. She told me that she had used these words herself out of fear that what she was saying was unimportant. 'Among young female writers,' she texted, 'it IS VERY COMMON. It comes across as 'damsel in distress',' she said. Then: 'We can fight our own dragons thank you.'
While I wasn't sure that I had been trying to minimise my voice, I was reminded of where I and my work sat in the wider context. This context where 'female writing'—and really any non-binary, non-white male writing—is lesser-valued.
With my own work, I try to keep a certain point of view. But I acknowledge that this point of view is nothing if not a luxury, and one that I am only able to keep because of my position of privilege—in education, community, circumstance, and opportunity.
I also acknowledge that this point of view is something of a castle in the air. Non-binary, non-white writers, artists, workers, humans historically and systemically work twice as hard for the accolades that others receive.
In our discussions of marginalisation and labour, Peril was able to partner for this edition with this year's Women of the World Festival. Held at the Footscray Community Arts Centre, Board Chair Eleanor Jackson facilitated our panel, 'Some Woman's Work'. The panel featured CEO of the Social Studio Eugenia Flynn, and poet and activist Sadaf Saaz and author Priya Srinivasan—both of whom appear in this edition.
 Why is a woman's work never done? This panel will examine different understandings of labour in a range of 'feminised' sectors, in both global and local contexts, including understandings of work often rendered invisible, stigmatised or poorly valued.
The festival was, as always, refreshing and empowering. Painful sometimes, too, but a necessary pain. Following conversations at the festival, we opened our call out—and our panel—to you.
Work began to roll in (literally, figuratively), and I read Natalie Kon-Yu's essay on being a female academic and writer of colour, on being the 'Other author', where 'you labour the point over and over again that there is a lack of diversity in the industry, that whomever is cutting up the pie has a bad knife and a shaky understanding of fractions, and you do this because you realise that you are in a position of privilege'.
And I read it again and then once more, and then it was four A.M. and I was replying to emails with Kon-Yu's lines 'There's no day too long…We do this work because we love it, because it is important and somehow bigger than we are,' still looping in my head.
One of these emails was from Eileen Chong, and the opening lines of 'Tide' were enough to put me to bed to sleep on the words: 'That morning in spring I'd thought / I was at peace. To think of you and walk / past without pain.' The poem unfolds into an affecting meditation on the work of accepting the self.
Then, there is Juhi Sonrexa's essay on the future of work, how labour cannot be considered without considering inequality, how freedom is found 'through economic independence and mobility'. Sonrexa turns a critical lens onto the impact socio-economic development has on how we think of labour, and how labour as we know it relies on poverty.
These are only three of sixteen wonderful, honest, angry, critical, beautiful reflections on marginalised work, on labour and on privilege. None small, and certainly none quiet.
I ended up buying Galchen's book that afternoon. It was about new life with her new-born, and much in part about the stigmatisation of 'women's writing', and of women writers with children. She talks of her two favourite books, Murasaki Shikibu's The Tale of Genji and Sei Shonagon's The Pillow Book, both written by women and both the most lauded pieces of literature to come out of the Heian period. She then quotes The Tosa Nikki—the third most renowned—a travelogue written by a male writer under a female pseudonym: 'I hear that diaries are things that men make but let's see what a woman can do.'
This is just the beginning of the conversation, and we welcome your voices to it.
Our warmest thanks to our contributors, Women of the World Australia, Footscray Community Arts Centre, and always you, our readers. Our work is for and because of you.