After a fifty-year hiatus from touring down under, the Kalakshetra Foundation returned to Melbourne this October as part of the Confluence Festival of India, with sell-out performances at Monash University of its famed 'dance-ballet, Jatayu Moksham.
Hailed as the benchmark for 'pure' bharata natyam dance, Kalakshetra is considered the custodian of an ancient art form. Far from being 'traditional', however, Kalakshetra was founded in Madras in 1936 by Rukmini Devi Arundale (1904-1986) amidst dance reforms and nationalist identity-making. Recent scholarship shows that Devi – an 'untraditional' artist herself – drew ideas for the reinvention of the regional South Indian dance known variously as bharata natyam, sadir and chinna melam, from pan-Indian, international and modern dance theatre practices. These influences were evident in Jatayu Moksham, which wove established Indian and international theatrical practices into one seamless experience: a 'corps de ballet' style of dance, where dancers set scenes and acted as backdrops, the use of dramaturgy, costuming elements from the South Indian theatre dance Kathakali, and bold set and lighting design.
Jatayu Moksham, is a section from the Ramayana, revered as a Hindu classic. But Rukmini Devi's choreography takes some interesting steps towards re-presenting it. A striking example of this is the depiction of the demon princess Surpanaka. While normally presented as an overblown, ugly, immoral creature worthy of ridicule and contempt, in Jatayu Moksham, Surpanaka is an ordinary woman, costumed and made-up in Sri Lankan folk attire, distinctly different to her polar opposite, Princess Sita, but not 'evil' or 'corrupted' in any perceivable way. Rather, moral ambiguity lies with the virtuous princes Rama and Lakshmana who, in Devi's choreography,  conspire to mock and toy with Surpanaka as she openly expresses desire for Rama – Sita's husband. When she eventually becomes enraged at their derision, Lakshmana –  lit aggressively by a red spotlight – wrangles her down to her knees and, under the instruction of Rama, cuts off her ears and nose. Surpanaka utters a blood-curdling cry of agony – a sole voice piercing  an otherwise mute stage – and staggers away weeping and wounded to her brother Ravana.
Senior Kalakshetra member Nirmala Nagaraj, who played Surpanaka,  explained that Rukmini Devi didn't want anyone in the story to be 'a negative character', and thus wanted the audience to be genuinely moved by Surpanaka's pain – an interesting choice for a normally polarised story. This applies to the demon King Ravana, brother of Surpanaka, as well: the scene in which he comforts his sister is the most moving of the entire performance. Such moments appear to implore the viewer to look to the humanity beyond the veneer of the story. Yet when we do, one can't help but question our so-called heroes.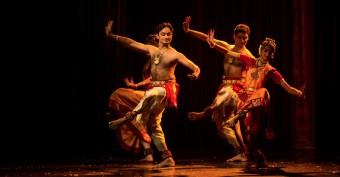 In the context of Jatayu Moksham,  there appears to be no sense of accountability in Rama or Lakshmana, or indeed even an acknowledgment of the mutilation of Surpanaka as one of gender-based violence. Sexual desire, and subsequently eroticism – only displayed by the two demonic characters in the story – is subtly suggested to be a negative or 'ungodly' trait. And the only other female character depicted, the 'good' Princess Sita, reveals no sensuality towards Rama, and is rarely given agency. The two women of the story are thus instructed, punished, captured or saved by the heroic or demonic men. While Devi's version offers us ambiguities, the story still inherently reflects a disjuncture between the world views of the past and the present.
After all, most young, classically-trained Australian-Indian artists are raised in a diaspora that still views these art-forms predominantly as a medium for heritage connection. And for everyone in the audience, but arguably most of all for the young Australian-Indian women trained in Indian classical arts, the artistic depiction of Jatayu Moksham and stories like it pose a challenge. They force us to question the relevance of these stories to our beliefs as contemporary women of the Indian diaspora. Perhaps, more importantly, they ask us how we will use these art-forms to tell our stories, and to redefine the identities that history has decided for us.
Nevertheless, witnessing the professionalism, capability and scale of Kalakshetra is game-changing. Emerging local artists rarely see traditional Indian arts practice outside community-based cultural shows. This means that after 10 or 15 years of training in an intricate art form there is no foreseeable pathway to ongoing professional development, and rarely any understanding of what is possible for Indian arts in the contemporary environment. Organisations such as Kalakshetra, impeccably trained, flawless in delivery, unwaveringly professional in their interaction and presentation, demonstrate that Indian arts practice is neither secondary, nor merely 'cultural', but a modern art form in its own right.
This idea was central to a pre-performance panel held in Melbourne, conceived by Dr. Priya Srinivasan and presented by the Consulate General of India, Victorian College of the Arts and Kalakshetra Foundation.  Esteemed teachers of classical Indian arts, Multicultural Arts Victoria, students and emerging artists from across Melbourne joined in the event to envision the possibilities for the reinvigoration of diverse arts practice in Melbourne institutions.
And for young Asian-Australian artists, it couldn't come sooner.
*This piece was jointly written by Nithya Iyer & Aparna Ananthuni of Indian Link. The article is also available via their website at www.indianlink.com.au.