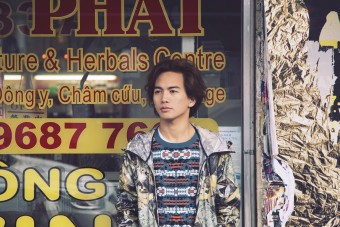 If there is one thing that I have learned from my few humble years of arts festival-ling, it is this: comedy is hard. Getting up before a group of people, endearing yourself enough to make them feel comfortable, and then being genuinely and uniquely funny, is a painfully difficult feat. The only thing possibly more difficult, is to do so whilst actually making a point.
Shannon Lim and Vidya Rajan, of the Perth-based comedic ensemble Only The Humans, have hit the Melbourne Fringe this year with their debut work, Asian Ghostery – an unapologetic, zany and rather personal show that confronts and challenges ideas of Asian-Australian culture and identity that are ingrained in our social psyche.
The show commences as a conversation between the pair as to how best they can make a show that avoids the pitfalls of Asian-Australian stereotypes, before embarking on a comical but cringe-worthy journey into romanticised ideas about war-torn poverty-stricken Asian migrants who discover new lives in Australia, the frustrating simplification of migrant Asian-Australian identity, as well as stereotypes of family life imposed upon these diasporas. As an Asian-Australian myself, this foray had me laughing out loud in equal parts as it did have me groaning with face to palm. The desire for mainstream media to repeatedly tie up the Asian-Australian experience into neat little packages of multicultural rhetoric or first-world salvation is presented to us as nothing less than tragic comedy. And people such as Lim and Rajan are smack-bang in the middle of it.
Asian Ghostery continues to present a degustation of the many facets of these Asian-Australian assumptions, poking fun and pointing at itself whilst slipping between irony, satire and roaring silliness. We are treated to emphatic role plays of imagined tales, dancing, confessions of childhood stories, more dancing, some rather gleeful nudity, and of course, dancing. Amidst these highs and lows, the show manages to keep pace and remain engaging and entertaining.
"We want to show people that we are like everyone else" says Lim, who is engaged in the exploration of self and ancestry across a variety of contemporary visual arts practice. "There are moments when we have that tension in living in a culture that is different from ours, but that tension can be a source of great comedy as much as it can be very serious. We wanted to show all of it in the show – that we are people that have highs and lows and heaviness and lightness in our stories like everyone else. It's important to us to get away from the stereotypes of migrant generations with stories of suffering and hardship. Our upbringing was as fucked up, as joyful, as everything as everyone else."
"As performing artists, we often feel restricted in how we can be perceived or in what we can present because of our race. With this show, we want to acknowledge that there is pain, but also create something really light and funny from the same space." says Rajan, a poet and performance maker that regular addresses issues of identity and socio-cultural perspective. "Rather than sacrificing yourself or your culture for a laugh, we're into expanding what the audience is able to engage with and laugh at. I want people to walk away being very entertained, but at the same time feel that enveloped in this incredible silliness they've seen something a little bit new with a little bit of grist to it that they might think about slowly."
After a summer training at notable Chicago-based improv companies The Second City and iO alongside the other members of the Only The Human troupe, Asian Ghostery is the first offering by Lim and Rajan, who are comfortable and approachable in their demeanour, whilst genuinely funny to watch. The pair are endearing and honest throughout, delivering moments of ridiculous and spontaneous hilarity, whilst also traversing intimate and personal narratives with sincerity.
Asian Ghostery is a refreshing offering to this year's Fringe that is bound to have you laughing on multiple levels whether you're Asian, Australian, or anything in between.
4 out of 5 stars.
On until Friday the 25th of September as part of the Melbourne Fringe festival, Asian Ghostery will also be featured in this year's Crack Theatre Festival, alongside FriendQuest – an interactive theatre-based speed 'friending' performance event also developed by Lim and Rajan.
You can listen to an interview with 3CR to learn more about this exciting show.