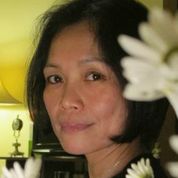 Bao Chan Nguyen is a member of the Vietnam Writers Association. She trained as a cinema scenarist at the Hanoi Cinema and Theatre University, Bachelor of Arts, 1991, and currently works for Vietnam Television as an editor in the areas of Arts and Culture. Her major publications are Burned River (Publisher of Vietnam Writers Association, 1994) which gained the Award from the Vietnamese Literary and Arts Union in 1994, Barefoot in Winter (Youth Publications, 1999), and Thorns in Dreams (Vietnamese – English bilingual edition, The Gioi Publisher, 2010). Her works are also included in The Defiant Muse: Vietnamese Feminist Poems from Antiquity to the Present (Women's Publishing House, Hanoi 2007) and many other poetry anthologies. She has read her poetry at literary festivals in Vietnam and abroad, most recently at the prestigious international Poetry Festival of Medellin, Colombia (July 2008), Poetry Parnassus Festival in London, United Kingdom (June 2012), Festival International des Poètes en Val de Marne in Paris, France (May – June 2013).
Here, she connects with Peril Founding Editor and Board Member, Hoa Pham, in the lead up to her visit to Australia as a part of the WrICE exchange.
---
Chan, your poetry in translation in English is beautiful and evocative. What do you think of your work in translation? Do you think it is a fair representation of your work?
I translated my poetry into English myself and it is fated to be part of my life. I have lived with it, loved it for a long time. Naturally, it has become very familiar to me. As I translated my work, it seemed like I was re-creating it once more. Each language has its own beauty that can never be replaced by any other. In Vietnam, people often say: "to translate poetry is to kill it". Fortunately, my poetry in English translation was not "killed". In fact, it has been regenerated, changed through its taking on a different atmosphere of words and expressions. It has assumed a "new life" which is a clear reflection of the "old one" – the original. So, it would be wonderful if my poetry in English translation could bring my thoughts, my feelings, my emotions, my soul, to its English readers.
What attracted you to the WRICE program?
I was very lucky to be invited to participate in the WrlCE program. In the beginning of 2015, the twelve participants had a very meaningful time in Hoian and then in Hanoi. During 6 days of the WrlCE collaborative residency in Hoian, we shared our works, our opinions, even our personal stories… We learned a lot from each other, and became friends. We found that many times we had already traveled in the same boat as we discovered more of the different secrets of life. I was very much attracted by this.
What attracts you to Australia?
Australia is faraway but still near to me. One of my best friends in the whole world is an Australian. He has told me many things about his beautiful country. I was even taught how to sing "Waltzing Matilda" and how to speak some Aussie lingo. However, the more I learned about this country, the more I desired to discover it for myself. It has always been a great mystery and I would really like to explore it in person.
Melbourne has a great poetry scene from spoken word to verse plays. What is the poetry scene in Vietnam like?
In Vietnam, we have quite a few ways of reciting poetry. It can be sung like folk songs, lullabies… We have a very precious depository of folk music that has been handed down from generation to generation. Vietnamese poetry is deeply influenced by these oral traditions. That's why poetry read in Vietnamese sounds very musical. I've been to a number of International Poetry Festivals to sing my poems in both languages, Vietnamese and English. I have always found that the audience liked the Vietnamese way of singing poetry very much, even before they understood its meaning. I am very proud of, and grateful to, our rich traditional culture because it has given me the power to create my poetry. Vietnamese Poetry Day is held annually, in the middle of January, right after Tet (at the same time as the Chinese New Year). On that day, many poetry readings are organised right around the country. The biggest one always takes place at the Temple of Literature in Hanoi. It is such a splendid Feast of Poetry.
Have you read any poetry or prose by Australian writers? What did you think?
When I was 14, I read "The Thorn Birds" by Colleen McCulough, in Vietnamese translation. I liked it very much. This novel has become very popular in Vietnam. Actually, it impressed me to such an extent that I can't remember any of other Australian novels I might have read afterwards. Some years ago, I bought a collection of 21 Australian short stories, from the 19th century up to nowadays, translated by Trinh Lu – a very good translator. I really liked this collection too. It gave me a panorama of Australia through the experiences and the opinions of the various authors. Each writer has a unique outlook on life, a special penmanship, a great way of dealing with emotion… All have created a polyhedron of life, people, nature… these things are very interesting to me. In Hoian and Hanoi, I listened carefully as my Australian literary mates read their works, and I was given books by Francesca Rendle-Short and Cate Kennedy, which I appreciated very much. I feel very lucky and happy to have this chance to get to know more about Australian literature through my new friends' works. I think the Australian literature books I have read may be just the start of a long adventure. I would like to keep going on and on.