Last weekend the lofty recesses of Melbourne's Federation Square were transformed for an experiment in literary cross-pollination.
The Jaipur Literary Festival, held each year in Jaipur, India is the largest free literary festival of its kind in the world. Now in it's 10th year, the festival brings together writers and thinkers from all over the globe – not in the least of which have included Salman Rushdie, Stephen Fry, Oprah Winfrey, J.M Coetzee or His Holiness the 14th Dalai Lama – for five days of talks, panels, art and debate. Now it in it's 10th year, the festival directors  Namita Gokhale and William Dalrymple have seen the Jaipur Literary Festival invited into places such as London and Boulder for sister events. A homage to the resonance of the festival with a global audience.
This year, the Melbourne Writers Festival, Teamwork Arts and Federation Square, supported by Sidney Myer Fund, Arts Centre Melbourne and AsiaTOPA, came together to bring the Jaipur Literary Festival to Melbourne. And to the credit of director Lisa Dempster and producer Jasmeet Sahi, it appears to have well and truly met our curatorial expectations.
Our city is no stranger to a dynamic and engaging cultural festival, but Melbourne's Jaipur Literary Festival (JLF Melbourne) demonstrates an evolution in the sophistication of our tastes. Bringing together authors, economists, activist, artists and poets from India, Australia, and a whole range of migratory crossbreeds in between, the offerings of this festival reached wider, deeper and somehow more specifically to the human experience of identity formation that occurs all over the world and is shared in Australia.
These offerings were made when speakers such as economist Sanjeev Sanyal spoke about the impacts of urbanization and what gentrification of the slums implies for a new generation. They occurred when transgender rights activist Laxmi Narayan Tripathi recounted fighting for the constitutional rights of the transgender Hijra people in India, but also for her own right to be seen and counted as a woman in a religiously conservative social narrative.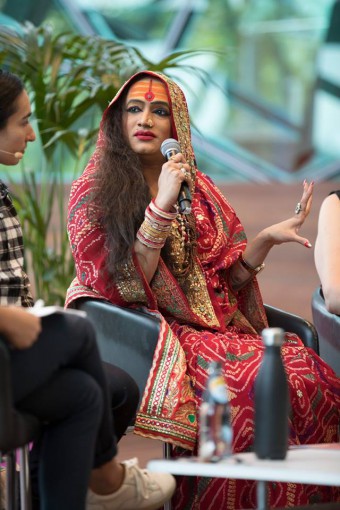 It happened when environmental rights activist Sophia Ashraf took to the stage and Tamil lyrics condemning the crimes of industrial pollution went echoing through Deakin Edge, or when Sampurna Chattarji sent us back down the ambiguous and chaotic streets of the city she lives in with quietly rhythmic words, somehow tuning in to the sense of bewildered affection that many city-dwellers know.
Panel after panel, performer after poet, the sharings of these writers, thinkers and artists had us thinking more deeply, not only about the Indian experience, but about who we are as an Australian people. This was most insightful when local authors and personalities shared the stage with visiting artists, relating the experiences of the speakers to the context of what is happening in our, comparatively very young and sometimes perhaps naive society. After all, as the seventh-largest country in the world with over 1.25 billion people and a history that spans thousands of years and includes British colonisation and independence, perhaps there is a thing or two that we can learn from India's experiences.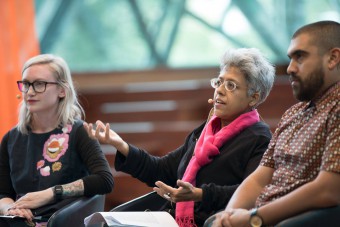 This is perhaps the greatest acknowledgment of this festival. Far from an exercise in 'multicultural' celebration of the kind we have been engaged in since the late '90s, JLF Melbourne demonstrated an articulate and contemporary exercise in intercultural and indeed intra-culturalism. Reflecting the needs of a diaspora that is long-past tired reflections on its own exoticism and religiosity, the ideas and questions posed both to and by the presenters at JLF Melbourne demonstrated an evolution in our engagement with 'Indianness', acknowledging implicitly that people of various faiths and backgrounds are connected to the Indian-experience, whatever form that takes.
The festival also provided a space for expressions of these various forms to be shared, with dancers, fiction writers, poets and storytellers from across Melbourne showcased in the Atrium throughout. This is an integral aspect of such cultural exercises, given the burgeoning population of emerging Indian-Australian artists seeking to find spaces of empowerment where their mediums and perspectives are acknowledged and considered critically by a mainstream audience.
JLF elegantly and modestly ushered in a space for the much needed dialogue and learning that people who live between these two cultures, and around these cultures, need. Rather than a celebration of culture that turns its subject into the 'other' to be marvelled at or acknowledged in distinction, JLF Melbourne sought its celebration from the inside, using the spaces of shared and connected experiences as the backbone for intellectual and creative exchange. Its relevance was never more evident than in the hundreds of chai-wielding attendees roaming the festival, reflecting a multifaceted range of people, some of which personally connected to the Indian diaspora and other 'culture-vulture' Melbournites snapping up books by the latest authors. 
While it is hard to know exactly what it was, a certain resonance could be felt throughout JLF Melbourne. It may have been seeded when Keerray Woorroong women Vicki Couzens, Gina Bundle and Yaran Bundle were joined by Indian-Australian artists Priya Srinivasan, Nithya Gopu Solomon, Shoba Shekhar and Tara Rajkumar in opening the festival. The impact of seeing these women, all of an ancient ancestry, merging their languages, melodies, bodies and rhythms, and evidently placing the First Australians at the centre of their performance, set the tone for a festival of respect, recognition and mutual understanding.
And as Sudeep Chakravarti poignantly reflected in the closing panel that India, as a nation and a people, does not yet know who it is, it brought to mind the humorous tales of Sydney-sider Sunil Badami, who at the outset alluded to the quandary of belonging; of the search we all share for identity.

For those us who were lucky enough to attend JLF Melbourne, it may just be that we don't feel so alone in the search anymore.
Image credits: Timothy Herbert & Melbourne Writers Festival