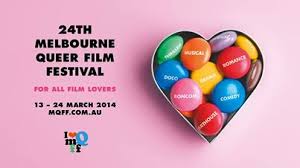 It's festival season here in Melbourne, and the next festival on the calendar is the Melbourne Queer Film Festival 2014! This year it runs from 13 – 24 March, which is just 7 sleeps away! I've put together a brief viewing guide of potential Asian interest for Peril readers, so you can get in there before they all sell out.
Noor, 6pm, 21 March. Pakistan. Urdu and Panjabi, English subtitles. Shagiq (Noor) no longer feels a part of Pakistan's transgender community, and sets out to find a particular lake, where he will find his true love.
Quick Change, 4pm, 15 March. The Philippines. Filipino and Tagalog, English subs. Dorina makes a living selling home-made cosmetics to transgender women, and makes a run for it when one of her clients suffers a bad reaction to her treatment.
Schoolgirl Complex, 2pm, 15 March. Japan. Japanese, English subs. A poetic coming out story about Manami, who finds herself attracted to a new member of her broadcast club.
Soongava – Dance of the Orchids, 6pm, 14 March. Nepal, Nepali and English, English subs. Diya is training to become a traditional Nepalese dancer, like her mother. She is engaged to a man she's never seen when her relationship with friend Kiran changes to something romantic. Their lives quickly unravel as their loving families batter against them. (I reviewed this in detail at the MQFF blog if you want to know more)
Will You Still Love Me Tomorrow?, 9pm, 19 March. Taiwan. Mandarin and Min Nan, Eng subtitles. Married Weichung, with a wife and a six year old boy, finds himself on a comedy adventure in a story that explores expectations on Asian men.
Yoshiko and Yuriko, 8:15pm, 22 March. Japan. Japanese, English subs. Based on a true story, this is about two important figures in Japanese literary history. This is also about cultural norms and expectations.
Things in Shorts: 
Transformations – Brothers
Oz Docs 1 – William Yang: Friends of Dorothy (selling fast)
Short and Burly – The Lesson
Cocktales – Gaysian
I'm blogging for MQFF this year, over on the MQFF Blog. I've been volunteering for MQFF on and off since 2011, and it's always a lot of fun. I'm profiling volunteers, board members and movie goers under 'Faces of MQFF,' and it's proving a great experience, learning why people get involved and what kind of movies get them going. Come check it out.
See you at the festival!