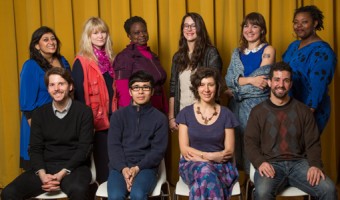 Over the coming months, in addition to our regular Asian Australian-focused content, we will do a little "looking outwards" to better focus inwards/in words, considering some of the programs, professional networks and development opportunities that other literary communities use to support typically marginalised or under-represented voices.
It is hoped, with a little bit of enthusiasm, that we could continue this "extrospection" throughout 2014. Please feel free to suggest a program, publisher or opportunity that we at Peril could connect with on your behalf! We're always open to ideas.
The first program that we are going to look at is the New York-based Poets House Emerging Poets Fellowship Program. Poets House is one of only a handful of dedicated poetry libraries in the world and features some 60,000 + volumes of poetry works. Although Poets House is not specifically mandated to support Asian American or other specified writers groups, its broad remit, premier location, and dynamic events program make it an interesting starting point for discussion – just how are writers of colour or writers of diverse backgrounds being supported (or otherwise!) by literary institutions here and overseas.
In the case of Poets House, for the past three years, the Emerging Poets Fellowships have mentored up to 10 fellows each year with the gracious support of the Jerome Foundation. The program offers a 12-week series of workshops and meetings, reinforced by the existing infrastructure and resources of Poets House, and a diverse range of readings and conversations with other poets and scholars. The application process is competitive, but tuition is free to those accepted into the program and some transportation support is available.
To be considered an emerging poet, Joe Fritsch, Program Coordinator explains,
"A poet must be able to display a serious commitment to her poetry. This usually takes the form of a combination of recent publications and performances, and the ability to articulate one's poetic practice and goals. The poet must also have a "need" for the program; the poet must need the push to the next level. The question of need can be interpreted in many ways (financial, the need for a larger community, the need for more space and time to write and research, etc.) by the judges. To describe emerging in other terms, the poet cannot be enrolled in a degree-granting program, nor can the poet be a Pulitzer-winning poet."
Against this backdrop of what constitutes an emerging writer, there is a notable diversity of both Fellows and Mentors – participants in the program are nothing if not heterogeneous. There are a writers from diverse cultural and linguistic backgrounds; writers whose work explicitly acknowledges or connects with issues of lesbian, gay, bisexual and transgender identity; multidisciplinary artists; scholarly works of deep sensitivity sitting comfortably beside visceral vernaculars and dynamic performance poets. As Joe explains quite simply, for Poets House, "diversity is an absolutely essential part of the fellowship".
He goes on to elaborate, "mentors are selected by considering poets, established in the community, who are willing and available to make the commitment to the group of fellows. We want a diversity of mentors, so that all the aesthetic styles present in the group of fellows can be addressed directly over the course of the fellowship. That said, all the mentors have a huge knowledge and respect for different poetic styles."
That diversity of aesthetic styles and representative voices is immediately apparent from even a quick glance at the works and writers featured in the past three years of programming. It is extremely difficult to see "a type", and the energy and thoughtfulness, the self-critical and questioning, nature of many of the writers featured in the program is an exciting reflection of the program's integrity and intent. No doubt the recently announced 2014 fellows will add another dimension to this program.
While travelling in New York recently, I had the opportunity to connect with several writers who had been a part of the program in the past two years, namely:
Ocean Vuong
Mahogany Browne
Rosamond King and
Cathy Linh Che.

 
While not all of these writers are Asian-American, they do all identify with a particular non-white cultural background, and while acknowledging this generalisation, they bring their own specific sensitivities to issues of identity and creative practice.
This growing picture of "writers in transformation" will be reflective of what Joe describes as core to Poets House, their commitment to providing "a place for poetry", namely "a world-class poetry library and wonderful programs that are meant to inspire poetic creation among our patrons".
Over the coming weeks, Peril will provide some brief introductions to those writers named above and their particular experiences as part of the program, sharing just some examples of particular writers of diverse cultural background who have embraced the challenge of "taking the next step", with the support and mentoring of a cultural institution.
As always we welcome your reflections on times when organisational support and coaching has, or perhaps has not, fostered structured development of Asian Australian creatives, contrasts and comparisons of "what works" and what does not when trying to build a more diverse and inclusive creative culture.