Your dreams are my dreams said the Prime Minister of India Narendra Modi to a cheering rush of spectators in Sydney last week. The dusk was masked by floodlights built to mimic the sun. You wish your motherland was like Australia? You wish India could be cleaner? You wish you didn't need mountains of paperwork to prove to the cops that you are, indeed, yourself? Done!
A roar of amazed applause. Yes! This PM comes in good faith, speaking the language of our hearts.
Used to the soporific, filing-cabinet speeches of politicians in India and Australia, the audience heard this well-modulated empathy, and ignited. Modi established himself as first amongst equals, and stirred the crowd to exultation.
We have a responsibility to the karmabhoomi, he told us in his speech. For many non-Hindus, the word rolls hazily off the brain.
But for those whose habitus has been constituted by Hinduism, karmabhomi is an electrifying, tidal word. It means, the land of work, as different from, yet complementary to, the janmabhoomi, the land of birth.
The ligature between the longed-for land of birth (India) and the fruitful land of work (Australia) can sometimes be guilt, for having abandoned the grit and grind of the India we left behind. Modi soothed our consciences with the miraculous balm of validation. It's ok to love Australia and also love India, he was saying to us, acknowledging the conflicted ebb and flow of our ties to homeland and adopted land. But help out the land of birth by giving freely from the land of work.
The word karmabhoomi does some heavy lifting for Modi, permitting him to evoke the practices of a Hinduised habitus without the need to explicitly name the Hindu religion. It also helps him hitch our diasporic chariots to his Make in India program. Quality of life, he said, is what we need.
But quality of life, good education and healthcare, for whom? He clarified this for us:  for the CEOs, the managers of the world, who will come to Make in India.
The day before the PM made his Instagram debut with a photo of a  photo, 10 Indian women died in a government-run forced sterilization drive in the Indian state of Chhattisgarh.
The women were young tribals living Below the Poverty Line, on less than 50 Australian cents a day. The instruments of sterilization used on them were themselves not sterilized. The tablets the women were given contained rat poison. A single doctor performed 83 laparoscopic tubectomies in 5 hours. This is but one of many ongoing tragedies in India today. Yet, there was no mention of the bodies of dead women in the path to progress in the PM's rousing speeches.
A miracle, at some level, is always a mask. Even a cursory unmasking of the miracle Modi 'performed' in Gujarat, as the state's Chief Minister reveals the warped weft of economic growth in India.
In the period between 2003 to 2012, 4874 farmer suicides were recorded in Gujarat alone. In an interview with ABC RN's Rear Vision program, economist Ashok Kotwal quotes from a 2013 Ministry of Finance report , revealing that Gujarat is one of the worst in relation to quality of education in India, having slipped by some indicators during Modi's tenure.
From Nobel Laureate Amartya Sen and economist Jean Drèze, to  Chevalier of the Legion of Honor and human rights advocate Cedric Prakash SJ,  numerous individuals and organisations continue to document the myth of development of Modi's Gujarat, the current "rogues gallery" of ministers in the Modi cabinet, and the struggles of marginalized communities in India.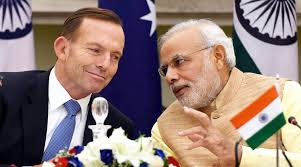 But, to rewind a little, it seemed as if none of this mattered as Modi slipped into Liberal-National governed Australia like a hand into a bespoke glove.
As he descended from his aircraft onto Australian land via airstairs named Menzies, it was hard not to think of Robert Menzies, the founder and first PM of Australia's right wing, conservative, Liberal Party.
This happened on the very day that Tony Abbott said that Australian land was nothing but bush before 1788, negating the well-documented consensus amongst historians about Indigenous karmabhoomi, their ancient land management practices, the medicinal, spiritual and artistic sophistication of Indigenous communities in their janmabhoomi before White colonization.
This image of arrival on an aircraft evoked another aircraft, a private jet on which Modi flew into power this year. It's his party and he'll fly if he wants to. Except, the jet belonged to Gautam Adani, who in October this year was given approval to develop the biggest mine in Australia, the Carmichael Mine in the Queensland's Galilee Basin.
The financial viability of the project has been uncertain. Yet at the same time that Modi was saying to the Australian Parliament that India wants energy that will not cause glaciers to melt, and there were reports that India has plans to stop importing coal from Australia, Adani's  $7.5 billion coal mining, rail and port project named Abbot Point, got Australian government environmental and regulatory clearances .
The mine is almost certain to "drain the lifeblood", the groundwater of the region, and lead to major flooding and significant loss of food-producing land. The project is located so close to the World Heritage Great Barrier Reef, that carbon emissions from it will damage the reef's fish and coral ecosystem. At a time when President Obama expressed the desire for the Great Barrier Reef to be around for his daughters to see, PM Abbott reiterated that coal was the future.
Adani's record of environmental destruction and non-compliance with regulations in Mundra, Gujarat, have meant the destruction of mangroves, with fly ash and saline water further ruining fertile farm land.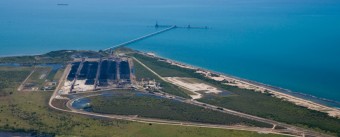 Adani's project in Australia is 7 times larger than Sydney harbour, and will involve 600 extra coal ships passing through the Great Barrier Reef every year. There have been strong protests in Australia against the Adani project. US banks have refused to fund the project .
Yet Queensland Premier Campbell Newman will pay Adani hundreds of millions of dollars of taxpayers money so that the Abbott-Modi-Adani trinity can turn our water into mines in Galilee.
The friend of your friend will always be your friend.
We love a PM who tweets and Instagrams like a digital native. Yet, as he posed for photos with QUT's research team developing iron-rich bananas to help stamp out maternal iron-deficiency anaemia in India, more mothers in Chhattisgarh kept dying.
He presents the youth of India as a lucrative market. Yet his party physically abuses this very demographic as they engage in public displays of affection through the Love Jihaad and Kiss of Love protests. He may impress by taking off his shoes in front of the Gandhi  statue in Brisbane. Yet his government is dismantling the largest public employment program in the world, the MNREGA, named after Mahatma Gandhi.
When Labor Opposition leader Bill Shorten, addressed Modi in Parliament, he located Modi in the same lineage as Nehru. That's like equating Abbott with Whitlam, one the destroyer of what the other created.
As Indian Australians connect to the land of our work, as urged by the PM of the land of our birth, we would do well to interrogate the karma in our bhoomi, as well as that other karma, where we reap the 'miracles' we sow. Or else, we may find ourselves awaking from dreams, into a dry dusk, that will not be masked by floodlights, however strong they may be.
————-
Modi in Oz: Tweets, Diaspora and a PM of Science? (Part one) can be found   here
Modi in Oz: Rockstar and Hindutva (Part two) can be found  here