Made from glutinous rice, mung bean, and pork, and created by prince Lang Lieu after the defeat of the army of the Shang Dynasty, Banh Chung is a traditional and highly symbolic Vietnamese food. It's traditionally consumed at Tet, the Vietnamese Lunar New Year, and holds an important place in the family altar and in preparations for Tet and other celebrations. Preparation is a family affair, and skills are learnt over years of practice and continuity.
In Banh Chung, artist Chi Vu seeks to explore loss and displacement through a process-oriented installation performance. It's a heavily sensory experience, with a combination of audio play, site performances and dislocated audience movement creating a unique environment through which to interrogate mass migration, colonialism, and war and culture.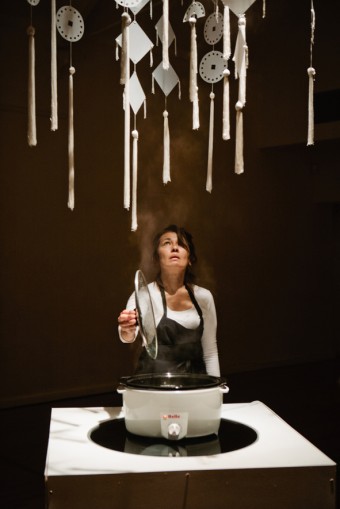 The audio play uses a combination of culinary practices, mythological pieces and history to do this. The site installation uses culinary implements and religious elements to create a sense of place and dislocation. The site performers are both connected to the audio and the installation, and separate from it. Together, and with the audience's involvement, Banh Chung looks at loss, religion, and culture.
Each audio piece takes place at Tet, the Lunar New Year. With moments set at Tet in Ancient Vietnam, in the Tet Offensive of 1968, and in Australia following escape, migration and war, each element is an emotional piece exploring and confronting displacement and the legacy of war.
The audience is invited to move between pieces via a 50 minute audio track; to be impacted by the site performers without truly interacting with them; to be affected by the audio performers whilst choosing which visual cues will accompany the performance. Audience members are invited into the space a few moments apart, in twenty minute intervals, by one of the performers. This allows each experience to differ slightly – and sometimes significantly – from every other experience: as one might in migration or dislocation.
The performance space is quiet and dark, a contrast to the experience itself which is filled with loud, contrasting noises and bright, focussed spotlights. I felt overwhelmed as I moved from light to dark; as I moved across the space and my footsteps echoed in the quiet, underneath the noise of conversations, arguments and war. I was alone in my experience, even as other audience members walked across the space, weaving in and out of my eyeline; even as I was showered with rice and the smell of cooking banh chung wafted past me.
Banh Chung is a harrowing, emotional and jarring piece. The deprivation and dislocation serves to highlight what the audience brings into the performance space with them, but the damage is emotional, rather than logical, and ultimately you step out into the bright light of a November afternoon in Footscray, carrying the ghosts with you.
4 out of 5 stars.
Banh Chung has performances Saturday 23, Sunday 24 and Monday 25 November at the Performance Space, Footscray Community Arts Centre. Bookings are recommended.
Photo credit to Jave Lee