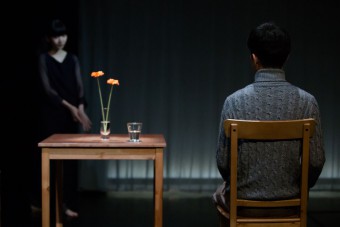 In a dimly lit lounge room a man sits with his back facing the audience. The micro-movements within his body are interrupted, caught as though unable to complete their organic intentions. He feels to be wavering, punctuated in his sporadic trappings by miniature mechanisms of floodlights and wind. When others enter the space, he is simultaneously with them and separate from them. He speaks, but his presence is stilted, suspended in the motion of trying to become.
Such is the quiet insight of Toshiki Okada's work, poignantly captured in Time's Journey Through A Room, which recently premiered at Arts House in North Melbourne as part of the AsiaTOPA festival. Performed by Izumi Aoyagi, Mari Ando and Yo Yoshida, this intimate play portrays a rare insight into the way in which the Tonoku earthquake and subsequent tsunami of March 2011 intervened in the lives of everyday people in Japan. The work depicts the experience of one man as he attempts to forge a new relationship a year on from the disaster, haunted by the ghost of his dead wife.
Set predominantly in a tone of reminiscence, occasionally interjected with present-moment narrative, Times Journey Through A Room immerses the audience in auditory and visual cross-sections of parallel timelines. The work also does not rely on conventional narratives of tragedy, instead highlighting the strange relationship between life-changing disaster, transformation, faith and adaptation. The script, communicated through surtitles, at times lacked pace, allowing the curiosity of the audience to be tested. However, the characters are portrayed with care and manage to illustrate in some way the strangeness of post-traumatic recovery.

Designed by Tsoyoshi Hisakado, the environment in which this story unfolds is distinctly apt for the story it is telling. Minimal and yet purposeful and detailed, the audience is led through the slow remembering of the characters lives, whilst placing the details of the everyday and the banal within the context of the much larger happenings of the disaster that occurred. The effect is intriguing and effective.
A contemplative beginning to the AsiaTOPA line-up at Arts House, North Melbourne, Time's Journey Passing Through A Room is on from Thursday February 9th through to Sunday February 12th. Tickets available via Arts House, North Melbourne, or AsiaTOPA.

3/5 stars.
Written and directed by: Toshiki Okada
Sound and Set design: Tsuyoshi Hisakado
Performed by: Izumi Aoyagi, Mari Ando, Yo Yoshida
Stage director: Koro Suzuki
Sound director: Norimasa Ushikawa
Lighting director: Tomomi Ohira (ASG)
Costume by: Kyoko Fujitani (FAIFAI)
English translation by: Aya Ogawa
Assistant director: Yuto Yanagi
Produced by: Akane Nakamura, Tamiko Ouki (precog)
Production assistant Mai Hyodo (precog)