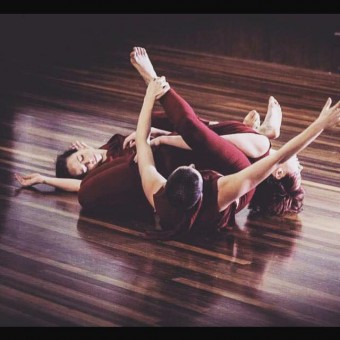 Set in a dimly lit church at dusk, a small audience tentatively takes their place around curved make-shift seating, mounds of dirt piled beneath their feet. We have already been anointed with essential oils, embraced as we enter the chapel, removing our shoes for what is intended to be as much a spiritual experience as it is a performance.
Vessel is the debut of a series of works focusing on 'choreographed energetic experience' as conceived by rising choreographer and artistic director Jonathan Homsey Best Emerging Producer Melbourne Fringe Festival 2013). Activating spiritual concepts and practices of the Eastern world with ideas of immersive performance, the five-part series of works aims to create a discussion point around spirituality and the role of the individual in creating and transforming their own states of being. Each of the pieces, performed successively over five nights, focuses on one chakra, which is said to be a wheel of energetic circuitry in our bodies. Coined in Eastern philosophy and used in practices worldwide, each of the five chakras in our bodies are correlated to different emotional, physical and spiritual states and tendencies. To 'open a chakra', as these performances aim to do, is to activate this energy centre in our bodies with the intention of creating optimal states of well-being and connection, as well as facilitating channels that relate to spiritual experience and transcendence. Often done through physical or healing modalities, the experiment of Vessel is to see whether this can be achieved through the witnessing of and immersion in performance.
Three dancers – Lucy Doherty, Courtney Hale and Dina Smirnova – are the conduits of this experiment, dressed in simple clothes the colour of dark blood, they commence in meditation. To the sounds of binaural frequencies and rhythms played by composer Nat Grant, the bodies come to life, each reflecting a vibration that is simultaneously unique to their movement and harmonised to their counterparts. Known as the Harmonic Principle in music, this reflects an idea that certain frequencies aligned to the patterns of the organic world allow for harmonisation within all natural beings, no matter what their unique patterns of vibration.
The choreographic sequences take the dancers on a journey, and by witness allow the audience to feel a certain catharsis. Focussing on the Sacral or Root Chakra, referred to as Muladhara in ancient Indian texts, the work echoes sentiments of primal connection, birth and death, survival and physicality, sex and intimacy. We recognise in the choreography the infinite depths and darkness that is the experience of birth, a venture into the void within ourselves, as the performers spiral weightless into an etheric space. Moving between solo sequences and group work, the abstracted gestures sometimes reference postures of yoga, while other times descending into primitive and ecstatic states. This choreography provokes contemplation in the viewer, whilst allowing for each of these impressive dancers to demonstrate their unique stylistic references and performance aesthetic.
In such a performance, it is interesting in the mind of the audience to try and place what the dancers symbolise. Classically, dancers reflect and represent narratives, but here they are an enactment of a specific and complex energy. Like corpuscles, minute particles of energy, they move before us, to be watched, but perhaps in some ways more to be felt. This idea is emphasized in the performance, as the dancers depart the stage to once again anoint and bless the audience members, dousing us in the gentle sounds of singing bows and the smoke of white sage, traditionally used in spiritual and shamanic practice. In this moment is perhaps where the intention of the work is realized, as audience members allow themselves to be lilted into the womb-like mood that has been created, eyes closing and heads gently tilting back. Amidst the small dirt-filled semi-circle, a diversity of everyday people let go, even if just for a few moments.
As we left the performance, relaxed with sleepy smiles upon our faces, my friend turned to me and said "I feel like I've just done a yoga class". Such feeling is what makes Vessel a most worthwhile experiment. This small labour of love by Homsey into the world of performed energetic experience is bound to leave you feeling at home again.
Vessel is on at the Bluestone Church Arts Space at 10A Hyde St in Footscray every night until Sunday the 22nd of November. Tickets can be found at Trybooking.
3 out of 5 stars.
Vessel is collaborated and Performed By:
Nat Grant
Lucy Doherty
Courtney Hale
Dina Smirnova
Composition By:
Nat Grant
Visual Work:
Katherine Gailer
Costumes By:
Helen Croatto
Light Installation:
Janine Parker's "3%"
Proudly supported by:
City of Maribynong
Bluestone Church Arts Space
Perfect Potion