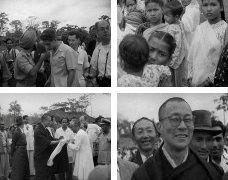 Sometime ago this year, I received a video file by text from my father. At first glance, it looked like an old black-and-white recording. When I played the clip, I found it was a British news report capturing the historic moment of the 14th Dalai Lama's arrival in India after his escape from Tibet in 1959.
The year 1959 was a watershed in Tibetan history. In 1951, the 14th Dalai Lama had signed an agreement with the People's Republic of China granting the Communist Party effective control over Tibet. The introduction of socialist reforms in the Kham and Amdo regions of eastern Tibet from 1951 onwards had led to social unrest and ultimately the eruption of armed resistance in 1956.
Lhasa, which was granted greater autonomy than these other provinces, was, at least in the early stages, unaffected by the reforms program and the unrest. However, after the rebellion in the eastern region was suppressed and quashed in 1957, and brutal reprisals against guerilla fighters, monks, nuns, monasteries and villages were carried out, Lhasa was inundated with people from Kham and Amdo fleeing the crisis in their lands.
In early 1959, rumours of a plan to abduct the Dalai Lama (prompted by a series of unusual missives from the Chinese military) began to circulate in Potala Palace and eventually amongst the people of Lhasa, and fear, trepidation and an undercurrent of dissidence spread through the city. In the ensuing insurrection, pro-Chinese Tibetan leaders, who were seen as traitors, and Han Chinese were attacked in the streets, and barricades were erected in and around Lhasa. Declarations of independence reverberated through the city as Chinese troops and Tibetan rebel forces fortified their positions in anticipation of an imminent confrontation. Norbulingka, the Dalai Lama's summer palace, was surrounded by Chinese troops and shelled on 17 and 19 March 1959. Fearing the worst (the uprising would be quashed by Chinese troops in three days and reprisals would follow), rebel forces cleared a route through Lhasa for the Dalai Lama's escape.
As Stephan Talty's Escape from the Land of Snows documents, the Dalai Lama, with his family and a band of followers, under the protection of hardened guerillas known as the Chushi Gangdrug and with the assistance of the US Central Intelligence Agency (CIA), journeyed over 17 days towards the border with India. On 30 March, fatigued and ill, the escape party reached the border. John Greaney, head of the CIA's Tibet Task Force, sent a cable to Indian Prime Minister Jawaharlal Nehru's office in New Delhi seeking permission to enter India. Greaney tells Talty in Escape that it was fortuitous that the journey commenced over the weekend and proceedings in the US commenced under his supervision; if the bureaucracy of the State Department had been involved, the Dalai Lama might have never left Lhasa. From 30 March onwards, the Dalai Lama journeyed further inland and was finally received by Government of India (GOI) officials on 18 April in Tezpur, Assam, in the north-east of the country. From there, he was escorted to Dharamshala, a town perched in the foothills of the Himalayas in the state of Himachal Pradesh, a town that would ultimately become known as the home of the Tibetan Government-in-Exile or the Central Tibetan Administration (CTA). Approximately 80,000 Tibetans followed the Dalai Lama into India and were re-established in agricultural settlements by the CTA and GOI. Over 50 years, over 150,000 Tibetan refugees arrived in India. The 1959 Uprising, according to a 1960 People's Liberation Army (China) document (cited in a 1990 CTA report), resulted in the "elimination" of "87,000 enemies", although both the meaning of the term "elimination" and the given figure remain disputed.
Now, coming back to the video file that my father sent me. The news clipping showed the moment of the Dalai Lama's arrival in Tezpur: a somewhat dilapidated town; a contingent of Indian police officers and government officials superintending the chaotic proceedings; a bevy of foreign journalists eager to relay back images of the final stage of a journey that governments and newsrooms had spent weeks tracking and poring over; a crowd of 7,000 or more gathered to receive the Dalai Lama's blessings; a train station bustling with activity in preparation for his onward journey; and a smiling pontiff whose seemingly unperturbed countenance belied the ravages of a month-long journey. In that video was a Sikh police officer who could be seen superintending the officials and journalists, escorting the Dalai Lama and managing the nitty-gritty of this historic event. That officer was my maternal grandfather, Bahadur Singh Baber. It is a remarkable coincidence that one of the officers who received the Dalai Lama in what would become his adopted homeland was himself someone who had fled home and land just over a decade earlier.
In 1947, when British India was partitioned and India and Pakistan gained independence, riots erupted on both sides of the newly demarcated border. Fuelled by longstanding communal animosities and tensions and rumours about the impending division of land, coalescing waves of targeted ethnic cleansing and retributive violence swept through the north-west of the subcontinent. The result was the biggest mass migration in human history – 14 million people were displaced from their homes and at least half a million (some estimate up to a million) were killed. As Hindus and Sikhs from Pakistan and Muslims from India fled across the border, homes were demolished, possessions were looted, land was seized and occupied, and large swathes of villages, towns and cities burned. Hordes of exiles attempting to flee were slaughtered en masse.
Both my maternal grandparents were survivors of this genocidal catastrophe. While my maternal grandmother's family, who were wealthy business people, secured early safe passage to India some four months before the actual partition, expecting to return one day to their homes and businesses, my grandfather, who was poor, was trapped in the maelstrom until the very end. His desperate escape was marked by two ineffable strokes of good luck. He first tried to reach Delhi by climbing onto a truck departing Lahore, but when it was his turn to get onto the truck, he was refused entry and the door was slammed shut; there was no more space inside. Each and every person in that truck was later shot dead. Immediately seeking the next means out, he managed to slip into a train. No sooner had the train left the station than militants stormed its packed compartments and fired indiscriminately at the ensnared passengers. They shot everyone in my grandfather's compartment but fortuitously he emerged unhurt. He'd sprawled on the ground and pretended to be dead. And he made it to the other side.
When he reached Delhi, he found a city engulfed in chaos. He had no money in his pocket, no knowledge of the whereabouts of his family and nowhere to go in this city teeming with refugees. It is estimated that between 1947 and 1951, around a million refugees settled in Delhi, with individual camps in historic locations like Purana Qila, Red Fort, Kingsway Camp and Kurukshetra holding tens of thousands at any given time. Around dusk, he met a friend of his from Lahore who took him to a man called Panna Singh. Singh worked as a supplier of milk in Delhi and had very little money, but he and his wife, confronted with the magnitude of what was unfolding before them, took five or six boys in and put a roof over their heads. For the next few years, my grandfather lived with this couple of little means but endless generosity.
Over time, he was reunited with the rest of his family; he found them through announcements on the radio. His siblings had made it to Delhi as well but his older sister's husband had been killed during the riots. She was pregnant with their third child at the time.
In the meantime, the Indian government announced that all students who had appeared for their final BA exams in Lahore at the time of partition could repeat it under the auspices of the University of Delhi. My grandfather did just that, cleared the exams and quickly found a job as a government clerk. He then enrolled in an evening-classes program for an MA in Economics. After finishing his master's, he simultaneously appeared for the civil services exams, sought to enlist in the army and applied for a job at a private company called Lever Brothers. He successfully passed the civil services exams, was accepted into the army and was also offered a job by the company. The Singhs advised him to take up the services and that's what he did. He joined the Indian Police Service and was assigned to the Assam cadre. Over the years, the Singhs accrued considerable wealth and even invested in properties in Old Delhi. As children, my mother and her sisters visited them regularly and were showered with gifts. Till the time of Mrs. Singh's passing, my grandfather sent her a monthly money-order with a token amount as a mark of gratitude. They tried to dissuade him from doing so but my grandfather was a man of tenacious will. He had an indefatigable spirit and an undeniable instinct for survival but he had no doubt that it was the kindness of these two souls that had given him a new lease of life. He felt connected to them in ways that perhaps cannot be plumbed, and he tried to express his gratitude in whatever way he could. In his career, he ultimately retired as the director-general of Assam Police.
In that video my father sent me, I saw two distinct journeys intersect. One of those journeys has of course over the years been meticulously researched and recorded for posterity; the other has been passed down privately from parent to child. My grandfather when he was alive would hardly ever speak about the past. He was very much a man of the present and the future. My grandmother, though not at all reticent like my grandfather and always happy to regale us with tales of her childhood, is still quite unsentimental and only ever reluctantly nostalgic. I would describe her as a pragmatist and a thorough optimist. With our elders having defined their lives by a resolute and steadfast commitment to the future, it is sometimes our lot and privilege to remember. And to reflect on their perseverance and achievements.
You can watch the video Arjun's dad sent him on the British Pathé website here.