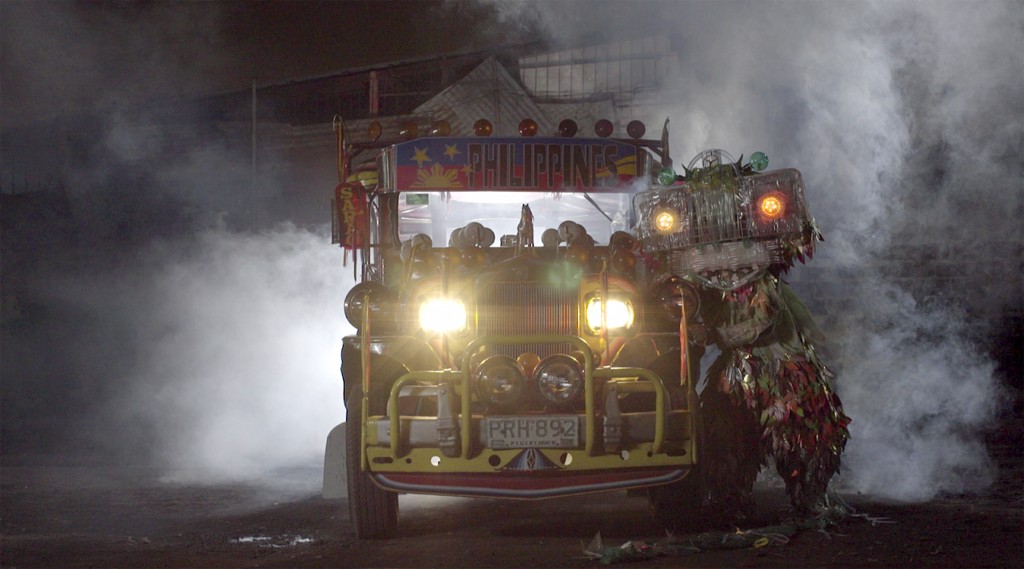 Justin Shoulder and Bhenji Ra, artists and collaborators whose performance and video work are featured in APT8, are some of the most interesting artists practising in Australia today. We spoke to the artists about their collaborative practice and the commissions for APT8.
PERIL: How did you come to work together?
JUSTIN: We first met at Connections nightclub in Perth in 2014, I was doing a show there and we were introduced through mutual friends. We've found that artistic relationships are often built through these nightlife and subcultural meeting spaces. After a brief discussion of practices that led to the discovery of our shared Filipino heritage there was a bit of a light bulb moment where we saw the potential of drawing together our skills and working collaboratively. We started with an improvisational dance at the MCA for Justin Shoulder and The Glitter Militia's: Nightcraft where we began with a meeting of figures: OO and Bheige Cantrell, two of our performative avatars. Things kind of flowed from there when we started creating a platform for future performances our club night Club Ate (Big Sister) (2015).
PERIL: In your work, your mythical characters are often in-conversation, albeit sometimes in different landscapes. What are your respective creative backgrounds and how does that impact your creative dialogue?
BHENJI: I mostly work in performance and have a strong dance/body centered practice. I attended the Martha Graham School of Contemporary Dance (New York) in 2008 followed by a three year Bachelor of Dance at the Western Australian Academy of Performing Arts Perth. I have been embedded in subcultural dance communities in Sydney and New York as part of the diaspora of the Voguing community. I trained in traditional Filipino dance forms over the past few years and my projects have often engaged subcultural communities, documenting their lived experiences and stories with work centralised around visibility and representation.
JUSTIN: I have been working in performance, installation and nightlife/ community events production for the past 9 years. I consider my practice to be a part of a queer ecology co-creating both the spaces for performative expression as well as the figures that inhabit these spaces with my collective The Glitter Militia. Over this time I have created a family of performance figures called The Fantastic Creatures (2008 -)drawing from the universal storytelling form of the mythical creature. Each creature I have birthed is realised through the construction of full-body highly sculptural avatars and animated by their respective gestural vocabularies. They inhabit nightclubs, theatres, galleries and the street as well as screen based and virtual spaces.
JUSTIN & BHENJI: Alike our first meeting in the club in Perth – our creative dialogue began in nightlife spaces. We created Club Ate (2015): a performance community celebrating the work people of colour starting at The Red Rattler Sydney then moving to the Addison Rd Community Centre in Marrickville hosting a pageant. Our families, queer and biological are involved, our mums make food and our friends perform. In the community club you can inhabit your alter identity, enhance your representation of self, communicate non-verbally and you are a part of a community that often create their own codified languages, aesthetic and gestural signifiers. These spaces are the meeting points of varied practices and incubators for the video works we have been working on. In these spaces our respective avatars converse and generate their collective languages.
Alike the liminal spaces of the nightclub – we started to imagine parallel landscapes like the Skyworld where our figures could exist and proliferate. The idea of these parallel yet connected spaces to this world fed into our first screen-based work Deep Alamat (2014), commissioned by Artbank. Here we communicate in our respective gestural and aesthetic languages eventually meeting in the same world. This moment of contact is like a metaphor for that search for a collective mother tongue – a language that draws together our complex identities: queer and Filipino.
PERIL: Ex Nilalang (2015) is a commission for APT8, is this a project that had been brewing for some time? What was process for creating the work and bringing the characters to life?
JUSTIN & BHENJI: When we talk about mythologies and fantasy – the stories aren't dislocated from our lives but are embedded in personal and collective histories. This project was a natural extension from our work in nightlife with Club Ate and flowed naturally from our first collaborative video work Deep Alamat (2014). We believe there is great power in transforming dysfunctional myths and beliefs through art and representation. We are at the beginning of our research of Filipino mythologies and have been looking at how certain myths have histories contributing to the oppression of LGBTQI communities in the diaspora. Nilalang has a hybrid meaning 'to create' and it also means 'creature'. This emphasises the nature of the work being both a transformation of existing mythologies and also the imagination of new ones. We chose myths in collaboration with each of the artists involved so that they reflected our own personal histories becoming catalysts for transformation.
PERIL: How did you work with your Philippines based collaborators, like Jai Jai who performed one of the three portraits in the work?
JUSTIN & BHENJI: Bhenji worked with Jai Jai in the past (Bhenji joined a local festival dance troupe in 2013 in Jai Jai's hometown where they had met ) So there was already an existing connection to work from. Jai Jai is a popular performer in her city of Tacloban, she often hosts local 'miss gay' pageants and talent shows as well as performs as highly stylized creatures of horror – so it only made sense that she embodied the creature of the Mananangal. It was important to us that Jai Jai had her own self-determination around the work and that the narratives reflected her own personal mythologies and experiences.
It was important for us that each video portrait is a natural extension of our existing relationships, that collaborations flowed from community engagement. We built relationships with the trans community in Manila meeting at a club called Mixed Nuts and performance venues like Club Mwah. From here we imagined the parallel aquatic universe of Dysebel based on the Filipino pop culture character from the fantasy drama television series of the same name. Here we meditate on the experience of the bakla/trans girl from metropolitan Manila in parallel with the folklore of the siren/mermaid. In the final episode Justin becomes a Jeepney creature in order to communicate with his Lolo who was a Jeepney driver. Each story extends on personal narratives where art reflects life and vice versa.
PERIL: What has your experience been like working as diaspora artists in the Philippines? Have you faced any resistance when transforming historical mythologies to speak to contemporary discourse around queer identity? I am thinking particularly of the Alamat legend and the folk law around the Mananagaal.
BHENJI: Yes. There is an understandable resistance from our own queer community in the Philippines when equalising our own queer experiences with mythologies that were created to insight terror – fair enough, the mythologies such as Mananangal were originally intended to demonise women/queer trans people. (short history: A lot of the lower mythology that we deal with were folklore that came out of colonial propaganda. The Spanish friars were threatened by the sexual liberation expressed by pre-colonial Filipino women as well as the high regard for non-binary and trans people, so to create distrust amongst these communities they fictionalised stories of horrific female creatures to demonise women/trans people. Since then the folklore has really been imprinted in society.) So it was a challenging negotiation on how to subvert these narratives and reclaim the histories that had been made to damage our identities. In the end, re-interpreting these mythologies is actually an act of decolonising our said histories.
PERIL: You have spoken in the past about engaging in the community ecology and the importance of destabilising the hierarchy of centre and periphery, high and low culture. Did this figure into the participatory work you made for the APT8 Kids Program? What was your approach and concept for engaging a younger audience?
JUSTIN: In my personal life I'm part of a queer family: I co-parent with my partner and his friend a spritely young eight year old called Zephyr. From this lived experience I'm invested in the politics of alternative ideas of family outside the dominant paradigm. There is the potential to collapse hetero-normative kinship structures and expressions of gender and sexuality through providing alternative representations of relationships and modes of being.
Mythical creatures are universal figures that can tap into the imagination – they are non-human yet also anthropomorphic so they have human-like traits you can project your ideas onto. For Club Anak (Club Child) (2015)we wanted to give the kids the agency to imagine an avatar of themselves that exists beyond preconceived ideas of gender and kinship structures. We wanted to create a space of affect – of colour, diversity, vibrancy that nurtured the imagination. The body parts that made up the potential crafted avatars for Club Anak were drawn from motifs within Ex Nilalang but also greater Filipino myths – pop cultural, folkloric and imagined. The black light lit club room hums with potential – illuminating these figures in a greater connected ecology. We wanted to give the kids the feeling of a fantasy nightclub much alike the freeing spaces we inhabit with Club Ate and nightlife subcultural spaces.
PERIL: As part of the APT8 Live program two of the characters of Ex Nilalang (2015) (performed by you both) formed a procession through QAGOMA's public spaces.  How did the public engage with the characters?
JUSTIN & BHENJI: Our aim is to maintain the logic of our mythical figures so at QAGOMA we wanted to imagine that they had appeared like apparitions in this space, trying to comprehend their environment. The performance is not framed as entertainment, more so an idea of being – of the creatures existing in space. It was a good time for us to be able to investigate our gestural, aesthetic, sonic spirits over the duration of the exhibition. Serendipitous interactions occurred particularly with children. Particular kids were drawn to each of us, really invested in our realities. It was exciting to be able to suspend their imagination and draw them into our worlds as well as the greater project of Club Anak. There were moments where we would apprehend each other in space, like foreign bodies finding familiarity. The processional mode of performance draws from our experiences with street parades in the Philippines and Sydney – there is great power in the accessibility of the promenade, an ability to surprise and provoke in the everyday. 
PERIL: What are you working on next? What can we look forward to seeing in the future?
JUSTIN & BHENJI: We will continue to invest in our individual and collective practices. This year sees upcoming Club Ate(2015 -) performance nights in Sydney. We are travelling back to the Philippines later in the year to continue working on the Ex Nilalang body of work. We are interested in expanding this to be screened online with more of a community dialogue beyond the gallery. The Skyworld will continue to connect artists of the diaspora as we further our research and community engagement.
---
Justin Shoulder and Bhenji Ra are collaborators brought together by their shared cultural lineage – they are both part of the Filipino-Australian and queer diasporas. For his 'Fantastic Creatures', Shoulder has created prostheses and full-body costumes traversing animal, human and fantasy worlds. A dancer and installation artist, Bhenji works across diverse forms including Filipino dance and Vogue Femme. Their practice has its roots in queer nightclubs and retains the collective energy and sense of community of these spaces.