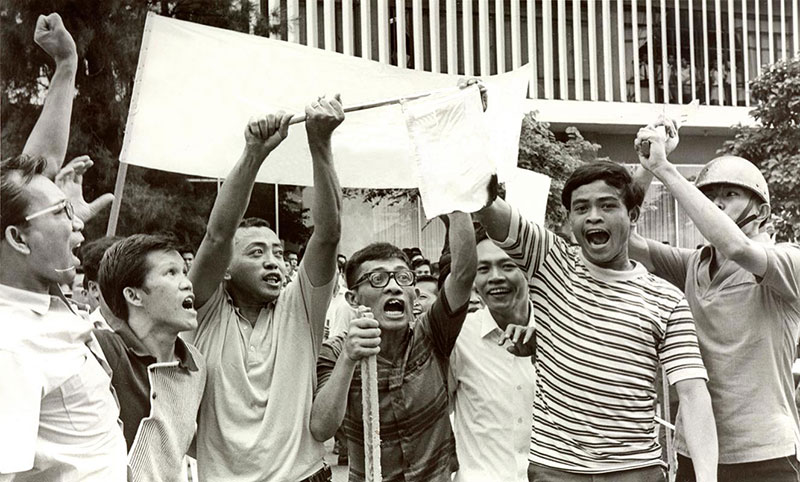 Whilst APT8's most stated curatorial theme relates to performance and body in region, there is also a permeable thematic thread of loss or anticipated loss which is accompanied by a desire to archive. That is to archive actions, landscapes and narratives for historical and political reasons. To archive to counter the threat of erasure, due to natural and man-made disasters, Orwellian re-writings of history or emission from official discourse, globalisation with rapid urbanisation in the region, the erosion of indigenous cultures/practices and the privatisation of public land. The works in the main APT8 exhibition of Anida Yoeu Ali, Kiri Dalena, Khvay Samnang, Christian Thompson and Shiga Lieko immediately come to mind.
Not only does this theme of 'loss' and the urgency to archive pervade the work of many contemporary Asia-Pacific artists, but it sits parallel to a running concern of the arts organisations and administrators working on the ground, particularly in Southeast Asia, to support the growth and permanence of contemporary art practice itself. Those working in country often operate with limited resources, with little to no government support or infrastructure and challenging climatic conditions for archiving, documenting and conserving art works and their ephemera. Hence, associated histories can be easily lost. Galleries and cultural centres in the region are often strained by wearing multiple hats in arts curation, education, archiving, conservation and the selling of the 'product' to private collectors and overseas public institutions including QAGOMA. They also face dilemmas of their sometimes conflicting roles. Herein we talk to Iola Lenzi, a curator and academic specialising in Southeast asian art about her experiences in the field dealing with this sometimes fragile matrix of archiving, conservation and collecting.
KATE: Back in 2013, I had the pleasure of meeting you when you were curating The Roving Eye: Contemporary Art from Southeast Asia for Arter in Istanbul. It was a fruitful meeting, resulting in the inclusion of Cambodian artist, Srey Bandaul in a later exhibition. The work you commissioned was a great opportunity for Srey to realise a large scale work he had been thinking of for a long time that mined his personal narrative living in a refugee camp as a child.
One of the challenges I personally faced when running Romeet Contemporary Art Space was working with limited resources and staffing to keep the ship afloat, it was a challenge to present the artists I worked with in the best way possible. I could see the level of the artists I was working with and really wanted to do them justice. I saw archiving, contextualisation and scholarship around their work crucial but something we struggled to make happen at the level I wanted. I was really impressed and grateful in how you could see through that lack of sheen (in documentation etc..) to the quality of work and believe the passion I felt for it.
KATE: What has been your experience to getting access to and working with the perhaps more regional art scenes, artists and less covered histories and contexts? Is accessibility still an issue?
IOLA: Your experience was naturally different to my own at the early stage of the exhibition-making process. As someone who curates, writes and researches independently, rather than having to deal with the day to day running of a space, I can conduct field work and reading with a view to exhibition-making unhampered by structures. But once I sign on with an institutional space, a museum, art centre or whatever, I face other kinds of constraints that you might have overcome at Romeet because you were in charge of your own space. So I would say none of us can escape practical considerations.
In terms of access, I have seldom had issues. Twenty years ago, when the field was in pioneer mode, there was little market interest so this meant we all worked under the radar and everything was fresh and new to audiences. We worked with very little money and a lot of good will. Now, some artists maybe are more booked because there is more going on. But a decent project will always appeal to a committed artist, however 'sought after' they are. That to me is one of the joys of working with regional artists of the type I curate, meaning those who are engaged with ideas, more than business.
KATE: As a pioneer in the field for the last couple of decades, what changes have you seen in the scholarship Southeast Asian Contemporary art?
IOLA: It all depends how you define 'contemporary'. Your question is an interesting one as it raises the difference between criticism and art history, not so easy to disentangle when we are looking to provide 'scholarly' analysis (art historical analysis) for very recent art. Art history used to deal with the work of artists who were 'historical', meaning dead, or else works that were several decades old at least (let's say a scholar investigating Picasso's Blue Period in the 1950s, therefore with 40 years' hindsight).
In this way, I suppose the art historians could work with whatever had been established as 'art historical material' by the critics whose job it was to look at recent art. Critics are supposed to be credible assuming there are enough critics, from a plural enough pool, and over enough time. Critical sifting is subjective however, and depends on the critic not being biased by the market or trend, hence the idea of some sort of consensus, over time. Still tenuous though, as the avant-garde, later recognised, is often misunderstood critically by the majority of critics. What gives someone the 'authority' to judge is a hard question. I am not going to answer that, but I would say that when I was writing about art of the late 1990s that I was selecting for a show in 2001, I felt it was indispensable for me to 'defend' the work, my reasons for championing it.
Take for example Sutee Kunavichayanont's History Class (2000). I believe I was among the first to write extensively and critically about 'history class' in 2001, and I included it in a Sutee solo in Singapore that year. The work was made the previous year. I continue to write about the piece today, but I reference it art historically now. Art historians who play critic with recent works by artists who have not been solidly critically cast or defended are taking a risk. You have to be very sure to be a critic, and you have to have seen a lot, to compare.
KATE: How do you feel archiving and conservation in the region is affecting scholarship? Do you see gaps? If so what are they? How do you think that this might be shaping collection practices of key institutions?
IOLA: Conservation in the region is patchy, or even negligible in some places. Vietnam, where I work regularly, has real issues there. Climate, insects etc…have devastated some privately held collections. Works on paper are so vulnerable. On the other hand, museums in Singapore are, in my view, overly precious about lending work to regional institutions. A couple of years ago I curated a show for BACC Bangkok. BACC asked Singapore to borrow a Thai work made in 2000 that was originally displayed in the street in Bangkok, to put in inside air conditioned BACC. Singapore declined, saying BACC's climactic controls were not up to 'standard'. This is absurd and considering the fact the piece was Thai, and ought to have stayed in Thailand as it is a very significant Thai work, and not a fragile piece since it is participative, designed to be used by the public, I thought Singapore's refusal showed a lack of understanding of what art is about, never mind sensitivity. The artist however simply made a new version of the work, showing a spirit of versatility and accommodation that I admire and see as typically regional.
KATE: Last year you curated a project for the Goethe institute in Myanmar called Building Histories. The old villa headquarters of General Aung San where transformed into a living and creative archive by eight Southeast Asian artists. Each artist created an in situ installation responding to the building's history. Can you tell us a more about the project; its conception and the significance of the work the artists produced?
IOLA: Building Histories, of March 2015 in Yangon for Goethe Institut, was nine artists, eight bodies of work. They were Dinh Q. Le and Bui Cong Khanh from Vietnam, Vasan Sitthiket from Thailand, Srey Bandaul from Cambodia, and from Burma Chaw Ei Thein New York/Yangon, Yadanar Win, Wai Mar Nyunt, and the duo Wah Nu and Tun Win Aung. All except the last two made new works especially for the site, an opulent but run-down early twentieth century two storey house and garden that housed General Aung San(father of Aung San Suu Kyi) in the days when he was organising opposition to the British. The building is set to be renovated in the imminent future. So the artists were requested to develop new work as a response both to the physical space, and the intellectual space and ambiance of the house with its history. An archiving and conservation exhibition in some senses!
Wai Mar's work was a formal reply, and Wah Nu and Tun Win Aung provided old work. However Dinh, Vasan, Khanh, Chaw, Bandaul and Yadanar all provided aesthetically well-resolved and acutely thoughtful pieces that made maximum use of the unconventional space to underscore their concept linked to the complexity, fluidity, and aliveness of history. The outcome was both powerful, and poeticIn Dinh's case the piece was an improvised performance piece staged by 11 well-known Burmese intellectuals and arts people. They were asked to dinner at the house, and in the course of the dinner party, responded to General Aung San's history and legacy in the form of a conversation around a traditional, served, Burmese dinner. It was a fascinating use and play with atmosphere, history, space, time, and audience. The public was invited to watch the conversation which was filmed but not edited much, English subtitles added. So a conceptual piece with contextual content and critical aims.
A touching and significant work. Bandaul's textile tube Digestion piece came out of personal experience of exile, exclusion, and memory, which he married commandingly with the space. Khanh produced a textile, participative work that was glamourous. It was a smart work as it is very large and formally impressive in the space, a patchwork temple-tent made of monk's robes and camouflage that one lies under, but it also folds up for easy transport. So the work has already been exhibited in Hong Kong and will travel to Berlin in a few months. Vasan produced huge wood block prints dealing satirically with Burmese politics and social injustice. Chaw made work in the garden that referenced Burmese citizens' demonstrations. It was a delicate, lyrical, conceptual-literal work that held traces of people through their sandals. Yadanar made a claustrophobic book installation that referenced censorship. The artists who made new work in the space banded together in a collegiate way that was positive. Yadanar was impressive in her generosity with the out-of town artists. Chaw, who could not travel to Burma, I worked with for many nights on skype, developing the concept of her piece. Her Yangon family and friends then organised materials and set-up on site, so this collaborative feeling translated into the work, adding something. This is the beauty of conceptual art, you do not always have to be on site itself. 
KATE: What image (it can be an artwork) would you choose to respond to the challenges of archiving, conservation and collecting in Southeast Asian Art landscape and why?
IOLA: Very difficult choice, but my selection is Sutee Kunavichayanont's History Class. It is in many ways the 'perfect' work of Southeast Asian art, characterising the field in all its most sophisticated and intelligent aspects: conceptually sharp, participative, playing on various conceptual registers through tangible clues that allow audiences access to its ideas, engaging audiences on crucial collective issues relating to power, showing tangibly the way national discourse can distort or subvert history. Aesthetically commanding, versatile over time and space, connecting with audiences due to its form and vernacular material and technical language of wood carving and rubbings. And ultimately and most importantly, empowering. So History Class is not mere critique. It is an answer to power in the form of a school room that viewers enter and join. It was originally installed in the street in Bangkok, totally accessible in public, civic space, at the foot of the democracy monument in central Bangkok. The work embodies everything that I believe is art historically significant about Southeast Asian art and makes the field so great and important beyond the region.
[article edited on 4 April 2016]
---
Iola Lenzi is a Singapore researcher and curator of contemporary Southeast Asian art. Trained in law, she researches practices grappling with history and society, analysed from within Asian cultural and historical frameworks. She has curated numerous institutional exhibitions of Southeast Asian art in Asia and Europe. Lenzi teaches in the Asian Art Histories MA program of Singapore's Lasalle-Goldsmiths College of the Arts, is the editor/author of four anthological research catalogues on Southeast Asian art, and the author of Museums of Southeast Asia (Thames & Hudson, 2005). Lenzi is currently pursuing doctoral research on early contemporary art in 1990s Hanoi at ADM/NTU, Singapore.