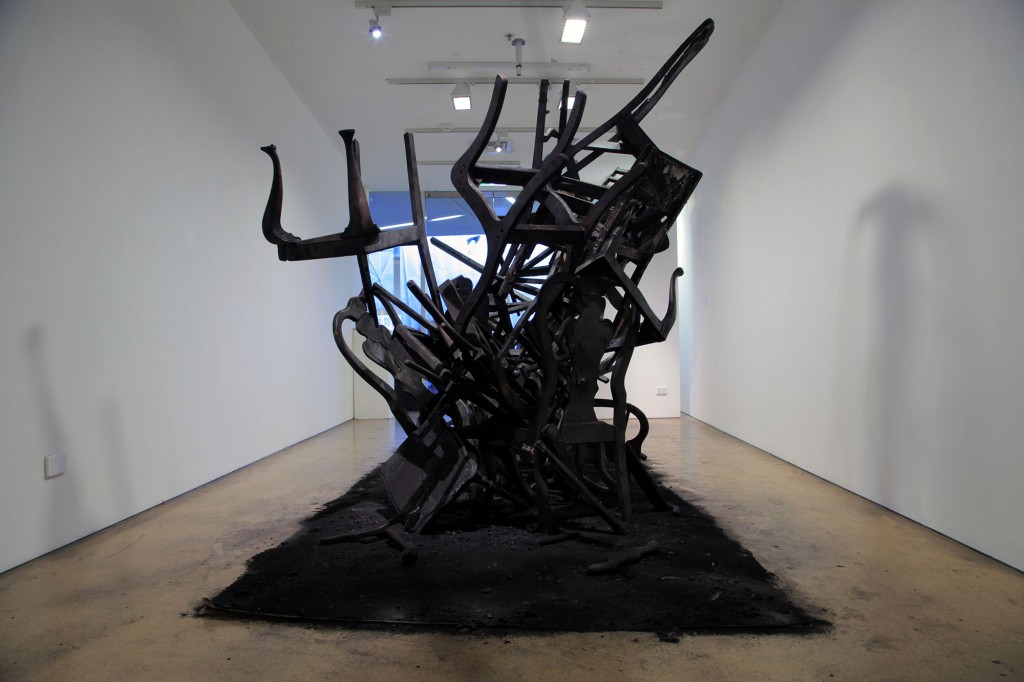 Rushdi Anwar is a Melbourne-based artist originally from Kurdistan, and co-director of Australian Thai Artist Interchange (Atai). His installation, sculptures, and video works often reflect on the socio-political issues of the middle east. Exploring these issues through an investigation of forms, materials and processes, his works very often deal with the complex emotions of war, displacement and the politics of otherness.
Despite having lived and worked in Australia for a decade, Rushdi's practice has a strong connection to the region. Rushdi has been exhibiting widely in Australia and overseas, including Casula Powerhouse Arts Centre, Australian War Memorial and Human Rights Art and Film Festival, Kawasaki City Museum (Japan), The National Gallery Bangkok (Thailand) and Tokyo Metropolitan Museum (Japan).
Can you please describe your practice?
I am interested in the notion of change, understanding and manifesting through the manipulation and juxtapositions of object, images, and materials. Through the use of multidisciplinary mediums (painting, object, sculpture, photograph, video, and installation), I want my work to reveal a fascination with the physical properties of objects and their meaning. My work addresses the transitory nature of life in relation to a range of philosophical, social and political contexts.
My practice formed within the specific situations in Kurdistan (Iraq), and middle eastern socio-politics, particularly the social and political unrest in my home country.  I want to extend the personal experience to a social context, to open up a space for art that addresses political violence, change, and renewal.
There is a strong focus on materiality in your work, whether it be sculpture, installation or video. Would you like to tell us more about it, and how it relates to socio-political issues that you often explore through your work?
I am interested in a discussion that concerns the meaning of material through form, shape, structure, texture, techniques, position, installation and colour. I want to explore the meaning of materiality and form through the qualities of an object. The themes of my projects were usually formed through reading an object through its quality.
For instance, our relations and perceptions of a chair would be different in a range of conditions: in good and stable position rather than in poor and deformed or burnt condition. It portrays the associations and qualities that the medium carries, of different expressions in both context and content.
For instance, I responded to the issue of displacement with an installation work entitled Irhal (Expel), hope and sorrow of displacement (2015). I utilised discarded object (chair) to explore the notion of displacement, fragility, uncertainty, and limitation in recent history. I used the chair as a metaphor for "home and place", as at home the chair is usually used as an object to rest on and relax our bodies. In the work, the chairs are burnt, deformed and piled. They have turned into something dysfunctional. The burnt chairs indicate that what appears to be safe could in fact be dangerous. It is about a state of absence and presence. The chairs are cramped and situated in disorientated and piled position. Their conditions challenge the viewer's pre-conceptions of home, and meanwhile questioning the viewers' own otherness. It is a metaphor for place and location of displaced people.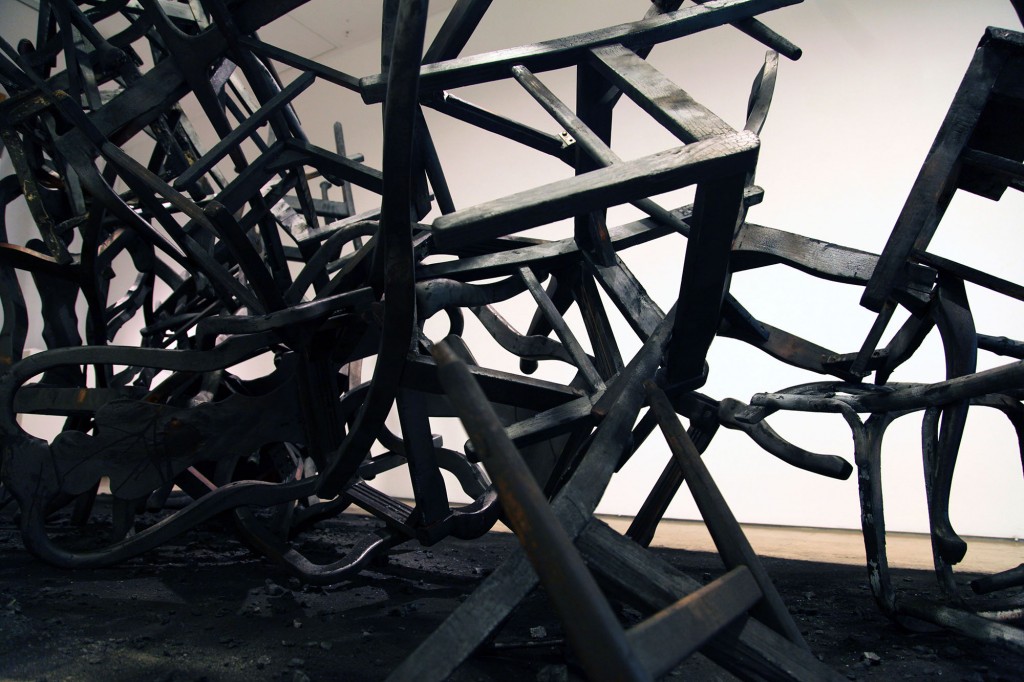 This is not necessarily a question of identity, but rather a question of the way you see your art practice… There are values and themes weaving through your work that are distinctive to the region. How do the conditions and history in the region impact your practice?
I lived in Kurdistan and in the Middle East for more than 25 years. And I still have strong memory and emotional connections with the happenings in the region. My connections, experiences, memories and history with the Middle East are all parts of me.
For example, in Facing living past in the present (2015), the work deals with traces of spaces occupied with aggression, violence and hostility, generating uncertainty and instability. It evoke political climate and turmoil of a country which has ruined with war and conflicts. It portrays the story of political leadership of the state and the power struggles amongst the political factions and parties.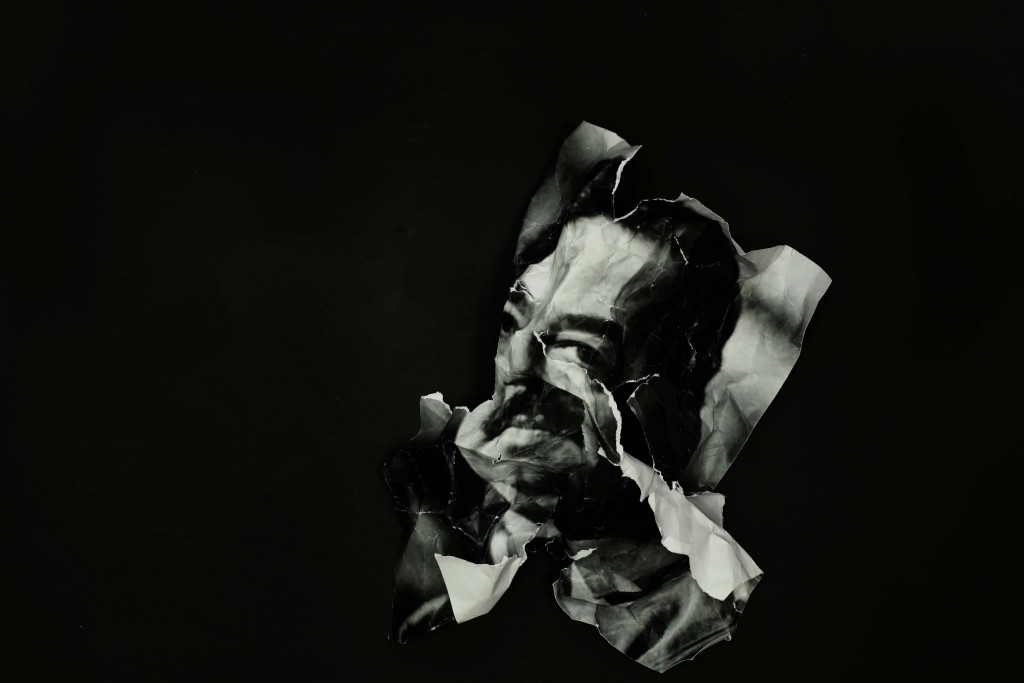 There is the performative act of crumbling, tearing, dissecting, destroying, and re-shaping the image of Saddam Hussein, and the act of seeking through the crumbled fragments and unfolding –piece by piece, and putting back the ferments of the image together with black tape in hope to find a new image.
This process replicates over and over until the image disappears in darkness. That act as a portrait of society is seeking new image with fragments of old image. It is the epoch of recycling old elements and fragments in new shapes and forms. It represents the functioning of governance in most parts of Middle East, and the current political climate in the region.
Following the last question, where do you think the 'region' ends?
From my point of view, yes it does blur with the rest of Asia. However there are different opinions and maps on the edges of the region (Middle East). Many countries in the region geographically are part of Asia. I think The Silk Road would the best example of the complexity of that border.
How does Australia, a nation with western values in the Asia-Pacific, geographically and culturally impact your art practice? Does it change your work, or provide different contexts?
I am not sure about how we would define western values. It depends. It could be referring to Capitalism, democracy, individuality, freedom of speech, and so on. However I don't think it matters when it comes to a dominating set of values, as long as freedom, tolerance, respect, dignity, and equal rights are there for every individuals in the society.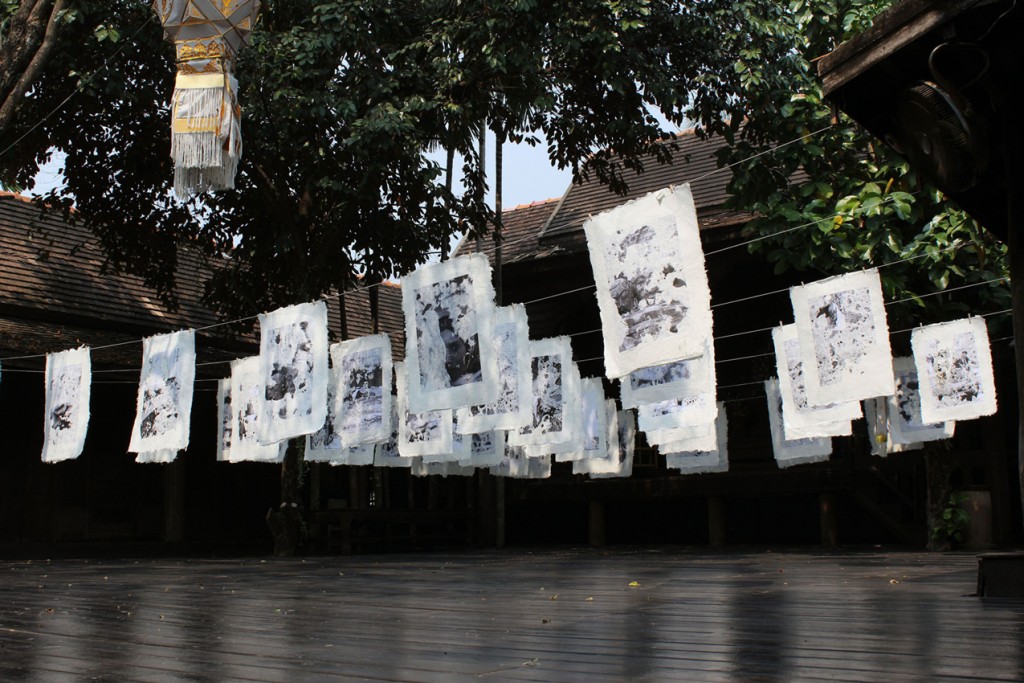 I have experienced the richness of complexity of the combination of different ethnic cultures since I arrived in Australia. My practice have changed, content as well as context. From here I have built great connections and access with some Asian countries, resulting in art residencies in Asia, cultural exchange activities and cross-cultural collaborations. These have led to Melanie Jayne Taylor, a Melbourne-based artist, and I to establish Australian Thai Artist Interchange (Atai), fostering art and cultural exchange between Australia and Thailand.