Night Dance, directed and choreographed by Australian-German based dancer and choreographer, Melanie Lane, is a quest into the possibilities-in-the-darkness of the nightclub space. It's an exploration of human intimacy and primal instinct, through physical fluidity and psychological transformation.
Night Dance commences in sheer darkness and silence, and as the stage lighting begins to filter through, three silhouettes start to emerge in synchronisation (Lillian Steiner, Gregory Lorenzuttie, and Melanie Lane), offering a grace and weightlessness in movement that pierces through the layered emotions evoked in the collective continuum of a night club experience; The performers jointly command repetition, halting and sliding across the floor with ease, before elevating into a sublime Zen-like state, and offsetting fast electronic beats.
In her artist statement, Lane explains that she's interested in the potential for temporary identities, and the process of forging and re-forging self and group identities. This attempt, and its constant interrogation, is evident throughout the performance: At one point, the audience is invited to appreciate seductive moves in extreme slow-motion. The trio (Steiner, Lornzutti, and Lane) form a cohesive matrix with intensive dynamism, before drifting into disintegration. A seemingly primal mode is then exemplified by a series of animal-like nimble movements as the dancers, in nude colour costumes, advance and retrograde, sculpting actions and anticipation in a distorted walk on all fours.
At other times, a subgroup bounds and dissolves, subverting to the notion of performing and spectating, and their interchangeability. It appears as if the physicality of the routine has been mediated into pure abstract thinking, that often only occurs in one's mind.
As the night in Night Dance thickens, dramatic devices and guests artists punctuate its trajectory, conveying a sense of hyper surrealism that resembles a kind of 'David Lynch aesthetic'. A mystical singer (Ryan Richie), in suit, circles and surveys the stage with his husky tune, loosely engaging with the dancers, perhaps as an outsider, then desire itself manifests in the form of a human disco ball wearing high-heels and extremely long, lacquered-finger-nails (inciting chuckles from the audience). In fact, there's no shortage of symbolic representation in the production, from the voyeurism curtain, separated by a ray of bright light, to the gigantic velvet fabric strewn across the stage floor at the beginning of the show.
Relatively, both light and sound potently highlight sensuality with great intensity, but at the same time, do not shy away from creating a void to offer darkness and silence in between, effectively delaying suspense, and prolonging a final climax.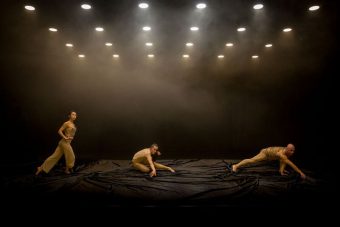 Lane, in her Night Dance, not only presents a multitude of possibilities through the interweaving of people, space, and longing, she also brings out a physiological intimacy that can be internalised, and self-contemplated by her audience. And, as an artist whose practice revolves around this relationship – between body and objects- she manages to offer a mesmerising and daring experience, complete and satisfying.