The Dead Twin is theatre maker and author Chi Vu's latest work at Footscray Community Arts Centre. It's a work that dares to take risks in performance making, storytelling, narrative and casting. The journey begins on a long boat trip along the Maribyrnong river, destination unknown, a chilling sound track accompanies the ride.  As the boat chugs along, a ghostly jogger keeps up along the banks. He stops to check his phone, to catch his breath. The boat glides on our mysterious journey. When we reach the banks, after we disembark, in the distance a topless ghostly figure stares out from the train tracks. I wonder about our boat taking us on a journey to the underworld.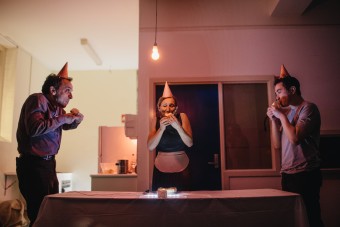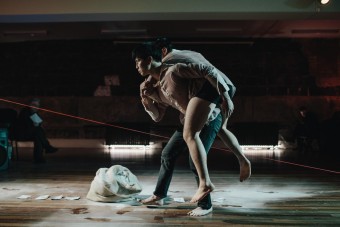 Vu's novella Anguli Ma: a Gothic Tale explores contemporary Vietnamese Australian life within a  horror genre. The characters in her novella are damaged, and the narrative that unfolds is gruesome and cruel. The Dead Twin deepens Vu's exploration and fascination of Gothic horror. Some of the ingredients remain – damaged characters who are survivors of war and transgenerational trauma; however, the narrative is now abstracted from time and place. Time and place is left to our own imaginings of our surroundings and environment.
The Dead Twin's ensemble is a stellar combination.  The cast feature Deborah Leiser-Moore, Alex Pinder, Harry Tseng, Daniel Han and Davina Wright.  From sound by Jacques Soddell to set by Naomi Ota to costume by Ross de Winter, the performance was crafted in such a way that every artist or performer involved was integral to its making.  The collaboration between Leiser-Moore (who is also the director) and Vu works magically – we were left suspended in disbelief, transported to a bleak world where it didn't matter that the parent characters' race were different from their children.  As the ghost of the dead twin, Han embodied impeccably a charismatic and eerie trickster spirit, his physical theatre training an asset in how he embodied the inhuman.
I left the performance haunted by the monstrosities of the characters.  The Dead Twin asks big questions and never reverts to the sensational for entertainment, never to the cheap blood and gore that the horror genre is known for.  It was a difficult space to be in, but the play is not unkind to its audience.
Chi Vu's The Dead Twin is work by an Asian-Australian playwright who is a master at her storytelling craft.  Had Vu not made the decision to frame the The Dead Twin within a horror genre, the play would not have been as powerful, it would have been mired by its bleakness.  The Dead Twin is work that dares to take risks, and in doing so, it has broken new ground in performance making.
The Dead Twin ends Sat 22nd August.  The departure point is Footscray Park Jetty, located to the left of the Flemington Landing  carpark at 2-4 Ballarat Road, Footscray. The performance does not begin at Footscray Community Arts Centre.
For booking details and season dates and time, please visit The Dead Twin
Presented by Footscray Community Arts Centre in association with Theatre Works, in partnership with Victorian College of the Arts. As part of Theatre Works Flight: A Festival of New Writing