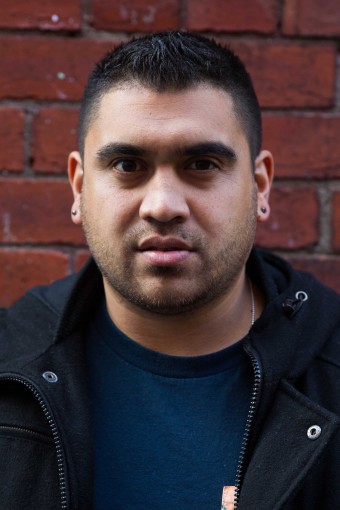 "There's a little section later in the book where this disembodied voice tells us a kind of hallucinatory story about a bunch of feral dogs that are taught by a space-man to dig up the bones of massacred black-fellas and bring them to the doors of the town Councillors and the Mayor.
"The Mayor and the Councillors keep burying the bones and the dogs keep bringing them back, again and again. I sort of see myself and other artist like me like those dogs, who are bringing up the past and putting it in front of people's faces."
From rapper to spoken word poet and now to novelist, Omar Musa continues to defy expectations. When asked if he is trying to avoid being pinned down by genre, he tells Peril Magazine, "Yeah, a moving target is harder to hit. Also it's just the arts are so diverse that it's really exciting for me to experiment with form."
His debut novel Here Comes The Dogs was published by Penguin and has received rave reviews and been reprinted after only a month. He talks gratefully about the privilege of a having a novel published and the pressures of sitting down to write it.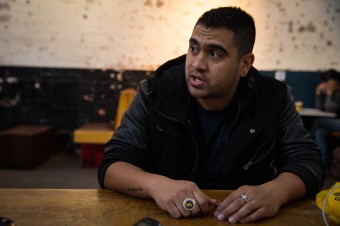 "The way I've described it is that I was making stain-glass windows before and then I suddenly realised half-way through the process of writing the novel that I had to create a cathedral and I didn't know how to do that.
"It was a much longer and harder process. With the writing of the spoken word stuff I try and be spontaneous, write it in a couple of hours, maybe a day, with very few edits in the hope that it's more honest. You literally can't do that with a 70,000 word novel."
He says that the response to his novel has been overwhelmingly positive beyond his expectation. However he talks about his frustrations that people keep coming back to his ethnicity on a superficial level.
"Religion, ethnicity, upbringing, culture; People want to constantly hear about 'what was it like growing up with an Asian father and a white mum?' But I like to keep moving shifting around, because it's a constant cultural battle ground, and I don't want them to be able to box me in and label me, I hate that, whether with ethnicity or with genre.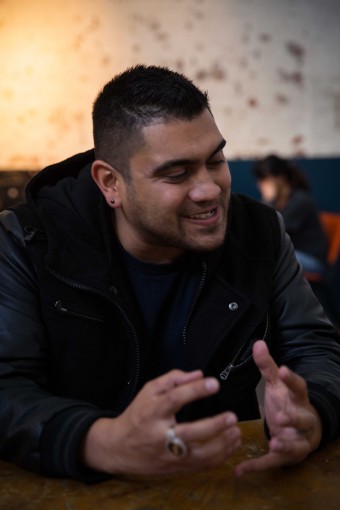 "If the discussion doesn't then go on to talking about my work, that's what frustrates me. Because the work is what's important, what I've created, the characters the style, that's what I like talking about the most.
"Sometimes it is a bit frustrating because they are always trying to build this narrative around you. But at the same time I'm proud of my heritage and I love going back to Malaysia and talking about it. Talking about what it was like growing up in a mixed family, because there are a lot of people like me but a lot of times they aren't heard in popular culture."
Omar's movement from spoken word to fiction follows Maxine Beneba Clarke's debut novel Foreign Soil earlier this year. When asked why there seem to be more culturally diverse writers coming out of the spoken word scene, Omar says that for some reason the scene has become a real safe place for people of minority backgrounds.
"I think there is a lot of stuff that will come out over the next couple of years, the spoken word scene will start feeding more into the publishing world. It's a credit to them, that big publishers are giving people those opportunities to have their voices heard.
"At the same time if that [spoken word] is what people want to do then there's nothing wrong with that. If people say you're not a real writer unless you write novel, that's bullshit. I don't want people to feel like their compelled to just because Maxine and I have done something, that doesn't make sense either."
He says that for writers in the mainstream publishing world there is a risk work will be read for the wrong reasons.
"I would like to see more people having their voices heard, more voices being unearthed. At the same time it's not about some weird affirmative action in publishing. We have the responsibility to try and create really good work.
"I don't want anyone to be reading my work as anthropology and not literature, thinking that they're going to get some window into like the world of brown people or something, thinking that it's not really good literature in the way that Richard Flanagan's is; We have to create work that is that good.
"Sometimes people do give you a bit of a slap on the back, like 'well done you did well for a young Muslim man writing in English' and I know I just find that really offensive and I know someone like Nam [Le] would as well. Ultimately you want it to be that they'll respect it because it's good writing."
Since handing in his manuscript for Here Come The Dogs Omar has begun work on a second novel set historically in Malaysia and Indonesia and exploring more regional themes. He says that a friend told him that no one in Australia would want to read a story about Malaysia and took the comment as throwing down the gauntlet.
"There is a deep unease about engaging, with Indonesia and Malaysia and I think it does kind of hark back to that 'Yellow Peril'stuff. There's this brown blog hanging over Australia.
"I've read so many books about 'Australian goes to Asia' and I'd much rather read something from someone who knows a bit more and who has more invested in the country, grappling with some of those big issues. Instead of it being some kind of exotic backdrop for a coming-of-age story, which there are a lot of."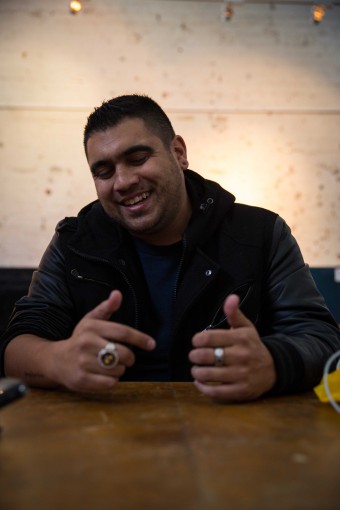 He says that he chose to write characters of different ethnicity to himself as a conscious choice and also as a way of exploring those he grew up with.
"People often ask, 'why a Samoan character? Why a Macedonian character? Why not a Malaysian-Australian character?' I mean why not? While of course there are bits of me in the novel, I'm writing fiction and it's an opportunity to get into the mind of someone else.
"It was also an effort on my behalf. I grew up among so many Islanders and Macedonian people in my home town, but when I was writing I realised there's so much about peoples culture I don't know. There's so much I learnt going back and researching it all.
"I guess that was also kind of the point of the book as well; To say that we as Australian's often don't spend enough time learning about our neighbour's stories. I think we would all be a bit better off if we went just a little of a bit of an extra mile to find out more of those things."