Luke Siddham Dundon was born in Australia in the mid-90s. His father John Siddham was born in India in the late 1950s and now lives in Australia. We asked them both to reflect on their relationship to gender and culture.
Click here to read John's piece, 'What's in a Name'.
---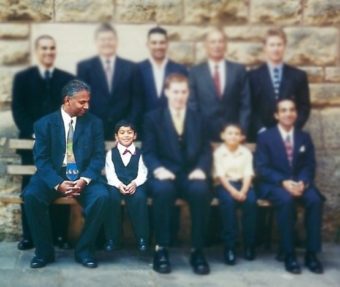 About a month ago, my dad took me to a nail salon. It was a decision made on a whim, an easy way to catch up during a quiet morning off. We walked in, smiling awkwardly as we were welcomed to sit down. It felt good doing something we both clearly enjoyed, although we knew it wasn't necessarily a typical father-and-son activity. Over the next half hour, as our toe nails were buffed and shined to perfection, I realised how comfortable I was in my own, now freshly scrubbed and baby-smooth, skin.
Dad's example of being an Asian man has been a huge influence on how I view my own identity. I've never really felt the need to conform to the expectations of Asian men, especially Indian men, to seem particularly masculine. Despite how stubborn the patriarchy is in India, where even the most progressive families are led by men, I've always felt comfortable identifying as a feminist. Given both my sister and I grew up with folks who believed in equality, it always seemed fairly logical.
For starters, dad was never the overtly masculine character that we might have seen on TV. Instead, musicals, eyebrow trimming and discussions about equality were all the rage at home. But it wasn't just him. Mum was also an emboldening influence. When she wasn't running up ladders to clean our rooftop gutters, she was sitting me down, forcing me into conversations that would have made most teenage boys squirm. You know, just the classic mother-and-son discussions about respectful relationships and the benefits of mutual sexual pleasure…cue a blushing thirteen-year-old!
But I wasn't always so sure of my sense of self. I identify as a cis man, but growing up, I struggled to relate to some aspects of traditional masculinity. Like refreshing Facebook for an update, I frequently nit-picked my relationship with masculinity, constantly questioning the version of 'manliness' society presented to me. For instance, why did I have to watch wrestling and play shoot-em-up games when I really just enjoyed Disney shows about female pop stars? Were people really going to think I was strange for liking the colour purple? And did I really just have to hang out with a group of guys who would only talk about the footy? For a kid who just wanted to watch Hannah Montana on repeat, conforming to some of the gender norms life threw at me proved to be a confusing web that took a while to untangle.
It's hard to tell whether people changed, societal expectations evolved, or whether the individuals I surround myself with now have simply abandoned the stereotypical façade of what a man should be. But as a young man, I now feel completely comfortable in my relationship with my gender. As a child I used to worry that I would never be this macho dude I thought I needed to become. But a sense of reassurance has crept up over the last decade, as I realised that there was absolutely no need to worry back then. And while this certainly wasn't a burdensome identity crisis in any way, it was something I was glad I had resolved. Although it wasn't just my masculinity that troubled me as a child. My folks managed to muddy the waters of my cultural identity too, which also took time to come to terms with.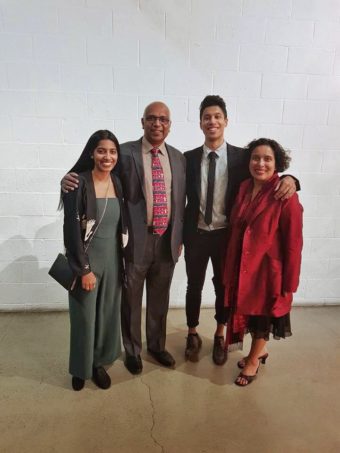 Throughout my childhood, my family and I were active members of Melbourne's vast Indian diaspora, regularly attending pujas and cultural family events in crisp and colourful Indian kurta shirts. Everyone was an aunty and the food was damn spicy. But while this could have been enough to quash any concerns I had about my cultural identity, life at home only left me confused.
I'd occasionally come home to my dad making mozzarella while freshly cut pasta hung from the washing line. And if that wasn't enough, my folks would often chat in French – a way of preserving their 80s European love affair. This prompted me to seriously question whether the people at school were right, and if I was in fact 'not quite Indian.'
At school I had a mix of friends. East Asians, Africans, a couple brown boys and the usual smattering of quirky white kids that come with an inner-city public school. It was an eclectic mix that would have given off that 'multicultural vibe' had it been featured in the school brochure. The only problem was that I didn't quite know where I sat on the colour wheel.
"You're not that dark."
"You're not actually Indian."
"You're like a coconut."
And I didn't just have to deal with comments like that at school. As an Asian growing up in Australia, white people I encountered, often rife with wrinkles, had no problem asking me where I was from.
"No, no, no…where are you really from?"
And people of colour with much closer ties to the motherland, accused me of having a bleached white personality that didn't match my melanin-soaked skin.
"You're not really Indian."
"Why do you sound so white?"
It was comments like these that made me question my relationship with my Indian community and my Anglo, Australian-born friends at school. Which community was I really part of?
As I've gotten older, I've come to recognise that culture is so much more than the colour of your skin or the food you eat at home. And your masculinity doesn't need to perfectly match the stereotypes we see on TV. Sure, comparing your life to society's standards of gender and culture help measure where you might fit in, but these are not the only markers to understanding your identity.
My identity as an Asian man doesn't cross my mind much anymore. Perhaps it does for others, who might try to gauge whether I fit into their preconceived notion of an Indian man when they meet me, but it no longer worries me where the walls of their box lie, whether I can squeeze into the prism they've built. Instead, I'm more than happy to waltz myself into a nail salon, sit down and just enjoy spending time with my dad.
---