Chinese artists such as Howie Lee and Alex Wang were conspicuously absent from this year's Asia TOPA. Due to the first of many travel bans enforced after the outbreak of COVID-19, the artists were unable to enter Australia. As the impacts of the virus escalate worldwide, it is not only artists from mainland China who been affected. All of Asia TOPA's remaining events have been cancelled.
The spread of the virus has been accompanied by a surge of xenophobia directed at Chinese and 'Chinese-looking' people. With tabloid journalism framing Chinese people as unsanitary wild-animal eaters, East Asians across the diaspora were prompted to counter with the #IAmNotAVirus movement.
The appropriation of COVID-19 as a vehicle for racism hits particularly close to home. Until late January I was living in China. I am half Chinese. My family on my mother's side is from China by way of Singapore, and I moved to Shanghai in February 2019 to study Mandarin and kung fu.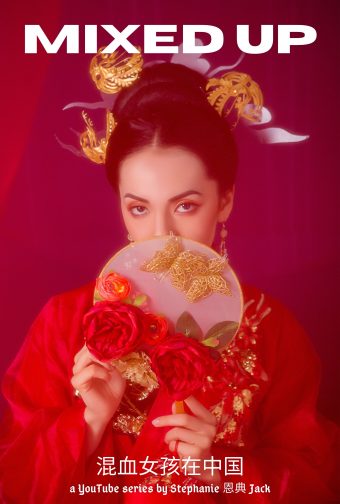 When I moved to Shanghai I started a YouTube series called 'Mixed Up: 混血女孩在中国' ('Mixed Blood Girl in China'). The series was a way to share my evolving perceptions of China. A country that is undeniably ancient yet stunningly technologically advanced. Homogenous at first glance but unfathomably diverse. Widespread censorship and language barriers ensure mainland Chinese media exists in a parallel universe. China's social media platforms often require a local phone number and a knowledge of written Chinese. Meanwhile virtually all non-Chinese social media and news websites are blocked in mainland China. Through my video series 'Mixed Up' I wanted to offer a candid glimpse into modern China and its people.
My plans faltered when on January 20th, 2020 I became aware of the new coronavirus. I was living in a simply furnished room in a university dormitory. News reports were contradictory and there was an increasing sense of panic. Concerned about prolonged periods of isolation and the possibility of border closures, on January 26th I departed China for Australia.
As racist discourse spread, I felt impelled to continue 'Mixed Up', my small-scale project in intercultural diplomacy. I also felt defeated by the reality of being a solitary artist trying to make a difference. This is why a government-supported, three-month-long festival like Asia TOPA is so groundbreaking, and integral to offering Australians a more nuanced view of Asian cultures.
In previous years Asia TOPA has opened up fascinating dialogues between Australia and China. In 2017, Asia TOPA's programming of the National Ballet of China's 'The Red Detachment of Women' sparked controversy—many questioned the wisdom of staging an unashamedly militaristic celebration of communist ideology. Critics of the decision cited ongoing issues of propaganda, censorship, and control in present day China. Was it ignorance that allowed Asia TOPA to host a ballet engineered by Mao Zedong's wife during the devastating Cultural Revolution? Or was it a ploy on the part of programmers to spark discussion about contemporary China?
This year Shanghai-based artists Xiao Ke and Zi Han promised to address an ambitious and impossibly broad question: 'What is Chinese?'. They did not make it to Australia to offer their answers; the event has been postponed. The pair interviewed over 140 members of the Chinese diaspora for their playful and sweeping exploration of the complexities of contemporary Chinese identity. Their performance and installation piece may have been the perfect antidote to the sensationalist media's narrow and prejudiced view of Chinese culture.
Several shelved Asia TOPA offerings were part of the Sinofuturists program, which speculate on the future interplay of art and technology. Alex Wang's collaboration with Chill Chill, inspired by Orwell's 1984, was set to present an apocalyptic view of a future marked by artificial intelligence and surveillance. How prescient in light of what many consider to be a dystopian utilisation of technology by the Chinese government to strictly (albeit successfully) control COVID-19.
Many of us have seen the video of a Chinese government drone chasing and scolding an Inner Mongolian grandmother who failed to wear a mask outside. Police started using smart helmets fitted with infrared cameras to detect feverish people up to five metres away. China's replacement of cash payments by WeChat and AliPay apps has made it easier to track citizens and enforce restrictions. The AliPay Health Code app allocates green, yellow or red codes, a user's status dictating whether guards allow them into public areas. China, along with many other countries, has been checking citizens' temperatures with gun-shaped instruments held to the head.
Dystopian realities aside, one of the biggest names in Chinese electronic music, Howie Lee, whose immersive multimedia show for Asia TOPA was postponed, has commented that he takes inspiration from China's digital landscapes: "People already live in virtual reality." I can attest to having felt extremely digitally reliant in China. There is a QR code for everything (I even needed an app to use my washing machine). While riding the Shanghai Metro, I used to marvel at nationalistic videos looping on screens inside the train, commercials projected magically from the tunnel walls, passengers invariably fixated on smart phones.
Existing technology has been harnessed in benign ways to keep the Chinese arts scene alive during COVID-19. There has been a rapid evolution of the art world towards a virtual model. In Beijing, Victor Wang the artistic director of M WOODS asked, "Do we need walls?" and launched an online exhibition called Art Is Still Here: A Hypothetical Show For A Closed Museum. The Shanghai Center of Photography invited photographers to submit work they had created in their homes, releasing daily selections along with artists' accounts of their quarantine experience. Chinese social media platforms Weibo and Douyin erupted with videos of household items ingeniously fashioned into art pieces, games, ways to exercise, and musical instruments. There were sobering artistic tributes to Dr Li Wenliang, the 34-year old whistleblower who died from COVID-19. Viral videos showed residents yelling, "武汉加油!" ("Come on, Wuhan!") from apartment block windows. Ironically, digital spaces have fostered community.
As artists adapted to the crisis, existing art gained new layers of meaning. In early February Wuhan-based artist Ke Ming was unable to attend the opening of his solo show in New York's WhiteBox because he was stuck in his room in Wuhan. His show, exploring globalisation and the development of China, was originally titled Cross but was aptly renamed Trapped in Wuhan 2020, and pieces were adapted to fit the new title. A face mask was photoshopped onto an image of the artist being crucified on a red cross. In another piece, 'The Great Wall', Ke sits naked at the centre of a photo of six thousand students and teachers from Central China Normal University. The image takes on a more sombre tone in the wake of the thousands of Chinese deaths from COVID-19.
Last week a friend in China offered to send me masks and toilet paper and I realised the tables have turned. Shanghai residents are flocking to parks and cafes, and museums including Power Station of Art are reopening to reduced numbers. My escape to Australia now seems ironic given that life here is becoming increasingly restricted and we are entering what may be months of social distancing.
The response of China's art world might have foreshadowed the lengths to which Australian artists will need to go to survive the coming battle. Those of us working in the arts hold our collective breath as we wait to see what assistance the government might offer in terms of relief funding. Nonetheless, extreme adaptation as well as the exploitation (and monetisation) of digital spaces will be needed to keep Australian artists creative and connected during self-isolation and social distancing.
In an uncertain future, a world worn down by months of uncertainty and stagnation, platforms like Asia TOPA will be vital for the revival of intercultural collaboration. If I've learned anything from the response of Chinese artists to COVID-19, it is that restrictions, border controls, and quarantines do not extinguish creativity. The virus propelled me leave Shanghai, but it also demonstrated that I do not need to be in China to explore what it means to be Chinese. Through online collaboration and recorded personal reflection, the video project I started in Shanghai will continue to examine modern Chinese identity in a new and more resilient form.