I received the green light for this review while lying in bed with a deadly cold. Groaning and coughing post-nap, I changed out of my Ice Bear onesie, tidied my tissues, chugged a sachet of tolak angin, and shuffled my way to SIGNAL.[i] The night's event was a celebration for the release of Rosie's EP, Mythologies, which was inspired by the stories we tell ourselves, narratives about our cultural community, and mythical creatures.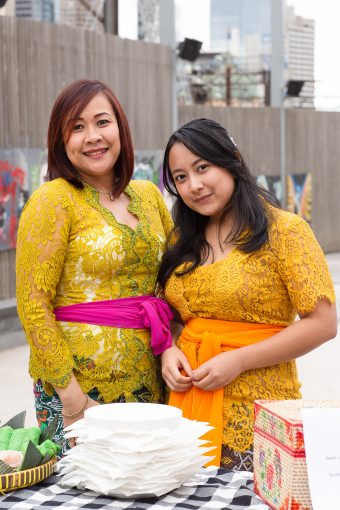 The crowd was sparse before seven so I beelined for the snack table (wo)manned by two ladies in kebaya. 
"Hello," one of them, who I later found out is Komang Rosie Clynes' mom and muse, greeted me.
"Halo halo."
"Ahh," she said. Everyone around the table immediately broke into warm smiles. "Indo ya?"
I nodded sheepishly, not wanting to say something in Bahasa and sound clumsy.
She laughed and gestured at the food. "I don't need to explain all this, then!"
I inspected the plates of onde-onde (rice balls dotted with sesame seeds), kue dadar (green eggroll-shaped treats bursting with coconut shavings and brown sugar), a tin of kerupuk that I would've lunged for if my throat wasn't so scratchy, and the usual arrays of pastel and lumpia. I could hear my nanny, Sus Ai, chiding me for being out in the open air and even thinking about grabbing food that wasn't soup. If she was here, she would have force-fed me porridge, rubbed my back with oil and sliced garlic, and hugged me till I time-travelled into my pouty ten-year-old self.
But I sat alone on a make-shift crate, notebook at the ready.
Asia TOPA's Mythologies opened with four poets back-to-back. Nadia Hanan eased us into the abundance and complexity of Self and Indigeneity through vibrant metaphors. My favourite: "turtles bobbing on the kaleidoscope sea" representing a deep ease experienced when we embrace all facets of the Self. Zarae Davis interpreted the prompt 'mythologies' as antidote and defiance. "I hold this image in my mind, a series of hands holding each other down," she repeated in reference to cultural circles and communal connections. I then paused my manic note-taking and video-documenting when a familiar face approached the microphone.
Doni Marmer, a queer poet and activist who founded Unspoken Poetry Slam in Bali. Last October, I was researching queer laws in Indonesia when I stumbled across his name. Doni uses his work and platform to
highlight issues commonly silenced by the Indonesian government, including LGBTQ+ rights, domestic violence, and environmental degradation. I'd never met another queer Indonesian, let alone a queer Indonesian writer. In a red batik shirt and simple jeans, he asked the audience to scream "setan!" (meaning devil or ghost) when he raised his hand. His poem delved into guilt, loss, and unbelonging—or being 'colourscreened' as he put it—in a foreign city as he pursued his writing career. When "setan!" is yelled out by a horror sinetron's (soap opera) lead, it epitomises a fear of Other. I reckon it's a feeling most PoCs know quite well.
I didn't have time to sit with my overwhelm when Panda Wong came on stage—a poet who I've seen perform before and greatly look up to. Her humour is often tinged with sadness, and her darkly honest lines are underscored by her plain delivery. "Language is intimidating," she said. "I'm only fluent in one language. Regret." She talked about the flood that destroyed her grandma's home while she was in Melbourne. She talked about seeing people swim in a river—so familiar with its streams and current—and longing to know a place that well instead of constantly being a visitor. Even in her own hometown.
Both Doni and Panda's words felt almost intrusive to me in their relevance. Entering my sixth year of living in Melbourne, I receive "Are you American?" or "Nǐ huì shuō Zhōngwén ma?" on an almost daily basis. I don't know enough of Australian or Melbournian slang, neither do I find them natural to borrow. Yet I'm just as much an outsider, "a bule with an Asian face" whenever I visit Jakarta. The way I talk about sexual empowerment, sustainability, the value of the Arts, and LGBTQ+ issues are marks of whiteness and often cause discomfort around the dining table. Both places are home, both places back me into loneliness. That bobbing turtle image makes me wish for a simpler identity instead of occupying jumbling intersections of Other x Other x Other.
I also deeply wished I could stress-snack (sorry, Sus Ai!), but the crowd had quadrupled in size and wiped that table clean. In the next fifteen mi
nutes, we were arrested by Ate Cheska (Te)  and Rudy Vilanueva's movement piece. A cacophony of hums, triangle twinkles, wood clunks, and hollow drums played as they applied a henna-like substance on their arms and neck. Te transitioned into a contemporary ballet set that escalated in beat and intensity, guided by Rudy on the sound board. In the same way I found myself grasping for meaning when Nadia and Zarae used words that went over my head, I was desperate to decipher Te and Rudy's powerfully sensual performance. Dance, too, is a language. Same as music. As food. Yet I knew the things I missed weren't for the mes in the audience.
Yellow lights gave way to deep blue, followed by ambient music and Rosie's vocalisations. Cheers erupted. The songs from Mythologies were consistently ethereal with light influences of gamelan, dangdut, keroncong—all sounds I grew up listening to under my grandparents' roof, or on the way to school with my nanny and driver. I can still hear the echoes of "jangan…lagi…pikir…tentang…" (don't think about, or perhaps, don't worry about…). It covered the struggles of learning implicit cultural rules, confusing locations, social norms during her visit to Bali. Rosie started the song in full Bahasa, making a few of us chuckle at the lyrical jokes, before switching to English.
Reaching the midway point, the crowd had fully surrendered to Rosie's self-produced niche album. People bobbed and swayed to the beat, unbothered by the interruption of gargling train tracks nearby, language gaps, or unfamiliar blends of musical genres. Two songs that stuck with me were 'Srikandi' and 'Ode'. The former, about a gender-transcendent feminist icon tattooed on the shoulder blades of her close friend. She sat two seats next to me in the audience and was also called Srikandi. Rosie then stunned me by performing a sinden—a traditional ballad traditionally kept within Jogja's keraton walls for royal ceremonies—remixed with a touch of modern jazz for 'Ode'. It was an ode to her trip, her mother and grandmother's country, herself, and of course, the charmed audience.
"To living sweetly and slow…An ode to you…"
It dawned on me, then, that this was the first 'Indonesian-flavoured' event I'd attended in years.
I think geographic relocation(s) will always leave us untethered in some capacity. We've lost the privilege of rooting ourselves in either nation (if we were rooted there to begin with). As time passes, our identities become too fragmented, too abundant to contain in questions like "where are you from?" or "why are you here?" Yet, the feeling of home can be reborn in finite moments like these. I had to leave the performance during Rosie's closing remarks because I'd broken into cold sweats, but I couldn't resist fan-girling over Doni on my way out. He gave me a warm hug, told me to rest up, drink tolak angin. 
I felt held.
[i] This was before the COVID-19 safety measures had been implemented—I was cleared in the following weeks by the Royal Melbourne Hospital, though!
'Dewi' is the first single to be released from Mythologies, and will be available on online platforms later this year.