Somchay's love for filmmaking started in high school. He completed an advanced diploma in Film & TV Screen production at NMIT. Upon completion in 2004 he was picked up by 50 Kaliber Films. A Melbourne based production company that produced TVC for Mercedes, Honda, Ford and Suzuki. He later left the company in 2006, to focus more on feature films. Since then, Somchay has worked on two independent Australian feature films, which were Little Black Dress and Eraser Children. He is currently starting up his own production company called Reinvent Films, and plans on producing his own feature films.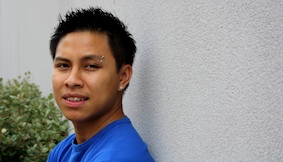 1. What's the greatest challenge to you as a practitioner? 
The greatest challenge for me and like most filmmakers out there right now is funding. Just being able to get some financial support for our projects.
2. Who inspires you in filmmaking?  Why?
Michael Bay was a big inspiration to me as I was growing up. After having watched Bad Boys at the drive-ins when I was 11, I thought it was the best film ever made. I was glued to the screen from beginning to the end.
The story line was pretty basic, but it's the charm and chemistry between the characters and the situation that they were in, is what I love about the film. The crazy action sequence was also cleverly tied in really well within the story.
But as I matured, the works of Steve Spielberg, Quentin Tarantino,
Clint Eastwood, Martin Scorsese, and Jon Singleton, have all inspired me by their storytelling styles, use of camera movements and their ability to get great performances out of their actors.
3. What do you hope audiences take away from your films?
I want my audiences to enjoy my films and be able to learn something from it.
4. What are you currently working on?
I've just completed a short film, 'The Boat', written by Peter Schneider, who is a very talented young writer.
It's an emotional drama, about a father played by Jeremy Kewley and son played by James Schaw who tries to reconstruct their fragmented relationship on a fishing trip.
Right now we're just getting it ready to hit the festival circuit. So fingers and toes cross.
I'm also currently in the process of developing an independent feature film, based on a true event which is being written by writer/director, Rob Innes.
We've just completed the first draft and will be looking for funding and investors for the project in the coming year. If anyone is interested in supporting the project please email [email protected]
5.     What's your impression of the Asian Film Forum and Network (AAFFN)?  Where do you think the AAFFN should head to next?
I thought the AAFFN was an awesome event. It was a really great opportunity to meet other fellow Asian Australian filmmakers and to be able to help support each other's work and help build the Asian Australian film community.
I think the AAFFN is the start of something big, and I believe it should be an annual film festival, so it can attract more people and not just filmmakers.
It would also allow filmmakers to showcase their work to a larger audience and help them gain more recognition and hopefully help them get funding for their next project.