Shoufay Derz is an emerging artist based in Sydney of both German and Taiwanese ancestry. She is a lecturer and multi-disciplinary artist working with photography, video and sculpture. In 2011, she completed her Master of Fine Arts by research in Media Arts at the College of Fine Arts UNSW. Her standout graduation exhibition Depart Without Return was a personal reflection on death and the meaning of emptiness. It has been a long-term project that has seen the artist travel from the stony Ladakh desert to the sublime edge of the Ambrym volcano. Her latest journey was to the desolate extremes of the Taklamakan desert – a place with many names, but which in the Uighur language means "place of no return".
A philosophical dreamer and explorer, Derz' work touches upon conceptual art, spirituality, and the meaning of emptiness. Through a sustained practice of giving form to the unknown, her art is intensely process-driven, elemental and alchemical. The materials used in her work are poetic and evocative. She has used the life cycle of silk moths, pure indigo pigment, glass, and the skeletal ruin of a 100 year-old boat dredged from the depths of a lake. Like an ancient artifact imbued with the echoes of time, the materiality of her work gestures towards presence and absence, beckoning the viewer on a mysterious journey between worlds.
Her work is currently being exhibited as part of Light Sensitive Materials: Works from the Verghis Collection, a major touring exhibition initiated by the Bathurst Regional Art Gallery, alongside artists including Rosemary Laing, Hossein Valamanesh, Petrina Hicks and Shaun Gladwell. Derz has been exhibited widely in Australia and internationally. She was the recipient of the 52nd Blake Prize for Religious Art and is represented in numerous public and private collections, including the recent acquisition of her video work by The Alice Springs Art Foundation. I recently spoke with Derz to discuss her art practice in greater depth.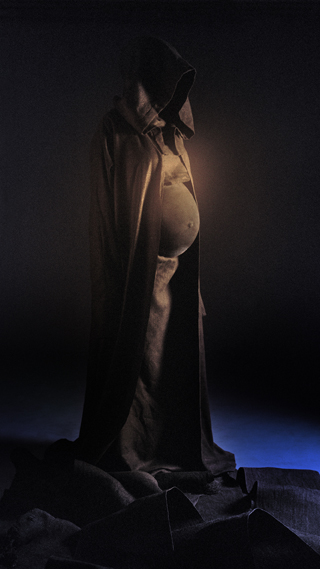 PERIL: In selecting your video work Depart Without Return for acquisition by the Alice Springs Art Foundation, Nick Mitzevich, Director of the Art Gallery of South Australia, described how your "arresting moving image work captures the fragility of life which is both transient and beautiful". Can you discuss how the subject of death informs your art practice?
SHOUFAY: I think the practice of art is a process of connecting the dots. Death is our birthmark: the great 'full stop' we carry onto this world. None of us are getting out of this alive. And yet curiously, why do we not all run around everyday in a panic shouting, "I'm going to die, I'm going to die?" I don't want to be glib, but at least for the young, healthy or safe, death is generally a distant idea — beyond. Conceivably unanswerable and resisting logical reason, Death is one unknown that I believe most worthy of creative reflection; it is the only certainty and holds the ultimate potential to make us aware of the sublime wonder of life.
Depart without Return was a very personal project for me made at the time of grieving the loss of my father; each piece is a variation on the theme of the unknown and impermanence. In undertaking the project I came to see that the failures of expression are what beckon us towards the sense of the unknown. The separations that give rise to concepts of I and other are the fundamental misconceptions that permit engagement with the unknown. Perhaps only through the failure of knowledge and speech, can one begin to appreciate that which is beyond comprehension and articulation. After all is said and done the great unknown, death, does not speak, it is only in life that one can speak of this unknown.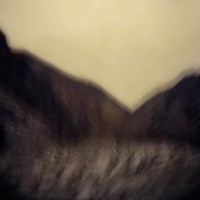 PERIL: I feel that in your photographic and video work, the landscape is both a real and imagined space. Can you talk a bit about this?
SHOUFAY: I realise I've looking for a place in my mind that doesn't exist on Earth — only on Mars. I've probably formulated this absurd challenge so I get to keep moving and discovering new places!
PERIL: In the past, you've described your attraction to the desert as a "negative space", where the desert acts as a "catalyst for encountering the infinite". You've recently undertaken self-initiated artist residencies to the Taklamakan desert, Xinjiang, China and to the Ambrym volcanic island, Vanuatu. What drives you to make art in some of the most remote places in the world?
SHOUFAY: That's a question I've been asking myself for some time, and actually, I hope I don't figure this one out too soon because it has led me to encounter some amazing places and experiences. To be succinct I'd say it is the 'unknown' that draws me: the experience of unknowing, and then the process of transforming this into a visual language. A process of articulating the unsayable, referred to as the 'negative way', is a paradox that motivates my practice. In a culture focused on obtaining answers, it is all the more significant to be reminded of the unknown. The potential art holds to raise ambiguities does not necessarily lead to more knowledge, other than to know that you do not, and cannot know everything.
The unknown is principally beyond knowledge and so on one level visual art is at odds with this exploration; yet its significance and meaning is apparent across cultures as evidenced through diverse artistic and literary investigations.
For me, a negative space of landscape evokes absence, potential, and in the distances a longing for the far away that cannot be reached or possessed. As beautiful a concept as the 'blue yonder' is to me, the 'Infinite' is not necessarily in a remote desert or out at sea. Absence assumes a presence that can feel palpable, in that our sense of the unknown is actually an intimate experience. At an impressionable age I heard the story of the Net of Indra, which describes the infinite as a relationship: every cross section of the net holds a multifaceted gem, and each gem reflects the other infinitely. Like a hall of mirrors the mystery is part of your own presence. Or as the writer Rebecca Solnit says on the colour blue, "…the blue is not in the place those miles away at the horizon, but in the atmospheric distance between you and the mountains." Throughout Depart without Return the colour indigo alludes to this separation between the known and unknown and symbolises the infinite void.
As an emerging artist in today's art world, I believe it takes courage to allow work to speak for itself, and while I enjoy chatting about my processes, I'm fairly sure that as soon as I think I know what I'm doing its probably a good time to reassess the need to continue! Similarly, remote locations, call into the imagination the mystery of the undiscovered and yet it's not only a mental image — it's also about physically going there and encountering the place. I may venerate the 'desert' as a space of silence, yet absolute silence doesn't exist and in actuality deserts are graveyards, fierce landscapes that are entered at one's own peril.
My experience of gazing from a 1200-metre high caldera into the fiery mouth of Ambrym volcano has become a creative catalyst for probing paradoxes inherent in representing the sublime. I had no idea what was coming, and perhaps it was the exhaustion of the climb, but when I reached the mouth of the volcano I was completely dumbed by fear —for those moments I forgot how to take photographs. While I leaned over the edge clinging to the tripod and camera, held back from the edge by my local Vanuatuan guide, he was puzzled and asked me, "Shouldn't the legs of the tripod go on the ground?"
Art making is a process of translation between the idea and the encounter. The point isn't to uncover the mystery, because we'd die asking these sorts of questions, but rather to rediscover wonder. The known and unknown are inextricably linked and negativity is about accounting for the other side of the equation. The Persian mystic Rumi said, "Speak a new language so the world will be a new world". Seeking out foreign or 'new landscapes' is for me like a new way of being in this world.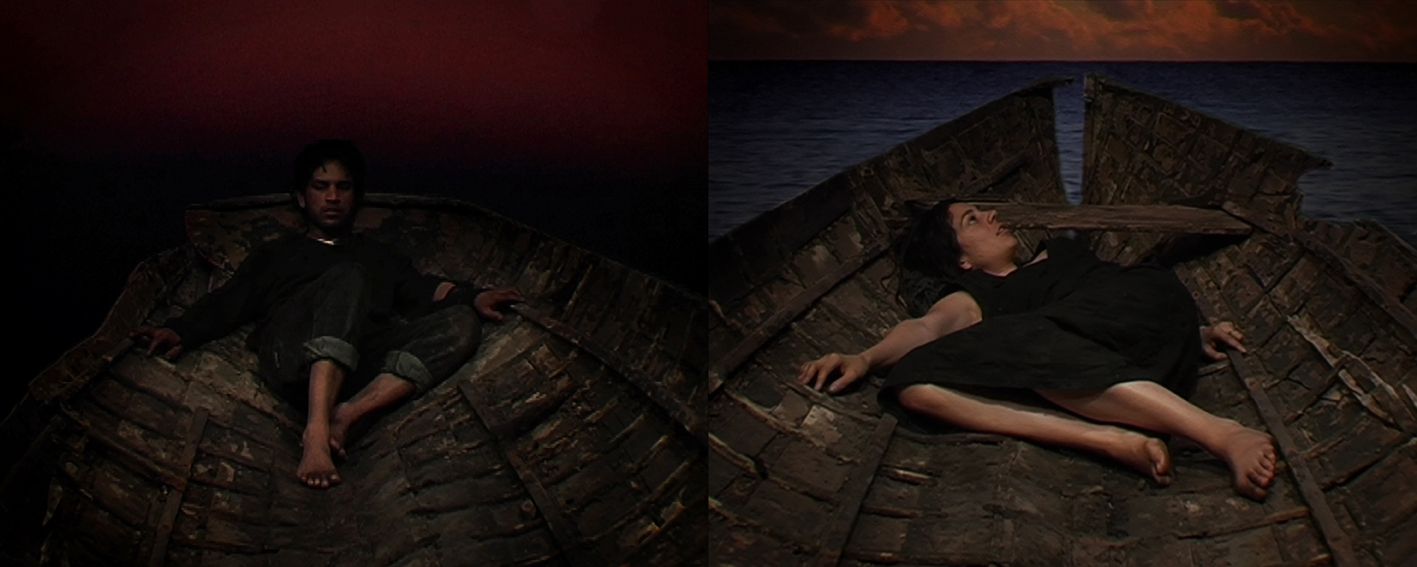 PERIL: In Transportation Love Song, a man and woman converse in a boat on an endless ocean. As their journey unravels, it becomes evident in the split screen video that they speak to each from different times of day and night. When looking at your work, I often experience a dreamlike sensation where darkness and light meet in a twilight space. Can you discuss the importance of this in your art practice?
SHOUFAY: The language of light and dark are classic tools to describe opposition, and their relationship conveys the interdependence of phenomena. Something profound occurs when opposites coalesce, the ambiguity forces the viewer to contemplate another way of seeing and being in the world.
Light of itself is invisible, apparent only indirectly through what it interacts with, making it a potent metaphor for absence as presence. I'm interested in the idea that the lines separating self and other are more tenuous than observed— like the horizontal line between sea and sky, the evening out of separations at dusk, as the blue sky darkens and dissolves the horizontal seam between sea and sky. Dusk is an allusion to an unknown space beyond vision, towards the distant line of the horizon that demarcates the visually known world from beyond.
In Depart without Return, I lie in a small canoe shrouded in indigo silk with live blind moths covering my face. Moths are typically attracted to light, but my dark blue painted face points to an absence of light, reminiscent of the Godheads of Hinduism, Buddhism, and Jainism which are depicted blue-skinned as symbolic of the infinite.
An interesting fact is that over centuries of breeding the Bombyx Mori has become blind and unable to eat or fly. The pupa's sole function is to produce the fine filament of thread and it repeatedly moves its head in a figure of eight to weave its cocoon, this symbol of eternity enacted in transformation, that can produce thread up to eight kilometers long.
PERIL: What are you working on in the future?
SHOUFAY: Nothing! The theme of nothing doesn't end. It is a Sisyphean task to visually represent nothing. One must create and then erase to reveal again. Something must exist before it doesn't exist. To articulate the unsayable potentially neutralizes the aim. To explore absence one must do so through presence, similarly nothing and something are inextricable linked. So I am working on this idea of creating an open-ended language, drawing attention to this essential paradox.
It's now springtime and my next generation of silk worms are a week old, feeding on new mulberry leaves. Their cycle continues to be a source of inspiration in my work.
My sights are also set on a residency at Taipei Artist Village next year for which I'll be developing new installation work on traditional funereal and mourning customs of contemporary Taiwanese society.
Speaking of 'spirit worlds', I was once told by a Chinese fortuneteller that my writing would be key to my future art practice. I'd like to revisit this fortuneteller and find out more. I'm wondering if the art of fortune telling could be an untapped source of inspiration in my work! He probably didn't mean in this way, but I am developing an installation about writing and death, comprising a pair of hand blown glass fountain pens with golden nibs containing fermenting indigo. The work contemplates how the visual artist uses the known to depict the unknown as the writer uses words to express the ineffable. I am hoping to create the sense of ink spilling out from a gravestone, suggesting the overflow of words and the impossibility of communication.
Early this year I received an Australia Council ArtStart Grant and a NAVA NSW Artist's Grant to assist with creating my artist book, titled Negatives — this will feature my latest work Depart without Return and articles by prominent and emerging arts writers.
I'm also working on a series of new photographs for a solo exhibition in December at Queensland Centre for Photography that will feature landscape imagery from my recent residency in China. My work continues to examine how absence is articulated through marks of presence.