Illustration by Matt Huynh
Francis died in the middle of the courtyard, on top of a bed of rosemary.
The quiet Australians whose apartments faced into the courtyard dialled the police as they peered at Francis from the safety of their windows. They were in the middle of a pandemic, after all.
'I'm calling from Eden on the Boulevarde,' said Diane. 'I'd like to report a man in the courtyard. He's already killed a herb.'
As she sipped her Nespresso latte, she meditated on who this strange man might be. A cleaner? A courier? A nurse on his way home from a night shift? She wondered if she'd have to clap like they did in America.
Francis had, in fact, been Eden's building manager for the previous three years. The residents could never recall what he looked like but they always remembered to hold him accountable for every problem that occurred on the property. They blamed him for the intercom system buzzing apartments of its own accord. For clumps of orange hair dug up from the soil in their window boxes. For Jamie Oliver cocktail kits disappearing from cages in the underground car park. They questioned the vigilance of the building manager, given that there had been glimpses in the car park of a shady figure in a black jacket.
Despite the ongoing complaints, Francis had remained dedicated to his job. He had no family and worked long hours for little pay. When the police and paramedics arrived, he stood politely to the side as they inspected his body. Seeing that he could not assist, he hurried into the car park to his office, which was a plastic folding table set up in an unused car space. He touched the lucky abacus next to his keyboard, then got to work. There was still so much to do.
Eleven fresh emails from residents were already in his inbox. All of them attached iPhone videos of the intruder lying in the courtyard. They also included requests that Francis review the CCTV footage to identify the man and ascertain how he got onto the property. Francis watched the videos multiple times. It was uncanny seeing his own body from so many angles.
Through the afternoon, the emails piled up. They included three from Diane, two of which were follow-ups to her morning emails. She also left a voicemail on his phone, which was still charging on the table. It followed up the follow-ups.
He tried to call her to apologise for the delay but his words just came out as heavy breathing.
'I'll ring you back, darling,' he heard Diane say. 'There's a crossed line. This bloody building.'
Francis drafted a notice to all the residents. It looked fine on his end, but when he sent the email, the words scrambled.
This triggered an immediate reply from Ned in 623, who took issue with it. The words had come out as: 'Due to dearth of Fernxis,, company will to send Temporarily replacement!$% manger)'. Ned pointed out that the line was misspelled, badly punctuated and grammatically incorrect, and that Francis's inability to put a sentence together in English reflected his general incompetence in the job.
Francis began to pace the car park, trying to come up with a new communication strategy.
It was then that he noticed the Irishman. As he walked past Waste Room 9, he caught sight of an oddly dressed orange-haired man rummaging through a large yellow-lidded bin. Piles of brown cardboard lay about the man's feet. He seemed to be in the process of taking it all out rather than putting it in.
'Can I help you there?' said Francis.
The man swung around. Half of his face had been torn off. There was a gaping red hole where his right eye should have been, and a gaping red hole in his chest. His right hand dangled from his forearm by a thread. He nudged it with his other hand and let it swing back and forth.
'Attractive, isn't it?' he said, leaning forward and assessing Francis with his remaining eye. He smelled of rum.
'You're not a resident,' said Francis. 'How did you get in?'
'Never really left. Supposed to have time off but got called to the quarry. Thought the fuse on the charge had misfired. Went and checked. Boom! I was done. No one gave a shit. My boss went to the races after. Then these fuckers went and built an apartment block on top of me.'
Francis considered the guy's outfit. An old black monkey jacket, dark tweed trousers and a matching waistcoat. Judging by how old in style they were, Francis figured the man's bad day had been about a hundred and forty years ago.
'What are you doing in my bins?' said Francis.
'Well,' said the guy, 'you see all these flattened boxes?'
'I see all the boxes.'
'My grand plan is to unflatten them all.'
'And what would possess you to do that?'
'It's a very complex endeavour but I am reconstructing these boxes with the aim of placing each of the reconstructed boxes back in this vessel.'
'But look at the notice,' said Francis. He pointed at the laminated A4 sheet taped to the side of the bin. '"Please flatten boxes before disposal." I used capital letters to emphasise the importance of the notice.'
'I did read that, yes.'
'I underlined the word "flatten" in the notice. It took a special trip to Officeworks to laminate this underlined version. I've had to laminate multiple versions of this notice since no one seems to get the message!'
The Irishman pulled a roll of clear packing tape out of his jacket pocket and began sticking a box back together. Francis watched him.
'Would you say,' said Francis, 'that you also have a habit of planting hair in window boxes?'
'I was testing the rate of decomposition.'
Francis felt sick. 'I think there's been some brand confusion. In the sense that everything you do is considered my fault.'
'Interesting theory,' said the Irishman.
'Interesting theory?' Francis shrieked. 'Why have you been making my life so difficult, you piece of mangled shit?'
'So you got caught in the crossfire. What do you care anymore? You're dead!'
Francis was suddenly knackered. He plodded out of the waste room—past a row of waxed Volkswagens—to a vacant visitor spot in which he could sit down and really cry. As he crossed his legs and hyperventilated into his hands, he contemplated being stuck in this car park in a forever loop in which this ginger kept breaking everything, and Francis kept fixing it all.
'I'm so sad,' he howled. 'I'm so sad.'
The Irishman came over and plopped down next to him.
They sat in silence, staring out across the concrete.
'Why haven't I seen you before?' said Francis.
'It ebbs and flows.'
The Irishman got to his feet. 'God, this is boring. It's about time you knocked off.'
'Me knock off? How about you knock off?'
'There's no way out of the quarry for me anymore. But you – you've got your whole death ahead of you.'
Up ahead, the roller door lifted on a set of blinding headlights. A white Alfa Romeo slinked in. The driver's window slid down. A little head poked out. It was Diane.
'I found this package languishing outside. Why didn't you deliver it to my door?'
Francis stood up. He went over to his office, picked up his lucky abacus, and returned. He shook the Irishman's dangling hand, then walked towards the car park exit. Stopping by Diane's car, he leaned his head through the window.
'Lady, deliver your own damn box.'
He moved past the car and up the driveway.
Diane's hands trembled. She put the Alfa in reverse, watched her rear-view mirror, and accelerated in the direction of the delivery man. But there was no satisfying crunch.
That night, Diane extracted the dashcam footage and shared a snippet of the man's rude behaviour in Eden's WhatsApp group chat. She was distraught. The other residents sympathised. They baked loaves of sourdough and left them at her door, with love and best wishes for her rapid recovery.
---
Credits
Writer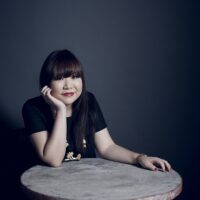 Julie Koh is the author of Capital Misfits and Portable Curiosities. She was named a 2017 Sydney Morning Herald Best Young Australian Novelist. Her work has appeared in publications including the Best Australian Stories and Best Australian Comedy Writing. Outside Australia, her fiction has been published in Malaysia, Indonesia, Singapore, China, Japan, Ireland and the US. Julie edited the anthology BooksActually's Gold Standard and judged the 2018 Stella Prize. She has written two radio plays for ABC Radio National and the libretto for the satirical opera Chop Chef. She thanks Robert Skinner for his editorial advice on this story.
Musician
Anisha Thomas is an award-winning Australian composer, music producer and pianist. She regularly composes for a variety of Australian and US Film/TV screen productions. Anisha has over 30 screen credits that include a range of short films, documentaries, TV/web series, and feature films. She is also a regular adjudicator for the APRA AMCOS and AGSC Screen Music Awards. Anisha founded and also runs Sound-how, leading a diverse team of composers and sound designers. Sound-how is known for its world-class sound and music production services as well as their outreach and contributions to underrepresented minority groups.
Voice actor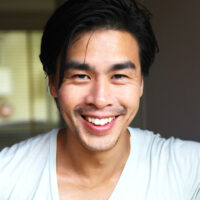 Gareth Yuen's career has spanned theatre, film, radio and television across Australia, New Zealand and the United States. As an actor, Gareth has regularly performed and developed new work with Melbourne Theatre Company. His most recent theatre appearance was Malthouse Theatre's acclaimed stage adaptation of Lars von Trier's Melancholia. Early TV credits include Head Start, Round the Twist, Kath & Kim et al. He is a graduate of the three-year Acting degree at NIDA. Since graduating, he's been seen in shows ranging from Underbelly to Power Rangers. As director, Gareth won best play in the inaugural Collingwood 24-hour Play Festival. Recent screen appearances have included L.A. Confidential for CBS (USA) and Hungry Ghosts on SBS. 
Illustrator
Matt Huynh is a Vietnamese-Australian visual artist and storyteller. His bold brush and ink paintings are informed by calligraphic Eastern sumi-e ink traditions and popular Western comic books. His work interrogates the vast repercussions of war, with a particular focus on amplifying diasporic voices, telling refugee narratives and the experiences of asylum seekers and migrant communities. Huynh's animations, comics and murals have been exhibited by the MoMA, The Smithsonian and New York Historical Society. His work has been honored by the Eisners, National Magazine Awards, Pulitzer, Webbys and World Illustration Awards. Huynh lives and works in New York City.
---
Audio credits
Additional music credits

Dark Matter by Podington Bear
CC BY-NC 3.0
Additional sound effects
Heavy male breathing in gas-mask by klankbeeld
CC BY 3.0
FX Garbage 01 by PeteBarry
CC BY 3.0
Meadow Ambiance by eric5335
CC BY-NC 3.0
Bangs and Booms/Boom Bang by bareform
CC BY-NC 3.0