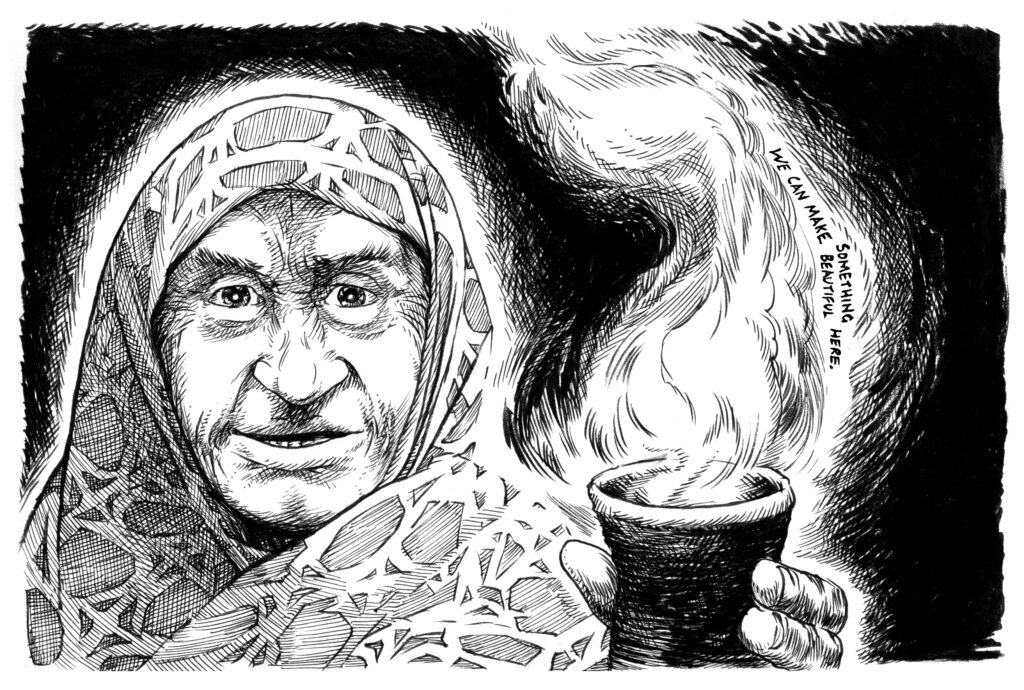 Illustration by Safdar Ahmed
Ramala's tongue was tied to her throat. Her heart beating like a speeding train. Waterfalls of sweat ran down the creases of her body. She stared at the path in front of her that looked like a tunnel. Unfamiliar darkness choked her.
This was the place her real parents called home. Parents. That word seemed so strange to her. It caught in her mouth and evaporated like a drop of rain on a desert plain. 
The village was beautiful; history was painted in its roots. Tiny streams trickled alongside roads, drawing people into this magic heart of trade. Each tree  had  to pursue the purpose of its beauty. The village was known for its intricate wood carvings, which filled the citizens with pride.   
It was summer break and Ramala had finally made the journey to her beloved home. All her life, from her luxurious bed in the States, she had dreamed of a quiet village that smelled like ground cardamom and dry earth, filled with the laughter of children. The image wrapped her with a sense of safety. But it was not real. She had created it through Internet searches and memories of other youths. 
She took a deep breath, trying to process the two worlds she belonged to. She felt like a foreigner in her own land.  It was the same in the States. "I cannot fit," she muttered to herself. Ramala felt more and more numb as time passed. She kept walking, admiring the deserted village, trying to hold on to the happy image she had created in her mind, but there were no great scenes from her vision, only the dust of dreams. 
Like a bird with broken wings, she walked, exploring the garden of her birth. 'The people of this village have remarkable courage.' Ramala thought, 'They keep restarting even though sometimes there is nothing to look forward to.' Ramala came across a battered hut. Next to it stood an older woman who waved and smiled at her. 'Very strange', she thought to herself. 
In Somalia, people who are older than you are your guardians, even if they don't know you. "Edo magaca? Maa duunty? What's your name, aunty? Are you lost?"
Within 24 hours of her arrival in Somalia, Ramala's life had slowly changed. Returning to her village presented her with joy and pain on one plate. Her thoughts collided, her mind a blank page. After a long pause she said: "My name is Ramala." 
"They call me Hakima," the old woman said as she handed Ramala a chair. "Have a seat. I will be back." She entered the hut and fetched some milk for the girl. 
Hakima had seen her village change like the weather over her sixty years. She was a woodworker, with rough hands but a precise eye. Her personality is like a perfume grasping the hearts of others. She told Ramala how she travels between towns, making cups, vessels and spoons from wood, each of them unique, decorated with intricate hand carvings of local flora and fauna. Each of her pieces holds a story of the past generation. Hakima gestured to the cup in Ramala's hands, "Like how it holds the fresh camel milk."
Hakima said, "Over here we live a nomadic life. And I love what I do, because wood is the backbone of our town. It's a joy that never dies. What is your story young lady?" 
"I came to see where I am from," said Ramala, "I want to know where I belong."
Hakima asked, "What do you mean? You are Somali! Where else would you belong? You are lucky you can go far and return. Don't feel strange. Embrace this village. It's yours too. This is Wood Valley.  If you are hungry for change, you can create a path for yourself and others."
"I want to be here. I am tired of being in-between, sometimes lost, confused. I want to find my voice." 
'My talent may lie in my motherland,' Ramala thought to herself.
Hakima said, "Whether you feel at home here or there, they are both part of your history. You cannot run away. It is like running from your own skin. I am sure you're old enough to figure that out. In this village, we grow up fast and disappear with the seasons. But I will never leave at all, even when life forces me to do so." 
"Wood Valley is a transient place for those of us who trade around the towns. It's beautiful because the people choose to see beauty in the emptiness and hope in the face of despair."
Twenty years ago, at the age of three, Ramala was found by Save The Children in an orphanage and adopted by an American couple. They adored her so much that they gave her a nickname, "Apple of our eyes". She had learned about her birth country's traumatic history in a high school classroom, which ripped her from her middle-class life, forcing her to seek her own identity. 
Years later, there she stood in Wood Valley, in the burning heat, staring at the remains of her family home. The small hut had crumbled into the earth, abandoned, rotted, defeated. This land shakes from time to time as a reminder of unity. Wood Valley has always persisted with courage and resilience. Injustice has never prevailed. 
"If you have ideas, you can make something beautiful here. You can start again. Coming from the west has its own ups and down," Hakima said.
Ramala sighed. "I've always wanted to open a restaurant. They bring people together." She wanted to create meals that resemble both Somali and western food. Food is the door to openness. Humans are humble when they are fed.  
"I will offer you a piece of advice." Hakima said, "Being part of the diaspora is not easy in Wood Valley. People will label you. Their sense of humour can be dry. But eventually they will love you, if you stay and do not run." 
"If I stay," Ramala murmured. 
She sat while Hakima made tea. The smell hung in the air, the spices boiling together. The secret recipe for Somali shah has been passed down through generations of families. It is precious and blends their bloodline.  
She recalled her college dream of cooking, serving beautifully decorated plates of food, Somali and western together. Caught between two tastes. 
"I have been torn between two lives for so long. If I stay it means I can create my own path." Ramala reached for her bag, pulling out The Joy of Cooking. "I have found my place. Wood Valley is magic. I am here to heal my wounds." 
---
CREDITS
Writer & voice actor
Hani Abdile is a writer, student and spoken word poet based in Sydney, Gadigal land. After spending  months in immigration detention, she found healing in writing poetry about human rights, freedom and dignity. As an honorary member of PEN International and lead member of Writing Through Fences, Hani has received numerous awards for her work in community and creative arts. Hani has performed around Sydney and interstate. Her first book, I Will Rise, published by Writing Through Fences, shows that with the power of our voices we can shape the world to be a better place for the next generation.
Musician
Bukhchuluun Ganburged (Bukhu) is an accomplished contemporary composer and musician who performs the folk music of Mongolia, exploring the aural dimensions of sounds generated by traditional instruments and harmonic overtone vocal techniques. A Master graduate student from the Music and Dance Conservatory of Ulaanbaatar, Bukhu's music is a contemporary take on the tradition of Mongolian bards of the middle ages and those of ancient times, acting as a national memory bank by working mythologies, historic figures and events into traditional verse form. A cultural ambassador of his country, Bukhu combines virtuosic Morin Khuur (Horse Head Fiddle) and Khuumii (Harmonic Overtone Throat Singing) skills to transmit the harmony of Mongolian Shamanic culture through time and space. 
Illustrator
Safdar Ahmed is a Sydney-based artist and academic. He works mostly in the mediums of drawing and comics, and is a founding member of community art organisation, Refugee Art Project. He is the author of the Walkley Award-winning webcomic Villawood: Notes from an immigration detention centre and his first graphic novel, Still Alive, will be published early next year by Twelve Panels Press.
---
Audio Credits
Additional music credits
Tumblehome by Blue Dot Sessions
CC BY-NC 4.0