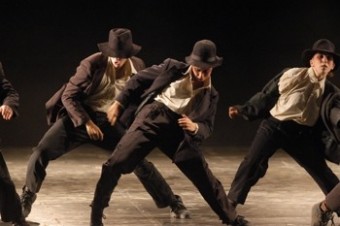 From the moment you walked into the State Theatre and witnessed a lone man in a black suit and an untucked shirt grooving away on stage to his heart's content, you knew that this was a show that was bound to make you smile – and indeed it did.
Decadance was one of two works presented at the Melbourne Festival by the famed Israeli dance company known as Batsheva. The company was established by the Baroness Batsheva de Rothschild, a member of the Rothschild Banking family, in 1964. Its first artistic adviser was Martha Graham – a telling sign of the group's trajectory into innovative contemporary dance work. Based in Tel Aviv, the notably diverse ensemble today includes 34 dancers from Israel and abroad, performing to audiences worldwide throughout the year. It has been 19 years since Batsheva last visited Australia, and a very full and excited State Theatre auditorium showed just how dearly this troupe was missed.
Literally translating to '10 dance', Decadance exhibits several pieces of individual works that range in mood, tone, choreography, and music, exploring the vocabulary of the movement language known as Gaga. Coined by Ohad Naharin who has been the company's choreographer and artistic director since 1990, the Gaga style of movement is a powerful blend of bold and organic shapes and movement, coupled with more recognizable conventions of dance such as Cha Cha or even Hip Hop and Breaks, which are unexpectedly interspersed throughout the work. A notable feature of the style is in its delivery: spontaneous and at times almost aggressive, seizing the dancers in full emotive force. In more down tempo pieces, the movement plays on slow motion repetitions and suspended moods and tensions. The physical vernacular of Gaga thus emphasizes contrast and intensity, and the full force of human nature.
Naharin created Decadance by taking sections of existing work and reorganising them into a full piece. This disjointed nature of succession therefore means that the work as a whole does not easily offer a narrative to the audience. Rather we are to take each section as a standalone piece. The mood of the piece as a whole travels between a strange polarity of extreme silliness and brutal power. Between the two there are occasional slides into melancholic moods, as well as interjections of dance and choreography where neither the intent nor purpose is clear.
It is without doubt that there is an imperceptible quality to both the nature of movement and the cast that delivers an overwhelming sense of strength, integrity, passion and joy. Whether it be the brutality of bodies throwing themselves wildly as they chant to heavy Israeli folk music, the moving diorama of bodies effortlessly weaving abstract scenes, or the heartfelt dance party to 'Somewhere over the Rainbow', the emotive power of Batsheva is unquestionable.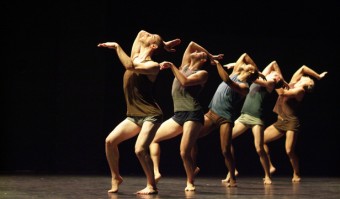 The company does however, as would be expected, face opposition and controversy as an unfortunate circumstance of its home-base in Israel. Most commonly, pro-Palestinian groups and movements associated with boycotting Israel's touring arts and culture as an act of political protest against Israel's occupation of Palestine have continued to target the group across its world tours, including in Australia. Naharin himself responded to these boycotts in 2012, saying "…Batsheva is an example of a group of people whose activity, philosophy and work methods represent the potential for change…I would support the demonstrations and boycott if I thought this could help the Palestinian problem. I agree with the idea of demonstrating outside performances because this is a way to make your opinion heard, but disagree with the idea of disrupting performances inside the theater. If I thought this could help advance a solution to the Palestinian problem, I would disrupt my own performances."(see further on this) Such challenges for the company raise the question to the broader arts community as to whether a theatre is the appropriate place for public political protest and furthermore, when a performance work becomes propagandized and who decides on whether or not this has occurred. These are important considerations that do indeed come to the fore when considering works from heavily politicised and publicly criticised countries such as Israel.
With regards to Decadance, if there was a defining theme to this work, it does appear to be that of humanity in its madness and its love. The tones and moods presented oscillate through a kaleidoscope of feelings: the dancers, blank-faced, show us their bare bodies one by one; a lone man carries a limp woman onto the stage and places her lifelessly before us; a dancer slowly brings her foot down to step upon the face of another; one by one, in between the dancing that seems 'just for fun', more confronting truths of human nature are portrayed, and we the audience become endeared and united with the cast through the understanding implicit in witnessing what we are being shown. This is a touching feature of the work.
The works in Decadance are accompanied by a booming sound track as created by Grischa Lichtenberger ranging from folkloric tunes through to chanting, techno and even a Bollywood song. Whilst sometimes bemusing, this dares you not to take yourself too seriously, and in this it is truly a triumph. At the end of the show, you'd be hard pressed to find an audience member without a big smile upon their face. And after all, isn't that what it's all about?
Read more about the Batsheva Dance Company.
4 out of 5 stars