Contemporary practices in ritual and worship
Debuting at this year's Melbourne Fringe Festival, contemporary visual artist Devika Bilimoria presents Murti – an interactive art exhibition that facilitates a contemporary audience to explore the practices of an ancient Hindu ritual.
Murti is a Sanskrit term, referring to an image or icon of the Divine Spirit. As practiced in Hinduism, the Murti is not only representative of the divinity of God, but thought to be Divine in and of itself. In temples across South Asia, and as still practiced by worshippers across the Indian diaspora, idols of Hindu gods are consecrated through the practice of pouring milk, sweet meats, honey, and coconut water over them. In this way, offerings are given to the god by worshippers, allowing the practice to become a medium of communion between the human and the Divine.
In this work, Bilimoria examines the practice of pouring – the strange rich satiation of seeing liquid covering and dripping from an idol – and makes it accessible to a more universal audience through the medium of paint. Using the bold and unmistakeable Hindu idol of a Shiva Lingam – a depiction of a phallus merged in a yoni – the piece is intended as a celebration of life. In smaller experiments of the project, the result has been visually spectacular and strangely compelling, creating a mystical and undoubtedly auspicious space in which all whom are present fall into a seeming silent reverence at the unexplainable act occurring before them.
Peril sat down with Bilimoria to find out more about Murti:
What was the inspiration for this work?
The birth of this idea came from two distant observations taking the same lift up to the rooftop garden. The first observation was from watching my Grandparents perform their weekly Hindu ritual of washing a Shiva Lingam (stone Hindu icon) at the Birmingham temple. I loved the juxtaposition of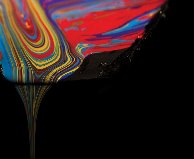 a sacred stone icon set amongst white tiles with the colloquial use of a green garden hose and plastic milk bottles for carrying water and milk to pour over the Lingam. It got me thinking about the use of the body in ritual, specifically the gesture of pouring and offering in secular and non-secular spheres. In a place of worship, it's pretty exceptional to watch someone softly incanting Sanskrit over a religious icon with a running garden hose in their hand, as if to be watering their faith. Traditionally a metal vessel would be use to carry the water or milk.
The second was the sight of paint accidently brushed upon a statue of a seated Buddha. And that's when the idea flashed into existence. I imagined vibrant paint being poured over and encasing the Buddha punctuating the form of the statue. I suddenly wanted to see thick glossy paint being poured onto all the Hindu Gods' that, as kids, had to bathe and dress in rituals that I thought tiresome.
How do you view the role of ritual in the contemporary world?
The word ritual is most commonly thought of in a religious context, relating to ceremony, reverence and worship, but I am interested in stripping it back to what the body is doing, the actions and how those actions overlap into non-secular spaces. What makes a ritual a ritual and not just an action? I think its about the outcome (for spiritual connection or alleviating anxiety), and intention. I think that as humans we will never be done with ritual (I'm thinking of funerals specifically), so it will always play a role, as there will always be a way of doing things, however, the outcome and intention may differ in the contemporary world.
I mean, is what I'm doing here a real ritual or a re-enactment? Is it sacred? Is a homemade Lingam any less sacred than one made of stone in India? They have the same form though? If I got a priest to perform certain rituals could I embody this Bunnings Lingam into a 'real' one?
Do you think this type of practice is equally as relevant to non-Hindu or non-NESB people?
I think this interactive installation practice has relevance to a broad demographic. It may be inspired from a Hindu context, but my intention is to dissect the ritual and come from a removed somewhat secular space of questioning. I am interested in questioning what the sacred is, and subtly what do we revere in is contemporary world. I would like the experience of art to be interactive and relatable to everyone.
I want to bring ancient practices that I have been brought up with, and moved away from, to people in a relatable fun manner for the understanding of ancient practices – ie, using paint a well known medium.
What is the significance of paint in this work?
My favourite artists are painters. I don't paint in a traditional fine art sense. For me paint elicits a deep, low visceral response. I have previously used the medium to symbolise the oozing of my felt existence, to replicate micro and macro worlds upon Polaroid paper, and now here.
An important feature of the traditional ritual is that the water and milk that falls off the statue becomes blessed by way of touching the icon that embodies the specific God. With this contemporary take of the ritual I want to use paint as a substance of relatable reverence, and also for it to made 'sacred', and heralded, through the process.
Painting goes back about 39,000 years found in various European and Australasian parts of the world, so there is a lot of history to using this medium. There is so much power in paint, so much history, communication and expression.
What do you want people to take away from the work?
I want people to feel as if they have contributed to the work, that it's theirs too. Without them partaking in the pouring there is no work; there is no ignition for the kinetic beauty that takes place. Their participation is paramount to the spectacle of this ritual.
My intention for this work isn't particularly spiritual, however, a certain focus upon the action is important; it is a personal moment for the participant and it can be perceived with the intention of the traditional ritual, or just a fun beautiful moment to which you make affect on the work.
I also want people to have more of an understanding of ancient Hindu practices. Food is a delicious way into a culture, but there are other aspects where food can't take you, and hopefully the allure of colour and paint can be a tool in opening up conversations about those day-to-day and ritualistic aspects.
MURTI is a free exhibition being held as part of the Melbourne Fringe Festival.
The Blender Studios
110 Franklin St, Melbourne
Thursday October 1st 6pm to 9pm: Interactive pouring open to the public.
Friday October 2nd 10am to 6pm: Viewing of idol.
Participation is open to the public.