Blak Dot Gallery's 18C exhibition, co-curated by Jacob Tolo (co-founder and co-director of Indigenous run arts space Blak Dot Gallery with Kimba Thompson) and Torika Bolatagici (exhibiting artist and photography lecturer at Deakin University) is probably the most radical thing an art gallery can do right now, a public and participatory display of protest against the Government's proposed amendments to the Racial Discrimination Act 1975.  Despite the current Easter public holidays, Blak Dot's doors will remain open from 12-5pm until Sunday 27April 2014.
On 25 March 2014, the Australian Government approved amendments to the Racial Discrimination Act. An Exposure Draft of the proposed amendments was also published on the same day, seeking submissions from all stakeholders.  The amendments seek to remove sections 18B–E of the Act.  Exhibition 18C is in reference to a section of the Racial Discrimination Act that the Government is proposing to amend, the same section that journalist Andrew Bolt was found guilty of contravening.
If the proposed amendments go through, this means that a person is allowed to say racial hate slurs like  "n*gger". Human Rights Commissioner Tim Wilson has been quoted in the media as coyly affirming that this is what the proposed amendments will allow.
"Asked whether he was referring to the word "n*gger", Mr Wilson said: 'I won't say it, but that's right.'"
Mr Wilson had told Fairfax media that the repeal, "would restore 'equality' to discrimination laws".
In a submission collated from 175 Australian authors, writers, journalists, editors, publishers, directors, artists, filmmakers, academics and supporters in opposition to the Proposed Amendments to the Racial Discrimination Act 2013, with signatories including authors Dr. Anita Heiss, Alice Pung, Kim Scott, Michelle de Kretser and Arnold Zable, there is a clear statement that the current Racial Discrimination Act already sufficiently establishes a fair balance between upholding freedom of speech while maintaining important protections against racial discrimination.
The Government has allowed little over a month for community consultation about the proposed amendments, with submissions closing April 30th.
The amendments have been proposed despite over 150 leading community organisations from all around Australia representing a wide range of Aboriginal, ethnic, religious, community and legal groups writing to Attorney-General George Brandis QC, urging him not to repeal the racial villification protections in the Racial Discrimination Act in December last year.
According to HRLC Executive Director, Hugh de Kretser, the Government is also refusing to make submissions publicly available, part of a normal consultation process.  In committing to keeping the consultation process transparent, the Human Rights Law Centre are inviting people to send a copy of their submissions to be made available on their website for public discourse.
For 18C, artists had at the most a fortnight to prepare artwork for submission.  To accommodate the quick turnaround period, Blak Dot accepted submissions up till the day before opening night on Thursday April 17th.  Writers were also encouraged to submit any form of writing from one line up to 250 words in length.
The result was an incredible response from 25 artists and writers. In view of the Government not making the consultation process transparent, Blak Dot Gallery is providing a dynamic, participatory and active space of protest and resistance to the proposed amendments.  Unlike the Government's refusal in allowing submissions for public discourse, on opening night Blak Dot provided paper, card, pens and markers for a participatory response to the Government's proposed amendments.  A section of the gallery has been allocated for this response to be displayed throughout the duration of the show.  The entire show is to be documented as a submission to the Attorney-General's Office.
MC for opening night (and also exhibiting artist) Susan Forrester, expressed how emotional she felt, a sentiment that I think was also deeply felt in the packed gallery space, amongst powerfully political artworks in paper and photographs, some of which displayed images of being silenced and experiences of racism.  As the night progressed with an open mic, performances ranged from singing and music, poetry, to a spontaneous freestyling session.  Captured in that room was a solidarity and gratefulness in being able to actively express and share dissent against the amendments.  While serious topics were covered, there was also a lot of humour in the open mic sessions.  Performances included a ukelele singer who beautifully sang about a land of plenty and hope, even if there was a sense she wouldn't be welcomed in her new home; a spontaneous free-styling duo (with Grace Vanilau presenting work from her poetry workshop with Mark Gonzales) offering a spirited musical word performance about liberty and asserting a right to belong, despite being told to "go back to home"; Dr Bo Svoronos performed a satirical piece sending up the Australian national anthem;  Rani Pramesti spoke about a contextual understanding and resistance to oppression (drawn from her latest Peril blog post); Dominic Golding performed a satire on racist hate speech; and Lia Incognita performed two poignant poems.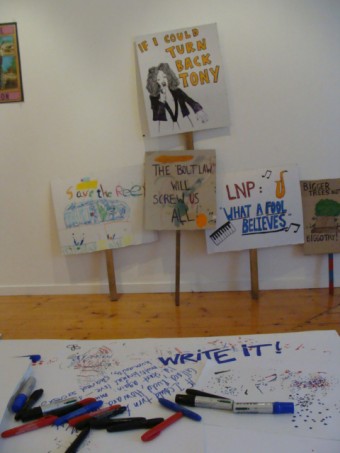 The energy and hopefulness in the room, I think strongly countered a sense of helplessness and powerlessness from a Government that is doing everything in its power to protect the "freedom of speech" of its mates.
Blak Dot Gallery, 413 Lygon Street, Brunswick East is open from 12-5pm until Sunday 27th April, 2014.  Visitors to Blak Dot are encouraged to submit a response to the exhibition 18C which will also be sent to the Attorney-General's Office before April 30th. 
If you would like a template of the submission from the 175 Australian authors, writers, journalists, editors, publishers, directors, artists, filmmakers, academics and supporters, please email Peril: [email protected] and we will send it to you.