For most Melbournians, the word 'stripper' conjures up images of barely clad women gyrating against poles, or a Hollywood heartthrob crunching his six-pack over low-slung jeans. But in the underground nightclubs of Manila, a different kind of stripper exists. One that dances to slow emotive ballads, without props or costumes, and is exclusively the domain of young men. Namely, the macho dancer.
Conceived by Filipino dancer, choreographer and visual artist Eisa Jocson, Macho Dancer is a performative dance work exploring and dissecting the physical and emotive vernacular of Manila's macho dancers. Reversing the roles commonly played in the macho dancer bars, Jocson adopts the seductive 'masquerade of masculinity' normally performed by young men, against a woman's body.
Set in the dark and smoky recesses of AsiaTOPA's XO State Dusk, the rather intimate audience is seated surrounding a long and narrow path – a trademark of the strip tease stage. As Jocson slams a heavy boot heel on the stage stairs, every voice in the room is hushed. The dancer walks onto the platform with an air of composed yet almost callous dominance. She wears tiny denim cut-offs and a simple singlet. And when the classic rock begins, so does she.

Macho dancers are known for dancing to ballads, animating an emotive quality that is slow and purposeful. Although some of the songs evoke a quality of humour, Jocson grounds them in a serious demeanor, unwavering in her solemnity during the course of the performance. The power she asserts over the audience is immediate; they are silenced and almost uncomfortably engaged in what is being presented. The irony is unavoidable.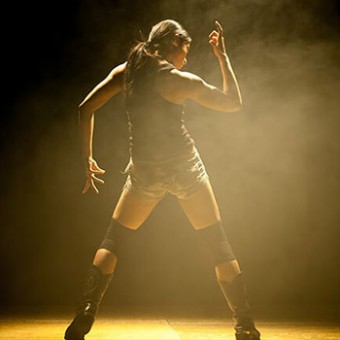 Polite smiles, shrugs and restless hands can be spotted. People shift in their seats whilst others are arrested in their gaze over the incredibly engaging presence of Jocson. Myriad tensions can be felt in the room, each one presumably exploring a subjective narrative of what it was to witness Jocson. And Jocson tests such tensions, moving through erotic and provocative gestures, removing her clothes, and eventually introducing a phallus as part of her bodily being.  Jocson seamlessly translates her gestures of seduction from her own body to this new appendage, and the performance of sex is unbroken. Aside from the allusion to androgyny, this act feels almost like a challenge to the audience. A dare to observe and reconcile what is being witnessed: a single continuous thread of erotic embodied sensuousness moving from a body perceived as that of a woman's, to that of a woman 'being' a man, to that of a person simultaneously inhabiting both binaries – or neither – depending on your perspective.  
Although Jocson goes some way towards exploring the tensions between herself and the audience, stepping into the aisles at one point, the performance feels at times confined to the persona she has established. Whilst the 'masquerade of masculinity' is clearly visible, when Jocson emerges at the end of her performance to receive applause, the nature of her smile – depicting a self we have certainly not yet witnessed – suggests that the binaries of her own personality against that which she has exhibited have remained somewhat unexplored in the work. At least not visibly so. The experience of Jocson's inhabitation of the macho dancer persona, and its connection to her natural manner of sexual and gender orientation, is a relationship that represents further inquiry in this work.
From the standpoint of choreography, it was particularly interesting to observe the translation of the macho dancer's performative vocabulary into abstraction. Jocson dissects and slows down the trajectories of her movements, and in the absence of sound, we are introduced to the macho dancer aesthetic as a form independent of the inferences cast upon it by the context of music or its natural environment of a strip club. Jocson's physicality is impressive and her entire body projects a state of awareness that is sobering to the viewer; one is unable to look away.
Co-curator of the XO State program for AsiaTOPA, Jocson is an accomplished performer that brings an interesting contribution to the festival. A Macho Dancer worth watching.
3.5/5 stars.