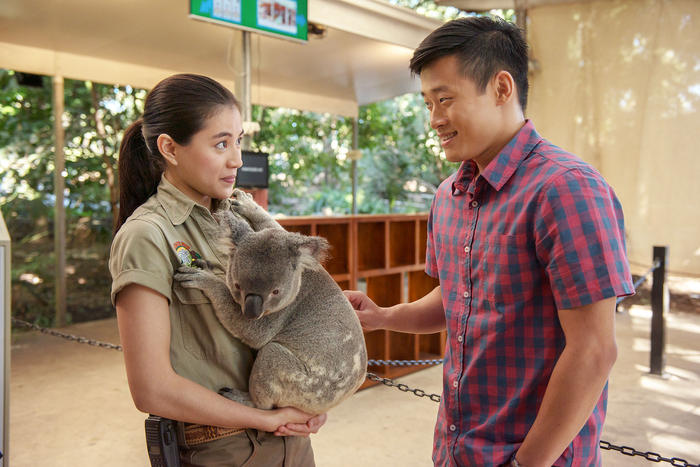 Benjamin Law's memoirs continue to crack us up in episode #3 of The Family Law on SBS. The Laws get themselves entangled in a series of mundane issues but return in triumph, as usual, with remarkable aplomb. This time, the sitcom pivots around two predominant threads of story: strained and volatile relationship Mr & Mrs Law continue to be on display and Ben's audition practice he is keen to focus on. In-between, the dramedy is punctuated with varied bits of dramatic beauty that we couldn't possibly drag ourselves away from.
The fragile relationship Mr & Mrs Law have is a hotchpotch of several aspects. Suspicion, faith, care, inconsideration, attachment, detachment, gap, proximity, feelings, disinterestedness, intelligence, folly, simultaneously beam through the driving lights of their marital Aston Martin that is badly cracked. At the zoo, Mr Law reminds Mrs Law how, for the first time when they saw a kangaroo, he was kicked by it in his balls. At this, she reminds him back that she had thought he would not be able to produce kids anymore. Both laugh with a sense of nostalgia and irony they evoke.
In another scene, when Mr Law returns from outing with their kids, he tries to convince her that the trip was fun and that all had returned in one piece, against her fears that the kids could get kidnapped. She sounds moderately positive having heard him and tries to move close to him to shut the door. He mistakes it for a kiss, and struggles to snatch at the moment but all in vain. This emotive phenomenon is simultaneously touching and humorous.
The Laws represent a typical Asian culture, coloured by Australian environment, streaked with a universal flavour. The cracks in their bond do not shock the audience. They provide stuff for fun through quips and puns. They elicit real sympathy and pity, not the pity that Aristotle spoke of in his Poetics about catharsis, but the one a dramedy like this can generate.
Petty squabbles and long-running rows that rage on between Mr Law and Mrs Law provide a natural platform for tongue-in-cheek, unintentional and, at times, wry humour. When Mrs Law gets angry, she utters everything in Chinese. This reflects the impact of mother-tongue or the first language. Fairly natural. The audience can readily identify with her character as we move through Episide 3: Mrs Law spies on her daughter and her husband, eavesdropping on the telephone and creating an atmosphere of distrust and suspicion; then the zoo episode and finally, a hoped-for patch-up. Ben's mother sticks to her guns, despite the fact that Ben tries hard to persuade her to revive relationship with Mr Law. Nothing seems melodramatic. That's the spark this cringe-comedy creates.
If we move to Ben, we find him with the acting agent who shows him a scene demonstrating how his best friend can cry on cue, which, the agent emphasises, is a gift. Apparently we find him on the skids from alpha to omega, as he has to focus on his audition, and doesn't find a suitable place for his practice, including the moment at the zoo when he is utterly lost in his cue-crying and younger sister, Michelle, goes missing, and above all, the genuine way to cry on cue.
Indeed, it is ironic, because normally most actors do not display the quality of crying on cue in a natural way. It's purely drama; hence far from real life, but not completely though. But putting it in the garb of copying a cue-cry brightens the irony. Unlike a terrified cry like the shock-addled sobbing Brad Pitt produces as he wonders aloud what is in the box in SEVEN, Ben utters some indecipherable blubber, firstly when practicing before his father in a restaurant, then when he is alone and finally at the zoo. The more he tries, the more off beam he goes. But this is where humour resides and breathes.
Ben's big B snoops on a neighbour on Ben's spyglass, watches her stripping off her clothes. Mrs Law kinda spies on telephone to get the drift of what her daughter talks to Mr Law. Almost identical snooping occurs in previous parts and in episode #2 Ben watches his sis in tryst with her boyfriend. Ben blackmails her for extracting money to get to his audition, but in this episode neither his mother nor his big B is caught at any stage. Stealth remains covered. Humour continues unabated, while it pauses for a while till everyone in the family wears bunny-ear headbands.
Having seen bunny ears on Laws' heads, I travel in time to a movie, Rabbit Without Ears, a 2007 German romantic comedy. The protagonist of the movie spies in the movie. The name of the movie is ironic. So is the case with the Laws here. Some of them kinda spy and all of them wear bunny ears while the German movie's rabbit lacked due ears. In presence of such a show in a multi-cultural environment, where almost everyone is from everywhere (pun intended), where nostalgia plays its pivotal role, where diversity is the only uniformity unlike the popular American or Anglo-Australian belief that their dramas lack due gender and racial diversity, where language is a carrier rather than a barrier, where reality, rather than melodrama, sings in a silvery voice, won't the bunny ears cock?
---
The Family Law screens on SBS Thursdays at 8.30pm.
Want to contribute your own "me-view" of the family law? Just get in touch!