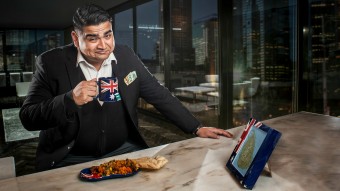 Dilruk Jayasinha – or 'Dil' as his friends know him – returns to the comedy circuit this Melbourne Fringe in Sri Wanka. A Sri Lankan-born comic living in Australia for most of his adult life, Jayasinha is no stranger to the scene, having toured locally and internationally with near sold-out shows at the 2015 Melbourne International Comedy Festival.
In Sri Wanka, we are endeared to the comic as he recounts stories of his triumphs and misdemeanours as a plus-sized Sri Lankan-Australian with a penchant for drinking and food. But it would be folly to assume that this show is just about tales of embarrassment and unfortunate circumstances.
A common misconception about the identities of migrants in Australia that we often hear of in mainstream media and xenophobic rhetoric is that of 'unAustralian-ness'. As we too often witness in contemporary society, decades of politically motivated categorisations and publicised stories of criminality within non-English speaking communities have motivated a renaissance of racially-motivated movements. But for the more moderately-minded city-dwellers of mainstream Melbourne, it's easy to forget that these perspectives can and do affect the experience of the everyday non-English-speaking background Melbournian – that is, their co-worker, their friend, the average passer-by.
In this piece, Jayasinha not only genuinely befriends the audience by relentlessly unveiling his personal experiences with humour and wit, but also subtly forges an empathic bond with them. As we laugh, sympathise and cringe alongside his tales as we would our own, we are also lead to subtly experience the strange unjustness of the situations he faces – such as being told he is "one of the good ones" in Scarborough. It is in these stories that the audience is shown that though many of them might consider him as an average guy who likes to "get pissed as fuck", he continues to endure a judgment of 'otherness' by people in our community.
The title itself, 'Sri Wanka', seems a tongue-in-cheek dig at the line that so often gets crossed when Asian-Australians present work in homage to, and in defense, of their mixed cultural backgrounds. The question begs to be asked – are they laughing with you or at you? The truth is, we will never know. But one thing is certain, amidst the swearing, laughing, and 'wrongness' of Jayasinha's set, an imperceptible path is forged between 'Australianness' and the 'other'. For this, and for his genuine talent for making those around him laugh as they would with their best friend, Jayasinha wholly deserves our applause.
4 out of 5 stars