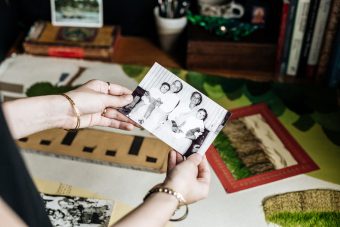 Sancintya Mohini Simpson, in her recent exhibition Bloodlines, shown at Blak Dot Gallery as a part of Next Wave Festival, uses her interdisciplinary arts practice to address the trauma of memory at the intersection of race, gender and colonisation within her family.
During the late 19th and early 20th centuries, women from South Indian villages were forcibly taken, coerced, or tricked into leaving their homes for 'better lives' by the British to South Africa, to serve as indentured labourers on the sugarcane fields. Many women threw themselves overboard after being subject to rape and abuse. Those who survived were to suffer from harsh conditions as farmers or domestic workers. They were made to toil through pregnancy and sickness.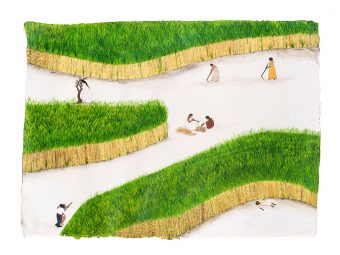 Simpson pays homage to her matrilineal heritage, depicting scenes of South Indian women working the cane fields—their trauma, their labour—using miniature paintings on Wasli (handmade paper in jute). She learnt the art of miniature painting in Jaipur with Ajay Sharma in 2013.
The many schools of miniature painting that flourished in India typically depicted the grandiose of the nobility. By placing the impoverished women of colour and their silenced histories at the front and centre of her miniature paintings, Simpson criticises the classicism of the form itself and its coded aesthetics.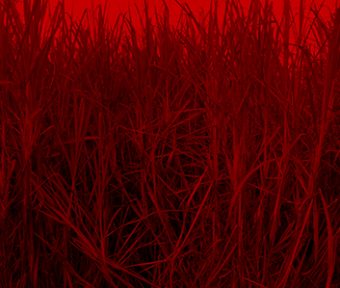 A tripartite panel of projections flushed in red against the largest wall of Blak Dot Gallery is the main feature of the exhibition. Simpson appears on the right-hand panel, and her mother appears on the left, against the backdrop of a cane field historically safeguarded by indentured labourers. An evocative soundscape features a montage of Kulavai (ululation), syllables of worship in praise of Hindu gods Shiva and Govinda, and a poem spoken in English by Simpson.
These evoke shared memories of trauma in verses such as, 'They bled like I bleed—the same—just quotas for colonial gain', and crystallise her criticism of the Empire. This verbal-visceral assault on the senses offers experiential opportunities for healing. By politicising her paintbrush, Simpson gives voice to her matrilineal history and refuses to let her silence perpetuate the transgenerational trauma passed down to her.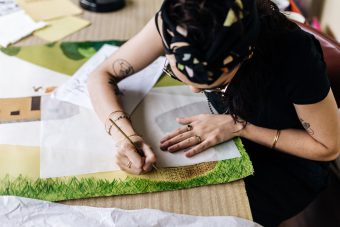 Simpson's art explores what trauma looks like on an individual, collective and cultural level. As an immigrant, the show opened my eyes to my own thirst for personal myths that connect our contemporary present to our colonised past(s).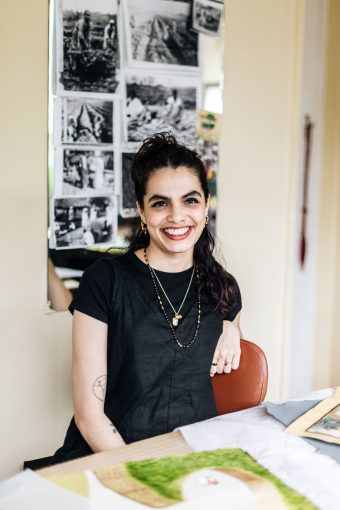 Sancintya Mohini Simpson is a first-generation Australian of Indo-Anglo descent with a Bachelor of Photography with Honours from Queensland College of Art, Griffith University.
Bloodlines was programmed as part of the Next Wave Festival from 3 May to 20 May 2018 at Blak Dot Gallery in Brunswick.  Bloodlines will show once more, this time hosted by Metro Arts on the 5th of September 2018.